BEST OF 2021 Deaf-Friendly Businesses: Recurring faves and newcomers!
Posted by: Staff Writer on Jan. 3, 2022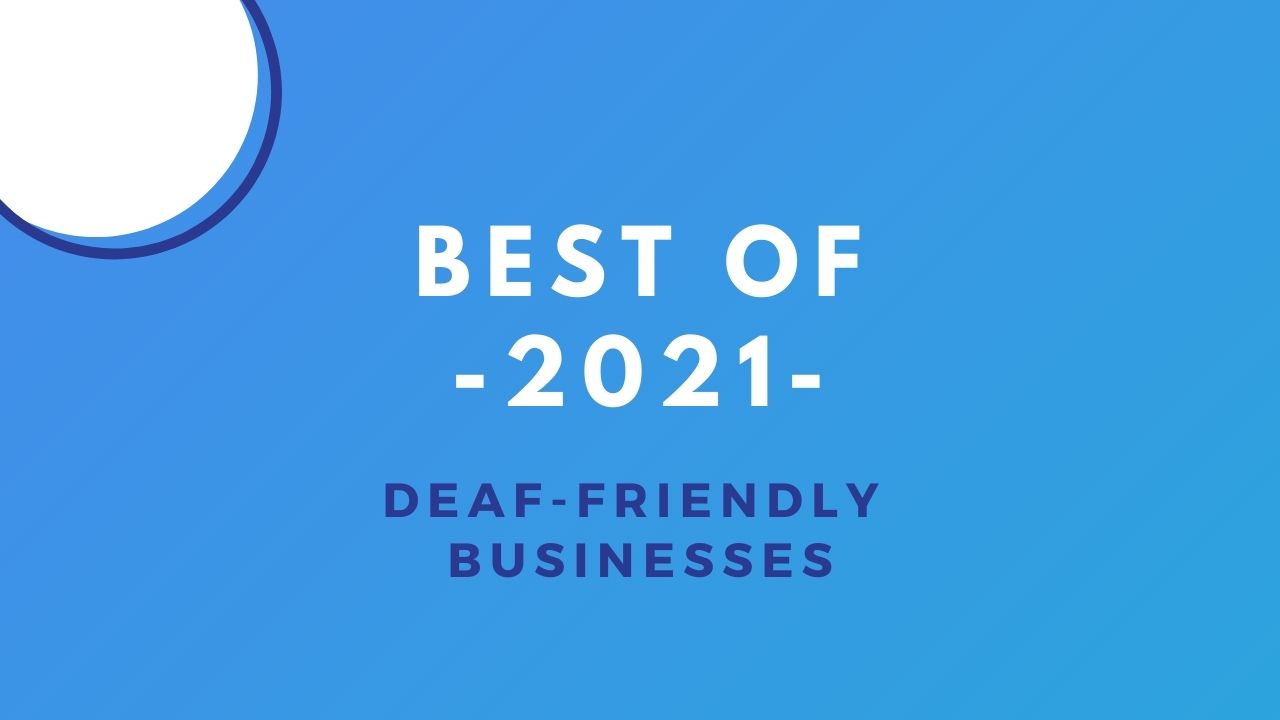 Like Santa, we love year-end lists. In deaffriendly's earlier, more locally-focused years we began a year-end tradition: the "Best Of" list, with our 2013 list selecting flagship city favorites like Seattle Public Library and 5th Ave Theatre.
We've expanded our geographic reach to cover a wider range of Naughty and Nice. Year after year, these Best Of finalists build legacies - a pattern of deaf-friendly service that 48 million deaf and hard of hearing consumers can trust no matter what year or COVID variant.
Businesses such as coffee, massage, and pizza continue making our "Best Of" lists. How bright they shine, how brilliantly they point to our north star: inclusion! But every December, it's just as magical to sift through reviews to find "hidden gems": businesses that were more under the radar until 5-star reviews started flowing.
From East to West Coast and in between, we salute the deaf-friendly rock stars of 2021. As always, finalists were selected on these criteria:
Number of reviews on our website

Accessible features

Average star rating
THE NEWCOMERS (HINT: DON'T MESS WITH TEXAS)
Crepes are the answer to every fan's needs. From sweet to savory, their versatility is unlimited. Crepe Crazy's location is just as delicious: a 10-minute drive from a deaf campus, it's a fan favorite among deaf and hard of hearing students and faculty. "Crepe Crazy is a Deaf owned business in Austin near Texas School for the Deaf," one reviewer raved. "I absolutely love the environment and the staff. I was able to communicate in sign to each member." From morning classics (Jammin' Jam) to the sweet (Lemon Zest Dust) to Savory (Granny Smith + Brie), there's a crepe for everyone - and a staff where everyone signs.
Vision is vital, but most providers don't know how to fingerspell letters on eye charts. Luckily for deaf Oklahomans, they can "see" Dr. Chris McDaniels, a CODA (Child of Deaf Adult) optometrist at LOOK Eyecare & Eyewear. Reviewers appreciate his bedside manner ("Very focused on me and not his paperwork," one wrote) and tools ("His equipment is more comfortable, and better than my previous optometrist's air puff test," reports another). That we even know about this Tulsa business shows how effective writing reviews is: "I have been hearing a lot of positive reviews from the Deaf community here about the place, and finally went," reports a happy reviewer-patient.
Texas is a hot destination for deaf communities - and we can thank Texas School for the Deaf for also attracting deaf entrepreneurship (such as Crepe Crazy). Its roots date back to 1857, making it even older than Gallaudet, plus it's the oldest public school in TX. A student reviewer points out, it goes beyond academics: "I enjoy taking my classes there for field trips. You can hire an interpreter if needed - all staff and faculty can sign. This campus is large and has amazing sightseeing activities. The museum on campus is really done well."
When we discovered a slew of reviews for Baytown Tourism all written in 2021, we knew we'd have to add it to our travel bucket list. You may not have heard of Baytown ... yet. But don't sleep on this hidden deaf-friendly gem. A reviewer recently attended a volunteer training there, reporting: "They make it clear in their goals that they aim to be a deaf friendly organization … (and) volunteers to be able to communicate with all visitors, including the deaf and hard of hearing." Another reviewer gave a shout-out to employee Marisa Jennings, and another shared that multiple Deaf events are hosted here. Fun fact: Baytown is located among scenic waterways that witnessed the battle of the Texas Revolution. Perfect for history AND accessibility buffs.
THE LONG-TIME FAVORITES
MOZZERIA (San Francisco, CA and Washington, D.C.)
Fun fact: Mozzeria was established the same time as us (2011). This Deaf-owned wood-fired Neapolitan pizza restaurant, naturally, made our "Best of" list previously. But this year, it's especially deserved: Closing its 16th St. location in 2020, it transitioned to Bay Area food trucks. In the same year, Mozzeria opened a second location in the H Street corridor by Gallaudet University. Our founder made a pandemic pit stop, enjoying a Mozz Bar and mushroom pizza and marveling: "I looked around and saw a few hearing, non-signing diners and they all seemed to make an effort to communicate in a variety of ways." Another reviewer raved: "Every possible communication scenario plays out with ease, whether it's multiple orders or special requests."
STARBUCKS (Washington, D.C.)
Also repping the H Street Corridor, Starbucks D.C. has built a fan base among hearing and deaf customers alike. With deaffriendly being based in Starbucks' flagship city (Seattle), we're beyond proud to see this playing out 3,000 miles away. "They signed all the way with me and they knew what I wanted," a reviewer reported after stopping by the location in 2021. "It felt fantastic knowing that I could order on my own for the first time at Deaf Starbucks!" As one bi-coastal reviewer put it: "I wish I could give it six stars. It benefits tremendously from its proximity to Gallaudet University, the world's only Deaf university. They hire all signing staff, most of whom are Deaf themselves."
With a pandemic adding more aches and pains, the magical mystical massage tour is as in-demand as ever. One 2021 reviewer is such a fan, they wrote specific location instructions to ensure we all easily find Julia Cameron Damon's magical healing lair: "Her current office is on the second floor of The Cottage, near Glendale Mall, east of Broad Ripple." Reviewers come for every woe imaginable: Herniated discs. Chronic pain. High calcium deposits. No matter where the tour goes, one thing's certain: You're in good hands. The reigning queen of "Best Of" lists is helluva review writer also. Check out her 2021 Reviewer Spotlight article.
.
Comment Policy
We're aware that issues facing the Deaf, Deaf-Blind, and Hard of Hearing Community can become quite passionate and divided. What can we say, we're a group of passionate people! While we fully support a community full of passion, we also require that comments are respectful. We think negative attitudes and disrespect are a waste of everyone's time and energy. This doesn't mean you can't disagree with people, you just need to do it respectfully. We reserve the right to delete or edit any comments we feel are judgmental, rude, or of attacking nature.