Reviewer Spotlight: Julia Cameron Damon - Indianapolis, IN
Posted by: Staff Writer on Sept. 27, 2021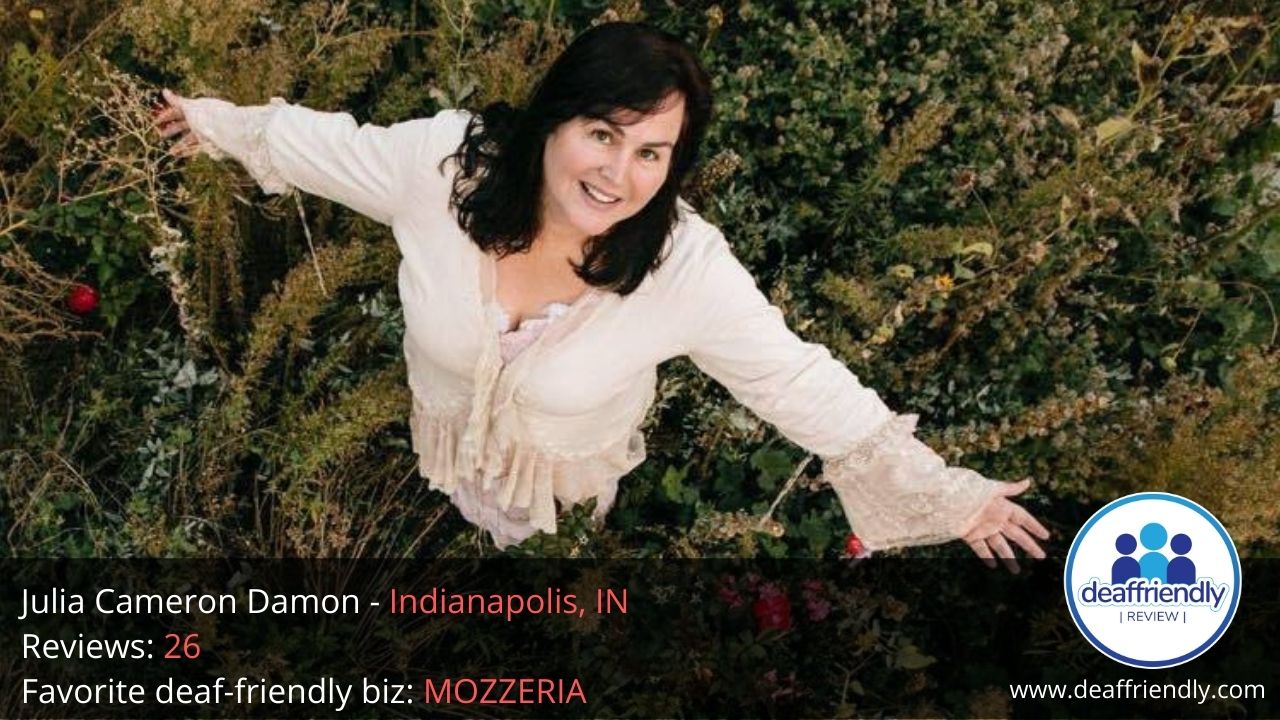 Do you know the faces behind deaffriendly's reviews? Quarterly, we pick the brains of our active reviewers - the words behind our mission, the stars of our ratings, and the soul of this website.
The latest member of our Elite Reviewer squad is Julia Cameron Damon, founder of the ubiquitous Mystical Massage Tour. So ubiquitous, in fact, it has been crowned multiple "Best Of deaffriendly" titles with 60+ reviews from happy deaf and hard of hearing clients nationwide. But did you know Julia has also written over 20+ reviews, herself, each one a candid mini-memoir of deaf-hearing interactions?
Get to know the driving force behind Mystical Massage Tour.
60+ deaffriendly reviewers have raved about your healing hands. You have major clout through other digital channels also. How have reviews helped grow Mystical Massage Tour?
Reviews on deaffriendly, Yelp!, Google, and Facebook are how many, many people find me. You simply cannot pay to get this kind of advertising. Word of mouth is everything. I love traveling, and it's been my dream to work with predominantly deaf clients. Deaffriendly has been instrumental in reaching this audience.
Advertising before social media and smartphones was costly, ineffective. I made posters, paid newspapers and magazines to run ads, and offered crazy low introductory offers. I only had a few clients. I shudder remembering hustling for so little work. I worked in many high-end spas because they'd do the scheduling. I vastly prefer my own office because even the poshest spas don't pay a living wage. They also overschedule - that's not how I want to practice.
I think many deaf entrepreneurs will say the dawn of social media saved us. I have ten times more solid regular clients wherever I go, and clients can book via texting; that was the great equalizer since many hearing folk prefer it too. Now that I'm able to tighten my client circle, I'm booked solid as much as I want to work which gives me great joy.
Tell us about your first experiences with massage
In my early 20s, I'd just given birth when a friend gifted me a massage certificate. It freaked me out. I had no concept of a therapeutic massage and didn't want to go, but had the sense to realize it was a very generous gift. I was awkward and newly deaf. I didn't know how to ask the therapist to write down her questions. We got through what I now recognize as the classic Swedish Massage. It was the most pivotal hour of my life. I cried. I didn't know I was starved for nurturing human touch. It was the first time anyone had touched me in a non-sexual, caring tuned-in way.
How'd that lead to your training and CMT (Certified Massage Therapist) licensure?
The masseuse told me she had gone to Boulder College of Massage Therapy (BCMT). So I ended up moving to Boulder, CO with three small children in tow. I had been accepted to BCMT and attended universities before, so it didn't cross my mind that they wouldn't provide interpreters. At orientation, it was all "Oh wait, no. You're deaf? We can't do that."
I just didn't have that legal fight in me. So I waited 17 years to re-enroll. I finished up art and education degrees, and taught high school. When BCMT finally had accommodations, I cashed in my teaching retirement and enrolled. I was certified, registered, and licensed in 2004.
Your reviews aren't afraid to get personal about high-stakes situations: buying a car, scheduling mammograms, handling finances, and even law enforcement. Do most businesses understand the high (if not deadly) stakes of miscommunication?
Sadly, no. Most businesses, especially in medical situations, think I'm a bougie deaf lady throwing around "politically correct rights." Few have no idea how crucial communication is in so many situations. For example, I'm diabetic. I'm also allergic to many medications, alcohol, walnuts, and lavender. Recently, a dental professional assumed I understood something when I did not. They gave me antibiotics which I told them I can't have, and I ended up in the ER.
I have stopped speaking with health providers, because I notice they allow themselves to believe I magically intuit what they are saying. When I don't speak, they take it more seriously.
COVID-19 has been tough on touch-based professions. Have reviews helped you rebound?
For sure. It's all about trust and precautions. People are way more willing to come to me one-on-one, or have me bring a table to their homes, when they know someone who is cautious and has hired me. Or after reading a review written by someone they know who takes COVID-19 seriously.
Mystical Massage Tour takes you all over the U.S. Does reading and writing reviews help you explore new places?
Also Canada, Mexico, and England! There are only three states I haven't worked in* yet. I absolutely scope out the scene everywhere I go, through deaffriendly. So many folk I love and trust are a part of deaffriendly, and I love having this resource.
*Texas, Georgia, and Alaska
On being on the other side of consumer reviews - as a reviewer:
I love having this venue to express my experiences specifically to the deaf community. It's very satisfying to me to be able to give other deaf folk the heads up on where we can expect great service and clear communication. Also nice to know there is a communal space to warn each other away from wasting our time at places that will not learn to communicate with us.
Favorite Deaf Friendly Business
Picking only one is so hard, there are so many across the country I love. Mozzeria is my all time favorite. The deaf staff make it fun and easy anytime I have had the chance to go to any of their venues. I'm a foodie snob so pizza in general doesn't impress me, until Mozzeria. Every meal I have had there and that's many have been fantastic, creative, delicious and wonderful on presentation.
Do YOU know a deaf-friendly place of business?
Join the movement for a deaf-friendly world and
write a review!







Tags
Comment Policy
We're aware that issues facing the Deaf, Deaf-Blind, and Hard of Hearing Community can become quite passionate and divided. What can we say, we're a group of passionate people! While we fully support a community full of passion, we also require that comments are respectful. We think negative attitudes and disrespect are a waste of everyone's time and energy. This doesn't mean you can't disagree with people, you just need to do it respectfully. We reserve the right to delete or edit any comments we feel are judgmental, rude, or of attacking nature.