Get Deaf-Friendly Training For Your Customer Service Staff
There are over 48 million Deaf and hard of hearing people in the USA waiting to engage with your business!

Positive reviews from Deaf consumers will bring you the attention of over 12% of the population.
---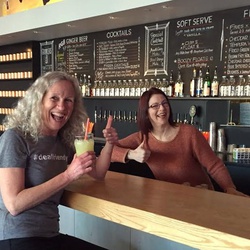 "The training that deaffriendly provided was engaging, useful, and well-designed. Our staff were excited for the opportunity to communicate better with our Deaf customers, and our business has already seen the benefits of being more accessible to the Deaf and hard of hearing community."
- Doh Driver, Manager 
---
If you're unsure how to serve this unique consumer audience, don't fret!
"Deaf-Friendly Customer Service" training is fun, engaging and non-intimidating.
Available on-line or in-person, training is taught by an experienced Deaf trainer giving you and your team the hands-on practice that will win the hearts of many loyal customers for years to come.
Training Packages
The Basics
Get Started!
Need 100% online course that jives with your busy schedule? Our one-hour on-line training is designed for various industries and includes lectures, tips, and downloadable handouts.
Beyond The Basics
Let's Do It!
An energizing 2-hour workshop; that will inspire your team to implement tried-and-true strategies for happy customers. Also excellent for team-building events.
Tru-Biz
I'm In!
For those who are serious about serving Deaf customers, we include the whole shebang: A thorough deaf-friendly assessment of your business, an energizing workshop with Sign Language classes, a customized action plan, and on-going support.