Best of 2013: Seattle's Deaf-Friendly Businesses
Posted by: Staff Writer on Dec. 31, 2013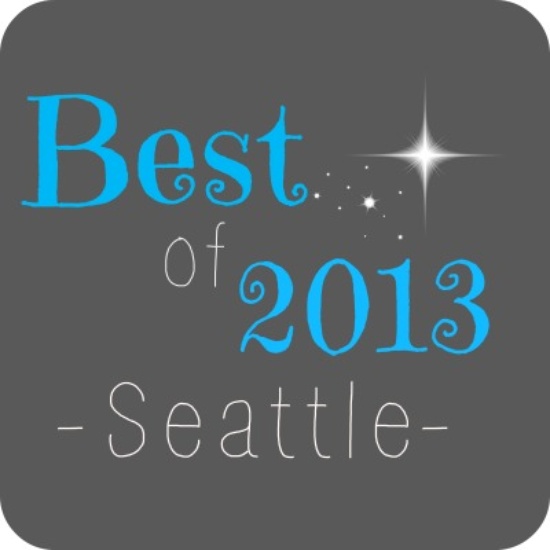 Oh 2013, what a year you've been. You ushered in feel-so-good highs like the half-century anniversary of Martin Luther King's "I Have a Dream," and the weird new dance move named twerking (thanks, Miley). You welcomed the newest royal baby, and whisked away the souls of such notable figures as Lou Reed and Nelson Mandela.
What 2013 giveth, 2013 also taketh away. That's also the name of the game at deafREVIEW, where for every assortment of deaf-friendly businesses we found, we also had deaf-challenged businesses. But in the optimistic spirit of New Year's, we decided to focus on the crème de la crème of #deaffriendly businesses in Seattle.
We selected these deaf-friendly finalists on the following basis:
Number of reviews on our site
Accessible features
Average star rating
Reputation within the Deaf Community
Paramount Theatre
In a year that's ending with picket signs one of Seattle's eminent entertainment venues (Benaroya Hall – Seattle Men's Chorus), there's a silver lining for Seattle's deaf/hh theatre lovers. That deaf-friendly gem is called Paramount Theatre, and it's come a long way since its early days as a vaudeville and silent film theatre in the Roaring Twenties.
"I drive over 200 miles round trip to attend your one captioned performance so you can see how important it is to me," one reviewer praised on our site. That's because this 2,807-seat performing arts venue knows how to listen to its deaf/HH patrons: Assistive listening devices, open-captioned nights, and sign language interpreters alike are available for productions like "Priscilla, Queen of the Desert," "The Book of Mormon," "Wicked," and "The Wizard of Oz". Paramount partners with TADA (Theater, Allies, and Deaf Audiences) to provide qualified sign language interpreters with theatre experience.
Yet another praised April's "Flashdance": "Captioning enabled me to 'hear' every song that was sung and every word that was being spoken."
Flexibility is also key, another deaf reviewer wrote: "Paramount Theatre offered the deaf/hh community choices," founder and CEO Melissa "echo" Greenlee reviewed. "Since we all have varying needs, this is a huge plus in my book!"
5th Ave Theatre
Lights! Cameras! Action! Oh, and don't forget the captioning, neck loop, and sign language interpreters.
As yet another contrast to Seattle Men's Chorus unqualified interpreter, 5th Ave Theatre continues to listen to its deaf/hh patrons for clues on creating an enjoying entertainment experience.
The recent production of "Oliver!" was a testament to the 87-year-old theatre's dedication to accessibility:
"I could 'hear' everything that was said or sung by looking at the small captioning screen placed at the right front of the theater which showed EVERY word as it was sung," one reviewer described. "Not like news on TV which seems to always be 2 or 3 paces behind what is happening on the screen."
Another attendee to the same production described using both the OC and assistive listening receiver w/ neck loop. The difference? "I've seen a production of Oliver several times before but this was the first time I knew exactly what the performers were saying." She offered four stars, stating that there were not enough receivers available.
… and that, dear showgoers, is why the show must go on at the five-star 5th Ave Theatre.
Seattle Public Library (Downtown)
With illuminated neon escalators, a fourth floor that's painted entirely in red, and a 11-story glass-and-steel building that makes tourists do a double-take, Seattle Public Library isn't your stereotypical non-descript refuge for mousy bookworms. Just because it's funded by your tax monies and the federal largesse doesn't make it boring: It was built to stand out and strut its stuff. It was also built, naturally, to be very ADA-compliant.
That's why we're entirely unsurprised by the investments that SPL has put into its deaf-friendly accessibility; namely, its LEAP (Library Equal Access Program). From videophones for the deaf to ZoomText Screen Magnifier software for the vision-challenged, SPL is indeed leaps and bounds ahead of your average business' accessibility offerings. "You forgot to make a call to a friend and you need a videophone somewhere in Downtown Seattle? Go to Seattle Public Library. There's a videophone installed there for free usage," a deaf reviewer wrote.
Four reviews, all of them assigning 5 stars with a Deaf employee. All four of them can't be wrong. Clearly, Seattle Public Library can do no wrong when it comes to being #deaffriendly.
Apple Store (University Village)
When it comes to the tech world, the Apple brand is one of those things you can either love or hate. But one thing is for sure: One can almost never dispute Apple's unwavering dedication to accessibility. The flagship store definitely got our attention, when we attended its accessibility workshops earlier this year.
"They use their iPads and Macbooks to communicate with me, how cool is that? That's what customer service is all about," a former deaf Seattle local described the University Village flagship Apple Store.
Whether it's in the form of ASL-interpreted workshops, or the Siri Notes and Speak Selection feature on the latest iPads, you can bet Apple's got your back.
Of Southcenter Mall's Apple store, another reviewer said: "Other employees were impressed to see us signing and working the computer so it was like a ripple effect. Everyone was eager to meet my needs."
The Apple love doesn't end right here in Seattle: A patron of the Apple Store in New York's Meatpacking District initially resisted the "cult-like following of Apple believers." But when a sales associate approached him five years ago and began signing, he became hooked.
Starbucks (various locations)
We have a couple theories about deaf people and coffee. Since the advent of "deaf coffee nights" many years ago, baristas all around the world probably began to take notice of these animated eyebrows and flying hands. This then triggered an evolution of efficiency and empathy – how on earth will we get these steaming cups of lattes and Cubanos into the hands of deaf patrons?
Our other theory is, Starbucks is just so dang profitable that money is no object where accessibility is concerned. Need a visual menu for deaf-blind patrons? No problemo. How about hiring a few ITP (interpreter training program) students for a local Starbucks? Check.
Café Flora
For vegans and omnivores alike, no trip to Seattle would be complete without a trip to Café Flora. Voted Best Vegetarian Restaurant by Seattle Magazine this year, it's also been featured on the Food Network's "On the Road." It's time to add yet another accolade to Café Flora's track record: #deaffriendly #vegan!
For many deaf vegans/vegetarians/gluten-free eaters, communicating their unique dietary needs and preferences can be a draining process at your average dining establishment. Try explaining the difference between soy and cow milk at a Chinese restaurant (since veganism isn't commonplace in all cultures).
But at Café Flora, reviewers say it's a cinch to order such animal-friendly delights as vegan eggnog cream, heirloom potato and kale pizza, and portobello wellington. Just like their wholesome ingredients, the café's service is top-notch: The staff is "able to understand gestures for big/small, bowl/cup, etc.," a reviewer raved. "(They) took the time to make sure that they had the order put down correctly, despite my specific suggestions for my dish."
Even non-signing staffers earned deaf-friendly points from another reviewer: "Our server Jessica, while she didn't know any Sign Language, was very comfortable gesturing and writing back and forth to take our order. She was patient and clear and didn't rush us."
Speaking slowly, good eye contact, and writing things out? Now that's an A la Carte dish for accessibility that we'll order any day!
Bastille Café & Bar
Please pardon our French, but … the food and service at Bastille is just so damn good. First, a little history: Bastille is a Parisian prison destroyed during the French Revolution. Kind of a depressing concept, but the thoughtful service makes dining here feel like anything but prison.
French restaurants tend towards being dimly lit, so when a reviewer had a party of 15 here, she noted: "It was getting dark. They were kind enough to bring more candles so we could see as we sign to each other."
Bottom line: Deaf-friendly service is essential at foreign places. Just try signing such tongue-twisters as Hildago Sour, Poisson Ju Jour, or Cassoulet a La Rue Mohtmarte, or Cauliflower "Chateaubriano" to your waiter. It's stressful.
But another reviewer found that he needed to do no explaining about his deafness: "The waitress somehow already figured out that I am deaf since we were signing to each other. (She) was really thoughtful and slowed down when she explains about the specials they had on that day and also very patience with us when we ask questions about some food on the menu … after we paid the bill and tip, she signed 'Thank you'."
Thanks, Bastille, for taking the anxiety out of this experience!
Agua Verde Café & Paddle Club
We know, it's 40 degrees and in the middle of a wet Seattle winter. But that doesn't mean we can't daydream about wearing flip flops, jumping into some kayaks, and ordering horchatas and fish tacos.
If the way to the heart is through the stomach, the same can be said for basic sign fluency and a side of deaf-friendliness. As we learned with reviews from Aqua Verde Café & Paddle Club, you don't necessarily need fancy technology (Neck loops! iPads that transcribe speech to text! Open captioning!) to create a top-of-mind impression on your hungry deaf consumers. A good attitude goes just as far as a large investment in captioning machines.
"There were a lot of us, and each of our needs were different," a reviewer described his/her recent visit to the Mexican joint for a deaf lunch meet-up. "They were very open to writing, gesturing, and our pointing to the menu."
Then, there is the girl at the counter who – get this – understood classifiers for exactly what her job is about: "She used classifiers to describe a successful and safe mounting/dismounting techniques for the kayaks. Her questions about our proficiency level in ASL made us feel at ease and instilled a sense of trust in the business."
Babeland
There's no getting around the basic premise of a store like Babeland: It's about buying stuff that will eventually facilitate, or be used in the process of, swapping bodily fluids. Whether you're a connoisseur in the sack or an uptight neophyte, walking into a sex shop can be tough. Add a communication (barrier), and it's sort of unbelievable that your average deaf person will walk into a sex store.
Yet, Babeland is popular amongst the deaf/hh crowd. Just like they don't bat an eye about nipple clamps, they don't bat an eye about interpreter requests. No lecturing about ADA, no hand-holding about which agency to contact.
"They were quick to provide input on whatever device you were checking out and made you feel comfortable even though you are wrestling with a sexual device that you could be using later that night," a hard of hearing reviewer described his Babeland experience. "Gestures were made, but they were done professionally without making you feel creepy."
"Babe, you are definitely on our deaf-friendly land," one reviewer punned on our site. "I usually go there for workshops with a group of deaf friends and they always have interpreters ready for us – always."
"They regularly hold workshops, and in their bulletins, they proactively make it clear that interpreters are provided upon request with no question asked."
Ark Lodge Cinemas
If we had to pick the most courageous deaf-friendly business of the year, Ark Lodge would win, hands down.
With already $80,000 sunk into a new sprinkler system, and $15,000 to replace 500+ ft. of copper wires, ALC owner David McRae already had his hands full when he received an email request for open captioning the December 2012 premiere of The Hobbit.
Instead of proffering a weak sauce argument that his business being too small for the ADA, McRae rolled up his sleeves and delivered accessibility. He purchased open-captioning equipment, and christened Tuesday nights "Open Caption Tuesdays." And he did it all within weeks.
So, do this humble community theater a favor if you're thinking of watching a film to recover from your New Year's (which happens to be on Tuesday this year) shenanigans: Go to Ark Lodge Cinemas. Get some of that buttery popcorn, and watch The Hobbit: Desolation of Smaug. Or Saving Mr. Banks. Or American Hustle. Options are wonderful, aren't they? And Ark Lodge has given us more than simply movie options – they've given us an accessibility options besides reader glasses and rear-window captioning.
Regis Hair Salon
When it comes to something as sacred as our tresses, most of us accept no substitutes. Many deaf person can recount a time they were trying to describe, in sign language or via a celebrity name (think Jennifer Aniston, circa-FRIENDS), their preferred hairstyle … only to stare in the mirror at a horrific blowout only Donald Trump could be proud of.
"I am new to Redmond, WA, and I had a terrible hair cut. I heard about Marie G & as long as I live in Redmond, WA, I will never go to anyone else! She had to cut my hair pretty short to fix the horrible cut I received from someone else, but she did so good!"
Botched haircuts are very, very hard on the self-esteem. It's even harder when you know it could have been prevented with better communication beforehand.
This, we think, explains the outpouring of enthusiastic reviews for Marie Goodman – the deaf, ASL-fluent stylist at the Redmond Regis Salon. Whether it's for hair feathers or an edgy punk cut or demure wedding braids, this Gallaudet grad knows hair.
"She is not afraid to give in her honest opinions. That's something you would like to hear before you decide to take a giant leap of faith to chop off your hair, right?" another reviewer wrote.
Regis Corp. is the largest hair salon chain in the world. But where in the world will you find a chain which has a stylist who can read your finger spelling of "Jennifer Aniston"? Right here, in Redmond. There's plenty more elsewhere – for the love of great haircuts, please continue to submit reviews of deaf, ASL-fluent stylists and beauticians everywhere!
AN ODE TO 2013
Looking back at the past 365 days, we are excited by the small yet meaningful steps our community has made. Instead of feeling victimized by a fake interpreter's signs, we busted out picket signs and wrote open letters. Instead of silently allowing deaf-challenged businesses to oppress us, we wrote reviews. As we get closer to our 1,000-review goal, we get closer to a more deaf-friendly world.
We are also getting closer to our nationwide launch coming in Spring 2014. Been watching from the sidelines but unable to write a review because of your zip code? That all changes this year! Stay tuned … and in the meantime, we wish you a safe, #deaffriendly, and triumphant New Year!
.
Tags
Comment Policy
We're aware that issues facing the Deaf, Deaf-Blind, and Hard of Hearing Community can become quite passionate and divided. What can we say, we're a group of passionate people! While we fully support a community full of passion, we also require that comments are respectful. We think negative attitudes and disrespect are a waste of everyone's time and energy. This doesn't mean you can't disagree with people, you just need to do it respectfully. We reserve the right to delete or edit any comments we feel are judgmental, rude, or of attacking nature.