Not Just FaceTime: Apple Store's Accessibility Workshops Reveal Deaf-Friendly Features
Posted by: Staff Writer on May 20, 2013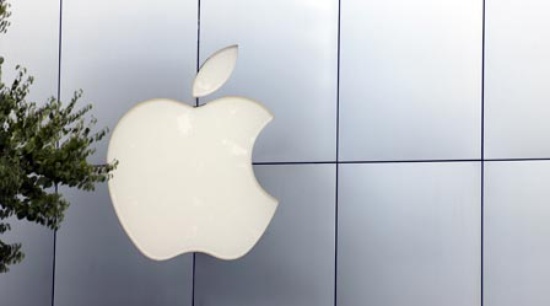 At 8 A.M. sharp, deaf and hearing attendees are huddled near the University Village Apple Store's Genius Bar in Seattle, WA. Armed with their morning caffeine, they're here to learn more about the magical accessibility features lurking within their Apple products.
Including our favorite faceless know-it-all, Siri.
Workshop leader Joshua Jones turns to the perfect 8 A.M. analogy to introduce the Siri Notes feature:

"Every morning at Starbucks, I get through long lines quickly using Siri Notes. Instead of struggling to communicate for 2 minutes, I show the barista my order on my iPhone and we're finished," said Jones. "I save it on my notes, because I get the same kind of coffee and sandwich every day."

As the back-of-the-house specialist at the U-Village Apple Store, Jones has led several accessibility workshops. In addition to supervising mobile devices, organizing back-of-house inventory and stock as well as providing customer service, he recently partnered with the Apple creative team, co-teaching the workshops with specialists Suzanne Poag and Kira Stone.

He's a prototypical Apple lover who lives, breathes, and thinks Apple. But one thing (or rather, two) things sets him apart from other fans: He is deaf-blind. This makes him uniquely qualified to educate others about the accessibility features that ease communication barriers.

Vision, hearing, cognitive and motor skills all fair game

The two-hour workshop introduces accessibility features of the iPad, iPhone and (briefly) the Mac. Leaving no stone unturned, they discuss various disabilities that could benefit from Apple's assistive hardware and software technology.

Hint: It's not *just* FaceTime, the miracle one-tap iOS app that's the second-best thing to teleportation. Touted as a wildly applicable tool for users who communicate via sign language, it's also a hit with mainstream hearing users who love that it lets them "be in two places at once."

ASL interpreters Elizabeth Rothman and Nicole Mango signed as Poag and Stone spoke and voice-interpreted as Jones signed, ensuring a crystal-clear experience to all workshop attendees.

Deaf Seattle local Ariel Belo, who works with Hearing Speech and Deafness Center as their Director of Deaf and Hard of Hearing Services came to the workshop armed with all her Apple gadgets. Despite her existing comfort level with the iconic brand, she left the store with new knowledge: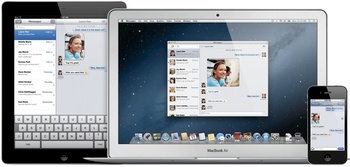 "I didn't know about Siri Notes before (this workshop)," Belo said. "It's great to know about this, because there's a lot of VRS, DVR clients who may have Apple products but may not know about all the features available."

Even in a modern age when kindergarteners often become obsessed with their parents' iPads and mobile gaming apps, the learning never ends.

In addition to evolutions of Mac OS X (such as Mountain Lion), and the iPad's new-generation OS, that includes Speak Selection, a new iPhone feature that is available on the iPhone 3GS or later.

"I just learned this new feature just last week, and I wish I'd known about this a long time ago," Jones signed before demonstrating the power of this feature, which enables your device to lets you highlight text in any application by double tapping it (such as if you wanted to select text from websites or email).

Introducing Siri to the "deaf accent"

"I have a 'deaf accent.' With about 30 minutes of practice, could I train Siri to get used to my voice?" asked Belo.

"Yes and no," responded workshop trainer Kira Stone, a specialist in the Apple creative team. "Siri is not as quick as Dragon Dictate. But as you interact with her, she'll learn how you pronounce specific things."

"There's a difference between Siri as a program, and Speak Selection as a function," Poag said. "But in both cases, you replace barriers with options."

How it all started

The brainchild is Ron Ustach, a senior system engineer at Apple Computer who collaborated with GoWise (the Washington Initiative for Supported Employment) and the Apple Store to make the workshops a reality.

"He had a long list of people who were interested, so we put together the workshops, just as a trial," said Poag. The never-ending quest to find solutions for end-users is a challenge and ultimately about "supporting the community, and investing in more people."

To say that Ustach is an evangelist for Assistive Technology and employment for individuals with disabilities is no stretch. He has been a speaker at the Association of People Supporting Employment First (APSE), well as the Alliance for Full Participation Summit.

At a Deaf and Disabled Telecommunications Program Equipment Program Advisory Committee (EPAC) meeting in the beginning of the year, Ustach said that over 500,000 apps currently exist in the App store. One of them includes a special education section in the App Store which helps to narrow down the accessibility apps for users.

National fanbase applauds Apple Stores on deafREVIEW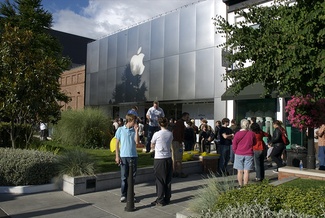 During a brief break, some workshop attendees playfully tested the Speak Selection feature with one-liners like "How brilliant, mate. This is bollocks."

Indeed, Apple software and hardware isn't its only source of brilliance - so is its commitment to accessibility. Its loyalists live near and far.

"They use their iPads and Macbooks to communicate with me, how cool is that? That's what customer service is all about," a former deaf Seattle local described the University Village Apple Store.

Praising the Apple Store at Southcenter Mall, another reviewer said: "Other employees were impressed to see us signing and working the computer so it was like a ripple effect. Everyone was eager to meet my needs."

In the future, says Poag, other local Apple Stores hope to offer accessibility workshop in Alderwood Mall, Bellevue Mall, and Southcenter Mall.

In other states, 5-star reviews reinforce Apple's gold standard in accessibility:

A reviewer praised the La Jolla, San Diego Apple Store's two sign language-fluent employees, recommending that deaf customers make an appointment with them beforehand. A patron of the Apple Store in New York's Meatpacking District initially resisted the "cult-like following of Apple believers." But when a sales associate approached him five years ago and began signing, it cemented his journey of brand loyalty.

iPad: Also a job coaching, productivity tool

One of the hearing attendees, Kenita Teague, utilizes iPad apps for work. As a job coach for the Highline Community College Community & Employment Services, she attended the workshop to learn creative new ways that the iPad can help her disabled clients reach their goals.

For example, one client has extremely short-term memory. In the work world, Memento-style tattoos don't cut it.

"He works at McDonald's, and needed a way to independently complete task lists," explained Teague. "So I had him use an app called Pictello, where we take pictures of him completing each task. These pictures remind him of the tasks he needs to do - it's very helpful."
 
In addition to accessibility workshops, other free Apple Store workshops cover the gamut of Apple applications. You can learn how to mix music using GarageBand on your Mac or iOS device, how set up a free iCloud account, how to use Keynote to deliver kickass work presentations ... and more.

Whatever you decide to learn, the sky - not accessibility - is the limit

"Something we want you to be aware of, is that we have workshops almost daily," said Poag. "If you do want to come to one and you need an interpreter, we will get you one."
 
(Or two, as interpreter teams are often hired)

Want to attend an Apple accessibility workshop, or any other kind of workshop that fits your needs? Get your "learn" on and look for upcoming workshops at your local store!
Tags
Comment Policy
We're aware that issues facing the Deaf, Deaf-Blind, and Hard of Hearing Community can become quite passionate and divided. What can we say, we're a group of passionate people! While we fully support a community full of passion, we also require that comments are respectful. We think negative attitudes and disrespect are a waste of everyone's time and energy. This doesn't mean you can't disagree with people, you just need to do it respectfully. We reserve the right to delete or edit any comments we feel are judgmental, rude, or of attacking nature.