Is Your College On The Deaf Friendly Map?
Posted by: Staff Writer on Aug. 27, 2013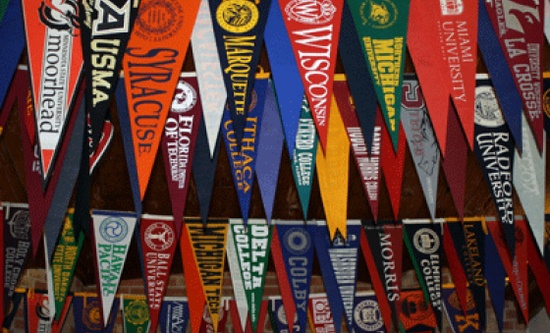 3-ring binders? Check. Extra 64-GB flash drives for thesis? Check. Lime-green highlighters for all-night cram sessions? Check. #deaffriendly campus environment in the city where you're getting your learn on?
That's where you, dear student-readers, come in. Not too many months ago, our East Coast launch set the deafREVIEW platform live in the cities where many RIT and Gallaudet students live: Metro D.C and Rochester (as well as NYC). Since then, many students have contributed reviews about businesses near their campus.

But there's still tons left to be reviewed.

Tell us where the #deaffriendly campus businesses are.

Whether you're on the fast-paced Quarter system or the Semester system, Deaf Standard Time (see: "The Long Deaf Goodbye, Explained") can get in the way. You're too busy to deal with deaf-challenged businesses, which is why we compiled a cheat sheet of student-specific business categories:

1. Stress Relief. Stress - It goes hand-in-hand with higher education. Whether you've ambitiously decided to tackle Gallaudet's brand-new Ph.D. in Educational Neuroscience, or are a freshman plowing through electives, your sanity is a precious asset. We've combed through reviews on massage therapists, spas, yoga studios ... and more!

What better than a Deaf-owned yoga business? Rochester's Deaf Roots and Wings, with its Deaf yoga teacher who uses ASL as a primary language, earned a 5-star review: "I always feel comfortable, 'safe' and at ease in her classes. Every time I leave her classes, I feel upbeat and ready to face everyday life."

What other remedies do you have for de-stressing when school gets tough? Share with us your strategies, and the businesses that help you do it!

2. Technology Services, Book Stores. There are only two hard and fast rules about being a modern student. One: You can't get away from technology. Two: Murphy's Law will almost surely guarantee that your laptop will crash the day before your final paper is due. Be prepared -- have a list of #deaffriendly tech pros so you won't waste time - or a dime - with a bad apple.

As we've learned from past reviewers, Apple Store is a hit with most of the Deaf crowd ... and that includes students. One D.C.-based reviewer raved about the Apple employee who typed on the sticky notes app to make an appointment. No matter which city you go to in search of help for your iPad's fried logic board, it seems that Apple can do no wrong.

What of the seeming antithesis of technology - the humble bookstore? A RIT student reviewer reports that Deaf students flock to the Barnes and Noble Booksellers right across the street from campus: "Deaf people take up a percentage of the student population there. The staff are trained to work with Deaf customers who stop in to buy text books and school swag. Sometimes on a good day, I'll get a casher who is fluent in ASL and I can easily communicate. Those who don't sign always have a paper and a pen ready."

Non-Mac students, where do you go when your motherboard gets fried? Bookworms, what's your favorite local haunt for curling up with a good book or finding a textbook?

3. Housing, Lodging, and Dorm Organization. Whether you live in a dorm, a sorority, or your Mother's house, you'll want to have a room where you can study (or at least relax). That's where services like U-HAUL come in.

When a former Seattleite reviewer decided to pack her bags to earn a degree at Gallaudet, she discovered all the deaf-friendly features that U-HAUL has to offer: "Their online ordering and rentals are easy to use. I recommend you make reservations online before the big day."

Are you a prospective student doing a campus tour, or a parent visiting your child at Gallaudet? Crash at a deaf-friendly hotel: The Kellogg Conference center received a rave review and is even touted on the Gallaudet Visitor Accommodations page as the place to stay when you visit the campus.

RIT has an accommodations page detailing hotels that are accessible within 10, 15, or 20 minutes from the campus, downtown, or airport. Why not write a review offering a low-down on hotel accessibility in deaf-friendly terms?

Organizing all your stuff in a small dorm room can get tricky -- even more so if you have a roommate. If you're a CSUN student, check out the positive review of The Container Store in Los Angeles.

Students, did we miss anything on our list? Write a review, and let us know!

4. Food, food, food. Top Ramen gets old, fast. One thing more detrimental to your success than sleep deprivation is malnutrition. You'll want a handful of reliably #deaffriendly restaurants to re-fuel those brain cells. Yumminess is of course the top criteria, followed by servers who know basic/fluent ASL, the ability to order online (for takeout), and the confidence that no one will hang up on our Relay calls when we're hankering for a 1 A.M. pizza.

Don't be fooled by a restaurant that has greeting signs with ASL fingerspelling or Bison (Gallaudet mascot) memorabilia.

As a disappointed student-reviewer revealed about Chinito's Burrito: "When I noticed the welcome sign, I thought the cashier would know some signs. Apparently, the cashier does not know any signs, and talked to us in a flat tone with no hand gestures. I can lipread pretty well, but this time I could not read the cashier's lips ... I would give this place 4 or 5 stars if they improve their communication or signing skills because I am afraid that Chinito's does not get it and yet, they represent Gallaudet in the shop."

5. Social Establishments. "It's not what you know, it's who you know." Most of the world's most famous entrepreneurs rose to the top not because of superior intellect, but because they met the right people, at the right time. So, don't be a 4.0 hermit. Tell us which #deaffriendly watering holes, venues, and entertainment areas are a hit with the deaf crowd ... and worth tipping our deaf-friendly servers well.

Note: Even Rochester clocked in a couple of reviews on a strip club!

Friends don't let friends frequent deaf-challenged businesses.

If you're heading to, currently enrolled in, or have just graduated from college, then you learned at least one thing: College is freaking expensive. So expensive, you can't afford to keep spending on deaf-challenged businesses.

Cutesy back-to-school TV commercials don't tell the whole story, let alone for deaf/hh customers. Bring a vote of confidence to deaf and hard of hearing students -- write a review about services and places to start their college journey off on the right foot!
.
Tags
Comment Policy
We're aware that issues facing the Deaf, Deaf-Blind, and Hard of Hearing Community can become quite passionate and divided. What can we say, we're a group of passionate people! While we fully support a community full of passion, we also require that comments are respectful. We think negative attitudes and disrespect are a waste of everyone's time and energy. This doesn't mean you can't disagree with people, you just need to do it respectfully. We reserve the right to delete or edit any comments we feel are judgmental, rude, or of attacking nature.