Interpreters For Your Family Function: A Checklist
Posted by: Staff Writer on Sept. 30, 2013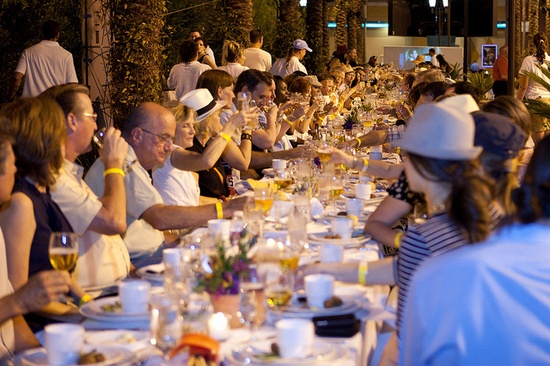 Christmas? Family Reunions? Weddings? It's a perfect storm; near-strangers who might not have a close relationship are stuck together for hours at a time. There's constant interaction and you're often away from your own bed, your home, and your comfort zone. Even the closest of families run into this kind of tension from time to time.
Deaf and hard of hearing (hh) individuals, experience another layer of challenge: communication barriers. Unfortunately, due to these challenges, many deaf/hh individuals are unable to communicate effectively with their family members. While love is a powerful component to connecting with your family, it doesn't take the place of clear communication. Luckily, you can help minimize tension in this situation, by hiring a sign language interpreter to your next family function.
Who Will Interpret?
Where can you find someone qualified to interpret? Often, the deaf family member will have resources and will be able to connect you with some options. If they do not have the appropriate connections, you may want to try a local Sign Language Interpreting Agency. Worried about quality? You should seek a certified interpreter. They are trained professionals that have been tested and approved. The Registry of Interpreters for the Deaf (RID) has a searchable database where you may use to contact interpreters directly or through interpreting agencies.
Who Pays?
Interpreters are professionals who spend many years and hard earned dollars getting their interpreting education. Hence, interpreters do not work for free. Interpreters may charge you anywhere from $30 to $100 an hour, depending on the complexity of the job and their experience level. This is a good time to check in with your deaf family member about the logistics. When will the interpreter need to be there? How many hours will the interpreter work? If your cousin Ryan is having a wedding, would you want the interpreter to arrive before the ceremony and start interpreting then? How about the celebrations afterwards? This is also a good time to go through your budget and discuss options with your deaf family member. There are many innovative approaches.
Keep in mind that Sign Language Interpreters are often in high demand. Standard procedure is to book an interpreter two-weeks in advance, but the sooner the better. Once you and your deaf family members have ironed out the details and selected a few interpreters, it's time to start calling. Once you've got an interpreter to commit to the event, congratulations!
Interperter Etiquette
Now that you've got an interpreter, what do you do? If this is a new experience for you, you may be befuddled when faced with an interpreter. Who do you look at when the interpreter is speaking? How do they address the deaf person? What kind of information can they share? How do you interact with the interpreter?
Take a deep breath – because it's really very basic. The interpreter is there only to interpret one language to another. They will interpret everything they hear. Their voice is the deaf person's voice. Look directly at the deaf person and address them directly. The deaf person will do the same for you. It may feel odd at first, but you'll adapt. Don't worry about being rude to the interpreter or leaving them out of the interaction – they are not there to be entertained or hang out. They are there simply to work.
Basic human courtesy is appreciated, as interpreters do need to take breaks to use the restroom, freshen up and to rest their arms. You can communicate with the interpreter when they wish to take their break. Perhaps ten minutes every hour? If your family function lasts longer than 1.5 hours, you should consider hiring two interpreters. This is standard practice so that Interpreters can rotate each other every 20 minutes. Remember! Interpreting is a physically and a mentally demanding job, and they need breaks to maintain a high standard of service.
Special Considerations
Along with family functions, you might find yourself gathering at a local church or funeral home for your family function. Many churches, temples and other religious organizations are connected to interpreters that are experienced in their religious customs. It would be prudent to check with your local priest, rabbi, pastor or imam to discover what kind of interpreting services they provide. The same goes for funeral homes. When dealing with funeral homes, you should inquire about who is responsible for covering the cost. Do be careful when you hire interpreters that focus on one specific niche – being talented in one area does not necessarily translate into skills for another type of interpreting.
Families are precious, and family functions can be a time of coming together and celebrating your bond as well as your unique religious or secular traditions. Deaf people, as your family members desire to make the same connection you do, and to hire an interpreter will speak volumes about their role as a family member of yours.
Last, but not least, do take the time to learn some American Sign Language. This does not necessarily require signing up for a class at the local college (which is strongly recommended!), but you can also explore and discover local and free classes. Some religious organizations have ASL classes. You can also check with your YMCA or community center to see if any classes or provide. Ask your deaf relative if they know of any resources you may use. There are also many free online ASL dictionaries, such as Michigan State University's ASL browser, ASLPro (includes religious vocabulary dictionaries), CyberASL, and Memrise, which offers introductory lessons to ASL – learn grammar and vocabulary as you go. In addition, there is an excellent fingerspelling site – learning your ABC's goes a long way! Bill Vicar's American Sign Language fingerspelling has a handy tool that helps you practice reading fingerspelling.
Families are forever, and your deaf relative will appreciate your efforts to make a connection.
Tags
Comment Policy
We're aware that issues facing the Deaf, Deaf-Blind, and Hard of Hearing Community can become quite passionate and divided. What can we say, we're a group of passionate people! While we fully support a community full of passion, we also require that comments are respectful. We think negative attitudes and disrespect are a waste of everyone's time and energy. This doesn't mean you can't disagree with people, you just need to do it respectfully. We reserve the right to delete or edit any comments we feel are judgmental, rude, or of attacking nature.