In The Marketplace: Deaf and Hard of Hearing Individuals
Posted by: Staff Writer on July 30, 2013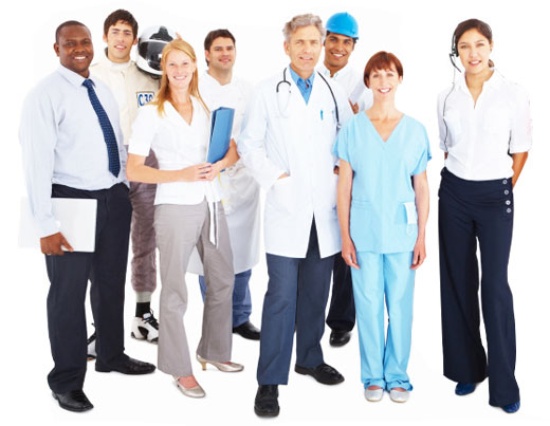 Have you heard of the term "Deaf Community?" You may have limited exposure to deaf and hard of hearing (hh) individuals, but let me attest, with over 35 million deaf/hh individuals in the United States alone, it's very much alive and thriving!
In their everyday life, deaf/hh individuals are supported by a large body of individuals. From doctors to family and friends, deaf/hh individuals have a broad and expansive reach. When you provide good deaf-friendly service, consider everyone in their reach will hear about it. If you're a business that thrives on word of mouth, skimping out on a deaf-friendliness is not an option. Below are some examples of their expansive reach.
PERSONAL LIFE
A whopping 90% of deaf/hh individuals are born to hearing parents, meaning the majority of deaf people have a significant interaction with the hearing world.
WORKPLACE
Though deaf-owned businesses are on the rise, many deaf individuals have hearing employers and co-workers. Managers and HR professionals must be aware of how to work with deaf/hh individuals, their accessibility requirements under ADA, how to request interpreters or captioners for meetings, and implement safety protocols.
MEDICAL PROFESSIONALS
Deaf/hh individuals need medical attention just like everyone else such as a family doctors, opticians and dentists. They are also connected to medical specialists such as audiologists, researchers and speech language pathologists. Some experiences, such as cancer or childbirth are frightening and require an extra dose of deaf-friendliness.
BUSINESSES & SERVICES
Just like hearing individuals, deaf/hh people frequent businesses on a daily basis. Whether you're an auto repair shop or a local eatery, you can score trustworthiness points by earning a seal of deaf approval. Additionally, deaf/HH people rely on specialty service providers such as ASL Interpreters/Agencies, Relay Services and Captioning Providers.
GOVERNMENT AGENCIES
Ask any deaf/HH person, and you'll find that they are well-versed in government acronyms: Department of Vocational Rehabilitation (DVR), Social Security (SS), Human Right Commission (HRC), Federal Communications Commission (FCC), to name a few. Many government agencies directly support deaf/hh people.
LEISURE
To expand their worldview and maintain contact with non-local deaf communities, deaf/hh people travel often. They also enjoy sports and hobbies, making them a specialty market catering specifically towards Deaf sports, Deaf Travel Agencies, and Deaf Theatre organizations.
EDUCATION
Deaf individuals attend mainstream schools and universities just like their hearing peers, but there are also hundreds of schools for the deaf in the U.S. as well as support programs such as Individual Education Plans (IEP). Colleges and Universities often have entire departments that cater to the needs of deaf/hh students. There are also three Universities with exclusive programs for the deaf: Gallaudet University, Rochester Institute of Technology (RIT) and California State University at Northridge (CSUN).
MANUFACTURERS
There are many deaf-related manufacturers in the marketplace today such as video phones, mobile phones, listening devices (hearing aids, cochlear implants, T-coils), and alert system providers.
NON-PROFITS
Agencies advocate for Deaf individual rights abound, including the National Association of the Deaf (NAD), Telecommunications for the Deaf and Hard of Hearing as well as Hearing Loss Association (HLA) and Association of Late Deafened Adults (ALDA). Many churches also support Deaf individuals' spiritual growth and community.
Whether your deaf/hh customer is a Baby Boomer who has gradually lost her hearing only recently, or a young adult who has been deaf since birth, the cast of characters who add support and joy to their lives is nearly infinite. Remember that they too, enjoy watching movies starring hearing actors, get treatment from hearing doctors and enjoy the company of hearing friends – just like the rest of us. By taking the necessary steps to carve a welcoming, accommodative environment for the deaf/hh customer, our rewards are both calculable on the cash register and priceless: It can result in an infinitely more satisfying world for all of us, while steeping your business in truly universal principles of customer service.
Tags
Comment Policy
We're aware that issues facing the Deaf, Deaf-Blind, and Hard of Hearing Community can become quite passionate and divided. What can we say, we're a group of passionate people! While we fully support a community full of passion, we also require that comments are respectful. We think negative attitudes and disrespect are a waste of everyone's time and energy. This doesn't mean you can't disagree with people, you just need to do it respectfully. We reserve the right to delete or edit any comments we feel are judgmental, rude, or of attacking nature.