flashBACK Friday: Brightly Colored Ear Molds
Posted by: Staff Writer on June 28, 2013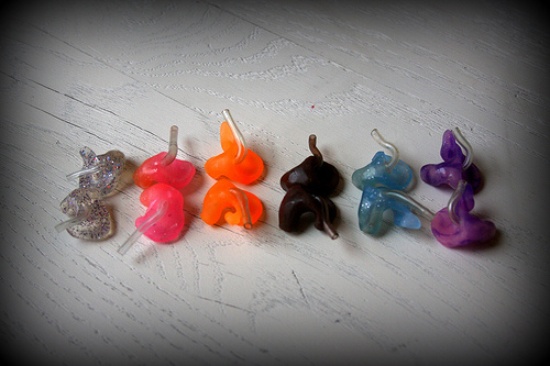 Plain beige, bright blue and hot pink ear molds are so 1980s! Yet, braces, hair dye and contact lenses now come in all colors of the rainbow. Why not ear molds, too?
Some deaf and hard of hearing people have a conflicted relationship with their hearing aids. It's gross to think of all the ear wax piling up, making ear molds a sensational "snack" for Fido. But it's also cool - literally - when your audiologist fills your ears with that cold, goopy blue silicone or polyethylene.
Even cooler, in this day and age, is that ear molds have joined the accessorization club. You can now request zebra or leopard print, neons, add a pinch of glitter, or go hippie tie-dye ... right inside your ear canal or tubing. Want even more color? Some manufacturers, like Phonak, will re-case your aids with the color of your choice. For a less permanent option, you can give your hearing aid colorful, water-resistant spandex nylon sleeves from Ear Gear.
Don't forget to load on the bling, either, with hearing aid beads and charms.
Are colorful molds only for spring chickens, or can spry mature folks also wear them? We think yes! If it's OK to have tattoos, wear Bugs Bunny ties, and other "unconventional" looks at work, then colored hearing aids are also a fairly safe expression of your individuality. Not only do they add zest, they play another important role: Conveying to others that you are deaf or hard-of-hearing.
This may be a great option for you if you are worried about people confusing your deafness for rudeness - when you don't respond to their greetings, for example. It's also a way to show school pride - such as purple and gold for Huskies - as well as complement your unique hair color.
Flashy ear molds are working their way into the occupational mainstream - and the hearing world. Broadcasters, racecar drivers, pilots, and even anesthesiologists are all opting for more colorful custom ear molds (whether it's for their Teleprompters, boom headsets or stethoscopes).
Not into the colorful mold idea? Westone has a DisappEar skin tone additive which makes its molds look invisible in the ear.
If you have colored ear molds today, what reactions do you get? Does it allow you to make a fashion statement or help people heed your communication needs better? Let us know here!
Tags
Comment Policy
We're aware that issues facing the Deaf, Deaf-Blind, and Hard of Hearing Community can become quite passionate and divided. What can we say, we're a group of passionate people! While we fully support a community full of passion, we also require that comments are respectful. We think negative attitudes and disrespect are a waste of everyone's time and energy. This doesn't mean you can't disagree with people, you just need to do it respectfully. We reserve the right to delete or edit any comments we feel are judgmental, rude, or of attacking nature.