Deaf-Friendly Showcase: When Tummies Rumble, Deaf-Owned Mozzeria Hits the Mark!
Posted by: Staff Writer on May 28, 2014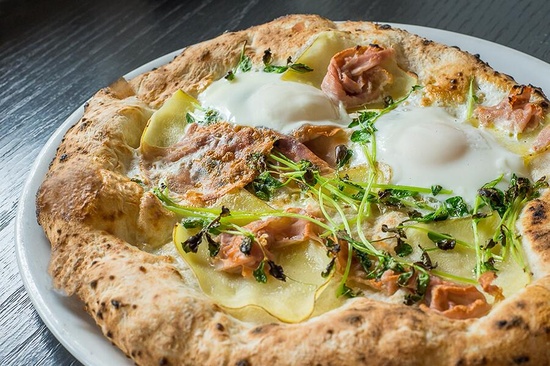 The mural-streaked, gritty Mission District is a neighborhood that Teenage Mutant Ninja Turtles' pizza-obsessed Michaelangelo would have happily – and hungrily -- prowled. He may not have had use for its tattoo parlors nor vegan bakeries, but the plethora of Italian joints?
For all who ascribe to this ninja's rule that 'forgiveness is divine, but never pay full price for late pizza,' Mozzeria makes 16th and Guerrero a second home.
The pizza, which is flash-cooked in 60 to 90 seconds, is as punctual as it is divine. The fast-and-furious hands of the all-deaf 15-member staff use sign language just as quickly as they compose a Quattro Formaggi pizza.
The Deaf owners of San Francisco-based Mozzeria have hit the mark in deaf-friendly entrepreneurship. Five years ago, husband-and-wife team Melody and Russell Stein knew the odds of starting a business in a city with high minimum wage, taxes, and rent.
Undeterred, they forged ahead and opened Mozzeria in late 2011.
Progressive pizza, evolving from a 300-year-old method
Flash forward to mid-2014: With the Mozzeria brand cemented in the minds of hungry San Franciscans, the novelty of an all-deaf staff has become secondary to its superior pizza quality. But don't just take reviewers' and food guides' words for it: The proof is in Mozzeria's recent "Vera Pizza Napoletana" certification from the Associazione Verace Pizza Napoletana (AVPN).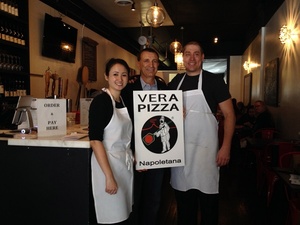 This is a true stamp of approval from representatives coming from the birthplace of Neapolitan pizzas – Naples, Italy. Mozzeria is the third AVPN-certified pizzeria in San Francisco, paying homage to a 300-year-old craft.
But the old meets new: The city is so forward-thinking, that Mayor Ed Lee brought his own sign language interpreter when he visited Mozzeria in February.
"We also know San Francisco to be a progressive city and although San Francisco isn't meeting all the needs of Deaf people at this time, we continue to educate people within the city and raise awareness as to our needs," said Melody Stein. 
That includes job creation for deaf and hard-of-hearing. Most of Mozzeria's employees had no previous experience of working in the restaurant industry, and even the sous chef previously struggled for six years to become hired by a restaurant that would see past his deafness.
"What we look in each candidate is the ability to learn quickly and be a team player," added Stein, who is a third-generation restaurateur. "Then we can train them and nearly all of them meet standards and do excellent work!"
Indeed, Mozzeria's customer service delights many of hearing diners – who quickly learn the signs for 'thank you' and even 'pizza'. It's become a haven for ASL students as well.
Love from the mainstream and Deaf Community
With nearly 300 reviews on Yelp! (averaging four stars), a nod from the venerable Zagat (21 for food, 22 for service), a "Most Awesome Family restaurants and cafes" award from Red Tricycle, and a recommended rating from the Michelin 2014 guide, it's safe to say that the overachieving Mozzeria isn't lacking accolades from the mainstream.
But even though hearing diners comprise 90% of its clientele, Stein said that scoring deafREVIEW kudos from six deaf and hard of hearing reviewers (an average of 4 stars) is what makes the business so fulfilling.
"(The Deaf Community) has come all the way to support us since Day 1," recalled Stein. "In the beginning we saw lots of Deaf diners but gradually hearing diners have started to come in. Their Deaf diners remain "very loyal", she added, and some have expressed their Mozzeria delight on deafREVIEW. Like this one:

"It is wonderful to have something like deafREVIEW which puts deaf businesses in the spotlight," said Stein. "We would love to see deafREVIEW somehow become a section of Yelp to bring greater exposure to deaf businesses in the mainstream."
Yankee Ingenuity, with a touch of Naples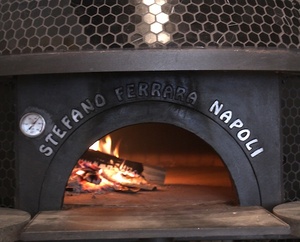 Let's not forget another important member of the Mozzeria team – which neither hears nor speaks.
Fun Fact: This 5,000-lb. Darth Vader lookalike comes straight from Naples, Italy.
Neopolitan pizza is such an art form that, like the artist Michaelangelo himself, Stein studied it in Italy (her mother interpreted the cooking classes in Rome, Sorrento and Positano). The result: A menu that adheres to the Neopolitan art, with many twists: Roast Duck pizza, Japanese Funghi pizza, and even a Mother's Day Flower Blossom Pizza.
Actress Gwyneth Paltrow said that her wood-burning pizza oven is one of the best investments she's ever made. Indeed, before their Stefano Ferrara stove arrived, the Steins built makeshift a wood-fired oven in their back yard to practice making pizzas. 
Guess who's coming to dinner: Bridging the Hearing-Deaf Divide
Much as the mainstream adores the novelty of an all-Deaf staff, there have been times when the gatekeeper – the telephone – deterred some potential customers from coming to Mozzeria.
"Having been involved in the Video Relay Service industry for a long time, we used to train Deaf people how to be independent and take control over their conversations," said Stein. Now, the tables are turned: "The hearing callers are accustomed to hearing sounds on the other side of what the other caller is doing, like typing on keyboard. On VRS calls, they cannot hear such sounds, only the interpreter's silence while we enter their reservation in an iPad which is a bit disorienting for them."
As a result, they've trained the staff to introduce themselves at the beginning of VRS calls, and let the hearing customers know that a sign language interpreter is interpreting the call. An upcoming Mozzeria project is a commercial targeted towards hearing people, showing how the Video Relay Service works.
"Times have changed… in the past there were few deaf businesses probably due to lack of resources," reflected Stein. "But with today's technology and exposure, Deaf people are more confident in launching Deaf Businesses." 
Two months ago, Mozzeria (and various deaf artists) were featured in a Convo Mobile ad. Shot entirely with an iPhone 5s with an all-Deaf team, the spot illuminates the kind of technologies that have made it easier for deaf people to live in a hearing world – and vice versa. 
They say that revenge is a dish best served cold. But where Mozzeria is concerned, social justice and equality is best served from a piping hot wood burning stove.
As the world's most pizza-loving turtles would say: "Cowabunga!" Have you dined at Mozzeria, and left with a belly and hands fluttering with signs (and sighs) of joy? Be sure to leave them a review here.
.
Tags
Comment Policy
We're aware that issues facing the Deaf, Deaf-Blind, and Hard of Hearing Community can become quite passionate and divided. What can we say, we're a group of passionate people! While we fully support a community full of passion, we also require that comments are respectful. We think negative attitudes and disrespect are a waste of everyone's time and energy. This doesn't mean you can't disagree with people, you just need to do it respectfully. We reserve the right to delete or edit any comments we feel are judgmental, rude, or of attacking nature.
Reviews by Advocates & Champions