Willard's "Rebirth" Report: The Naked Truth About NTD's Decline
Posted by: Staff Writer on Aug. 6, 2013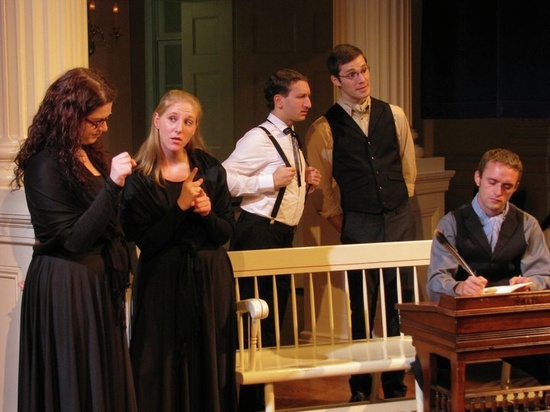 "Break a leg" is the long-uttered catchphrase of thespians and stage buffs. But it's going to take much more than a cliché to revive the National Theatre of the Deaf (NTD), says DeafWeekly.com editor Tom Willard. Willard is a man on a mission to save NTD.
His 27-page PDF report, titled "Rebirth: Thoughts on Reinvigorating the National Theatre of the Deaf," began making its rounds on the Web several months ago. It's hardly light reading, but resounds with urgency:
"There is only one National Theatre of the Deaf and the entire deaf community needs to come together and put the NTD back on the pedestal where it once gleamed ... We need to stop thinking of the NTD as a charity that would not exist without the kindness of strangers and start thinking of it as a business with a long and venerable history and a lot to offer."

Willard's no stranger to controversy: Two summers ago, he filed a complaint with the U.S. Justice Department against the Empire Haven Nudist Park. His claim? That they violated the Americans with Disabilities Act (ADA) by failing to provide a sign-language interpreter for workshops at an annual nudist festival.

Understandably, he's not shy about exposing the naked truth about issues facing our community. While Simon Cowell critiques singers and Gordon Ramsey whips flailing diners back into shape, Willard wants to revive Deaf theater.
What happened to NTD's heyday?

A little background: In 1965, the National Theatre of the Deaf first received funding from the U.S. Department of Health, Education and Welfare. Two years later, it held its first performance. Since then, NTD has won a Tony Award as well as rave reviews from international audiences.

Then, in 2006, the NTD announced that federal funding had been discontinued. Total loss: $680,000.

In Willard's eyes, the problem lies not with federal aid but with the NTD board of directors. For starters, Executive Director Betty Beekman is hearing. Willard confided to deafREVIEW: "The job was handed to her on a silver platter; she didn't have to apply and they didn't even open the position to allow others to apply."

When Willard himself inquired about joining the board, his emails initially "fell on deaf ears."

The board's side of the story

Then, four months later, board chair Dr. Harvey J. Corson and vice chair Laurence Moskowitz drafted a reply letter:

"What you outline largely matches our goals and we have worked tirelessly to achieve them," the letter begins. "While your plan is ambitious in scope, by your own admission, it is not comprehensive and appears to be quite uninformed. It was written w/o knowledge whether any of the suggestions have been discussed, are in planning stages, have been altered, or found not workable, let alone financially viable. Ambitious plans require substantial funding. Unfortunately, funding for the arts in general and NTD in particular has been challenging for more than a decade."

Willard's reply (posted on the Facebook group "Let's Make the National Theatre of the Deaf Good Again") metaphorically expresses his frustration: From racial ("If we were black instead of deaf, this would be akin to sending out performers to shuffle around and make jokes about fried chicken and watermelon") to the geriatric ("It's like old people in nursing homes, talking about what they used to be") and even outright comparison to the Greater Los Angeles Agency on Deafness ("GLAD is run like an open book. The NTD is run like a little girl's diary, locked with a key carried around in a pendant").

To pick the lock, Willard filed a Freedom of Information Act request to find out why the NTD has not received any NEA grants in 12 years (Deaf West Theatre has received a grant nearly every year - $60,000 in 2011).

He also dug up NTD's 2012 IRS Form 990, discovering the amount of time board members invest organization (two hours a week) as well as the executive director's annual compensation ($65,000).

Little is known of term expiration dates, bylaws, meeting minutes, and the like.

Growing pains: How will the NTD evolve past 'Little Theatre'?

It's time for the NTD to put on its big boy pants, Willard urges. Firstly, heavy reliance on the Little Theatre of the Deaf programme needs to go: "By focusing its efforts only on children's programming, the NTD reinforces an unfortunate perception held by many -- that deaf people are immature and child-like."

"It is not lost on me that the most popular Deaf West Theatre play was 'Big River,' a musical. It may seem counterintuitive for a deaf theater to put on a musical, but it can be done, and done well, and it can be popular and profitable."

In defense of NTD's companion program (the Little Theater of the Deaf), which Willard has dubbed "kid's stuff," the board letter states that the LTD has "had their legitimacy proved by their continuation through good and bad economic times."

"I respect (Willard's) initiative in making bold statement," original "Big River" cast member Ryan Schlecht told deafREVIEW. But he begs to differ on one major point: "The LTD program is "still a vital part of NTD".

"I simply see NTD needing to revisit LTD business model by not only providing performances and basic workshops. LTD can be expanded by following what Deaf Youth Drama Program (with Seattle Children's Theatre) did for over a decade. DYDP's business model has already proven to be a success. It brought theatre-related teaching program to primary and secondary schools serving Deaf and Hard of Hearing (DHH) students."

Though the DYDP, founded by Howie and Billy Seago, ended its 14-year-run in 2007 due to funding issues, it is still a widely remembered program for many Seattle deaf locals.

Secondly, Williard says, NTD mustn't continue to rely on the 1965 federal grants that enabled it to get started. "To whine about the loss of federal funding at this point is like a 46-year-old who still lives in his parents' basement and complains that his allowance was cut off."

The general consensus is that the NTD needs much stronger leadership and fundraising efforts from its Board of Directors.

Schlecht, who is currently directing deaf playwright Willy Conley's Broken Spokes play for Deaf Spotlight, agrees that "the paramount issue is the Board of Directors. They are the axis of NTD. As an esteemed NTD alumnus, I cringed every time I see NTD as a monotonous organization, unparalleled with their legendary history."

The NTD remains rooted to its Hartford, Connecticut beginnings. Willard points out that having nine members here limits the NTD's fundraising possibilities. Another option: Keep the local board but add a national advisory board of well-known deaf actors, leaders, and former NTD company members.

Million-dollar proposal: Thinking outside the funding box

Willard's report includes 12 pages proposals budgeting for a hypothetical year-long main stage production of "You're a Good Man, Charlie Brown": Projected tour ticket revenue of $403,700, projected fundraising income of $96,800, three-tiered sponsorship income, local ads from 44 cities, workshop revenues, lobby sales of NTD memorabilia, and more. Total revenue: $1,114,500.

Should these profits be made, they would break even with tour expenses like understudies, lobby director, interpreters, bus driver, licensing, insurance and per diem expenses.

Based on his experience as a graduate of NTD's 1999 Professional Summer School, and touring locally with NTD's "Legend of Sleepy Hollow" and "Christmas That Almost Wasn't," Schlecht believes that "there are plenty ways to mount the next main stage production requiring a budget the equivalent size of LTD."

For one, the NTD can produce well-known and popular plays with small casts (this is in line with Willard's suggestion that the iconic American story of Charlie Brown would only require six main characters).

For another, Schlecht says "if multiple small-budgeted plays are produced in the next few years, they can nurture their business back to its heyday."

Lastly, he recommends setting up an endowment to support administrative costs.

It's time to think like profiteers, Willard says, and become job creators for the Deaf. He points out Gallaudet as an example: Nearly 20 people paid $690 each for the one-week summer workshop, "Leadership Training in the Theatre Arts for Deaf and Hard of Hearing People of Color."

Shuttering its Professional Theatre School is one of the NTD's biggest administrative mistakes, Willard said.

Back to the Future: Social Media

Though the NTD has a Facebook page with nearly 6,000 fans, Willard observed that very rarely does anyone post on this critical social media platform.

Schlecht is also keen to point out that "LTD can leverage the social media by conducting an outreach program similar to what Shared Reading Video Outreach Project (SRVOP) did with DHH students in Washington state school districts. Results from those programs are immense, which can bring in profits."

Nat Wilson, a Deaf Seattle local who was an original "reader" for the award-winning SRVOP (which uses satellite video to teach reading skills to deaf children in Washington State's rural and underserved areas), is closely following NTD's happenings: He has read the "Rebirth" report twice.

Balancing nostalgia with progress

Having been a featured actor for the NTD and the LTD, he toured nationally and internationally for 12 years.

"NTD does give us almost full access to the theatre world," Wilson, the former director of NTD's Deaf Audience Outreach Program told deafREVIEW. "I always believe that if not for NTD, we wouldn't have what we have now."

"Above all, we need to remember that many of us, like Howie, Ed Waterstreet, Phyllis Frelich, Marlee Maltin, and so on, are now doing well with our own theatre, acting, directing, and writing because almost all of us were well-trained by NTD through summer school or joining the company."

But riding on the coattails of "old blood" simply isn't enough, Willard contends. That includes both the board and the stars who once graced NTD's stages.

New blood is the key. That's why he wants young stars like Sean Berdy and Katie Leclerc on the NTD's advisory board. For his suggested Charlie Brown production, he'd hypothetically cast deaf Jericho actress Shoshannah Stern for the role of Patty, Troy Kotsur (recently seen in Criminal Minds) for Linus, and vlogger Seek Geo as Charlie Brown.

Le Theatre Réinventé

"Will Board of Directors reinvigorate NTD? After reviewing NTD's website, Twitter, and Facebook page for latest news, it seems that they're trying to. Frankly, I hardly see any sign of it coming soon. I know it's not easy but if Cirque du Soleil reinvigorated circus, then NTD can do the same in their own way," Schlecht said optimistically. "The sky's the limit."

As Le Cirque Réinventé (Cirque du Soleil's first financially successful program) taught the world, a good mix of creative juices and business smarts can be just what NTD needs.
For more information about the report "Rebirth: Thoughts on Reinvigorating the National Theatre of the Deaf" written by Tom Willard, contact him at tomwillard08@yahoo.com
Tags
Comment Policy
We're aware that issues facing the Deaf, Deaf-Blind, and Hard of Hearing Community can become quite passionate and divided. What can we say, we're a group of passionate people! While we fully support a community full of passion, we also require that comments are respectful. We think negative attitudes and disrespect are a waste of everyone's time and energy. This doesn't mean you can't disagree with people, you just need to do it respectfully. We reserve the right to delete or edit any comments we feel are judgmental, rude, or of attacking nature.