Valentine's Day Special – Expert Tips On Navigating Deaf-Hearing Dating Minefields
Posted by: Staff Writer on Feb. 12, 2013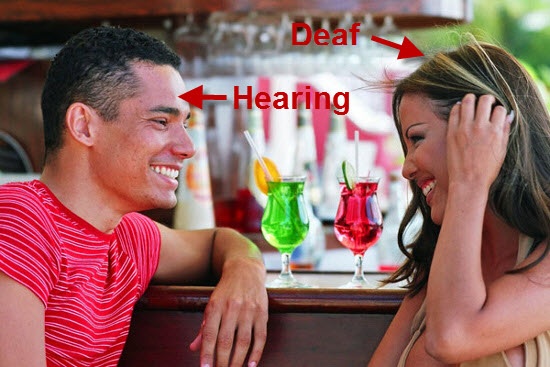 As ads for Princess Cut diamond rings, steak dinners, and Godiva truffles bombard our consciousness, we are reminded of our love lives - or lack thereof. Chances are you have fallen head over heels when a pheromone-tipped Cupid arrow struck. Chances are also that you've fought with a sweetie about the usual suspects (money, in-laws, sex, children, and even the toilet seat left up).
The minefield of love and heartbreak is an equal opportunity one. But there's no mistaking that dating with a hearing loss presents unique challenges – and benefits – that advice gurus like Dr. Pepper Schwartz, Dr. Phil, Ann Landers (of the "Dear Abby" columns) may not have known. That's why we contacted Shannon Ruane, M.S., CRC, LPC, an ASL-fluent counselor who has counseled numerous Deaf/HH clients, for the straight scoop.
This Philadelphia-based rehabilitation counselor is a cochlear implant recipient who works with CI candidates for pre and post surgical counseling. Her services include psychotherapy, hypnotherapy, counseling deaf and HH individuals and their families, as well as working on hearing loss and communication-related issues.
So we asked: Does being deaf/HH predispose a relationship to greater hardships than if we were hearing? A quick search on the Web shows there's a statistic, (whether accurate or not) "90% divorce rate for deaf-hearing marriages".
But let's look at the bigger picture, Ruane said in an interview with deaffriendly: "I think the major challenge that people face in relationships is being able to be comfortable with themselves, their own histories, their own 'damage.' Successful relationships evolve between people who are able to work their damage and co-exist with someone else - in spite of their flaws or weird hang ups. This is true for all couples."
Confronting this in a healthy way is what builds a strong, lasting relationship. So this Valentine's Day, let's cut across the consumerist gloss and add practical tactics into your interactions with the man or woman you love … or are just beginning to date.
Dating Tactic #487: Be Honest about Your ______-ness
A wise man once said, "You only get one chance to make a first impression." So when we meet a new prospective mate, we arm ourselves with breath mints, wrap ourselves in Spanx (or, for denizens of the online dating world, fudge our weight by a pound or ten), and spiffed-up career credentials.
Don't talk about politics, religion or your ex-wife, dating gurus say - focus on the positives. So it should only be natural that "sometimes the jitters of meeting someone new can create a downplay of someone's barrier or challenge," said Ruane.
"Taking an, 'Oh, don't worry about it - I'm sure we'll communicate just fine' approach may set a tone of mistrust if communication doesn't go smoothly," she added, noting that "an entire date of dodging awkward moments" may result.
Initially glossing over our needs is what leads many of us into the "nod and pretend we are master lip-readers" syndrome when we are eager to please. But if you're not actually a master lip-reader (and most likely you're not, as we discussed in a previous lipreading article), that could be a tough pill to swallow once the date becomes a long-term relationship.
Out … with our deaf-ness, or hard of hearing-ness.
In … with a potentially awesome relationship.
Dating Tactic #253: Take the Lead
It takes two to tango – and one to take the lead. It's not so much about alphas and betas, as it is about teaching a hearing date how to communicate in a deaf realm. Or, in the case of an ASL-fluent deaf person dating someone who has hearing loss but was raised oral, it helps to set boundaries.
"Use this as an opportunity to help your date learn more about you," says Ruane. "Make suggestions about what works for you and what doesn't. I say 'suggestions' because you're also scoping them out as a potential mate and you also want to see some willingness and interest on their part to work with you."
Explain beforehand that dark restaurants and crowded house parties are a speechreading dud. Quickly demonstrate why naturally-paced, clear speech trumps exaggerated enunciation any day. If you need to write notes in a noisy date environment … so be it! Harken back to high school days of illicit note-passing: A notepad of people-watching doodles could be just the icebreaker you both need.
Speaking of more dating suggestions …
Dating Tactic #458: Find a Deaf-Friendly Date Spot
Location, location, location isn't just a real estate mantra – it's applicable to our love lives, too. After all, you want to tell your future grandchildren where to visit the site of your amazing first date, right?
"Stick to familiar stomping grounds such as a restaurant or coffee shop you know has good lighting and acoustics," suggested Ruane. Also, consider going to a place where you're a regular and the wait staff knows you (and knows how to take your order).
This applies whether your date is hearing or deaf, because being in a new place with a new person can be nerve-wracking. But for the more adventure-inclined, Groupon, Tippr and LivingSocial deals are your best friend. Ruane suggests indoor mini-golf, museum exhibits, rock climbing, and dance or acrobatic performances for fun first dates.
"Try and find something that would be fun for you, but you likely wouldn't do on your own - that way if the date is a bust and has you wanting to head for the hills, at least you had fun and can finally cross that *'glow in the dark country line dancing' off your bucket list!"
*EDITOR'S NOTE: She's not kidding. Glow-in-the-dark country line dancing actually does exist in some parts of the country, and LivingSocial posted a deal!
Dating Tactic #587: Ditch the Group Date (and Dinner, For That Matter)
Elle's agony aunt Auntie E. Jean wrote: "The best dating tip I've offered in my 19 years as an advice columnist: Never go to dinner on the first date. Go anywhere—the juke joint, the pool hall, the sculpture garden at the museum—but, by God, steer clear of restaurants!"
Unless you're both certified foodies who can talk non-stop about food, first-time dinner dates feel like job interviews. You are being sussed out from head to toe, for long-term mating potential (the latest urban dating trend: dating by credit score) … before your house salad arrives.
Group dates are the best first dates! is the logic we were taught by many a dating guru. But the dynamic is different when one of you is deaf/HH, and the other is hearing.
"It's often best to do one-on-one dates in the beginning before diving into group settings," says Ruane. "You want to become comfortable with one another and learn how to best communicate before attempting a social setting where you're surrounded by all deaf or all hearing - that could add unnecessary stress in the beginning before you've developed coping skills as a couple and are familiar with how to help you support one another."
Dating Tactic #524: Bad First Date? Don't Throw in the Towel (Yet)
Disastrous dates are the stuff of Hollywood cinema, following every formula imaginable: Questionable hair gel, a mismatched blind date between an unimpressed nine and a star-struck four, lackluster chemistry, and so on. But they're not the end of the world.
"If the motivation is not evident with the very first date, don't throw in the towel - some of the best relationships are the ones where couples fumble about in the beginning and grow stronger together over time," Ruane said.
Stay Tuned For Our Next Two Relationship Articles
Whether we're eternal singletons or halves of happily married pairs, we're always evolving – and so are our relationships (or pursuit thereof). Stay tuned for our follow-up articles in the coming weeks- about dating tips for deaf/deaf relationships, how to handle breakups and exes within the tight-knit Deaf Community, dealing with extended social networks (like in-laws), and language barriers. After all, isn't your love life worth constructive self-examination, long after your Valentine roses have wilted?
Shannon Ruane is an ASL-fluent licensed professional counselor and Certified Rehabilitation Counselor in private practice in Philadelphia, PA. If you have a question about services like psychotherapy or have ever wondered if a deaf person can actually benefit from hypnotherapy, find Shannon at Ruane Counseling.


Tags
Comment Policy
We're aware that issues facing the Deaf, Deaf-Blind, and Hard of Hearing Community can become quite passionate and divided. What can we say, we're a group of passionate people! While we fully support a community full of passion, we also require that comments are respectful. We think negative attitudes and disrespect are a waste of everyone's time and energy. This doesn't mean you can't disagree with people, you just need to do it respectfully. We reserve the right to delete or edit any comments we feel are judgmental, rude, or of attacking nature.