Speechreading, Part I: "Read My (Unreadable) Lips"
Posted by: Staff Writer on Dec. 18, 2012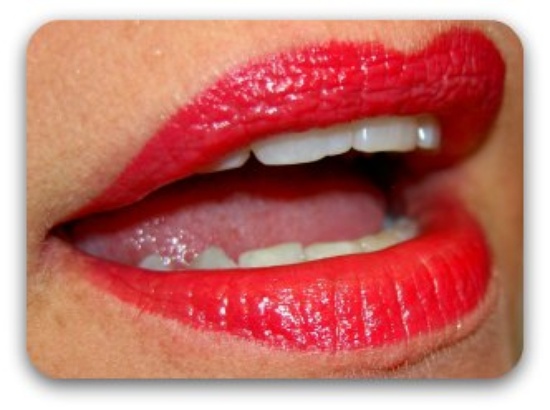 Ah, lips: There's no doubt that this facial feature is important to humans. Our society experiments with thousands of lipstick hues, ponies up cash to emulate Angelina Jolie's bee-stung pout, and magazines dispense tips on being a top-notch kisser. But for deaf and hard of hearing (hh) folks, the most critical aspect of lips are the communication clues they generate.
Often, complete strangers ask us: "Do you read lips?" Even if you are confident, it's dangerous to say "yes." That's because too many people assume lipreading is an all-or-nothing skill: You're either a grandmaster at this craft, or you can't do it at all. Hearing people just love to "test" our lipreading, by silently mouthing sentences. In reality, you're going to miss parts of sentences. You're going to deal with Indian accents, French accents, Mexican accents. You're going to read through handlebar mustaches, Santa beards, Amish beards, ducktail beards, and Klingon beards!
A better answer may be: "If you enunciate clearly, offer context, and make eye contact, that would help me read your lips a whole lot better."
Tomatoes, Tomah-toes: What's the difference 'lip-reading' and 'speechreading'?
FACT: One's mouth is only a small part of what it takes to be a decent speechreader. In fact, it really makes up only about 30% of the clues – whereas the other 70% is mental, emotional, and contextual guesswork. We're also scanning for many, many other clues at the same time.
Lipreading is just that: Watching the lips to gather clues. But in recent years, "speechreading" has become a more accurate term to describe what deaf/hh people actually do: Watch lips, teeth, cheeks, eyes, facial expressions, and body language to piece together a dynamic message. Did you know that when deaf/hh people look at their sign language interpreters, they rarely look directly at the hands? That's because peripheral vision allows us to use our eyes to pick up many clues besides the ones coming from the hands.
Like snowflakes and finger whorls, everyone's audiogram is different.
FACT: Though YMMV (Your Mileage May Vary), most people with hearing loss struggle with high frequency sounds. Imagine everything your dog can hear, and reverse it.
On Wheel of Fortune, most of us would buy a vowel. That's because vowel sounds have more energy, and lower frequencies compared to their suble-sounding consonant siblings. Ask a friend to read a bunch of consonants silently, like "k," "c", "sh" and "s". Try lipreading the word "chutzpah!" Then gradually step up to words with similar consonants: "sheet," "cheat," "cleats," "shiek," to name a few. You could have an entire field day experimenting. Notice that it's easy to differentiate between "cat" and "bat," but not between "bat" and "mat."
Again, context is everything. Does your bat like to walk across your keyboard and purr on your lap? At a Little League game, would anyone swing a mat? Speaking of rhymes …
Homophones are the bane of the deaf/hh existence.
FACT: Homophenes are word pairs that are pronounced the same (and thus look identical when mouthed in front of a lip reader), but have different meanings.
Lipreading would be so much easier for all of us, if the English language simply didn't have homophones. The Russian restaurant played musical beats while we ate our beet soup; Melvin led the mining team to the cave's lead deposits; Sally read a story about the Red Ghost; my aunt is fighting an army of ants in her kitchen. Let's not even get us started on alliteration: Our idea of a nightmare is deciphering Mother Goose's "Peter Piper picked a peck of pickled peppers."
Are you an accountant or bank teller who has to speechread numbers? Good luck.
TIP: If you work for a business that is frequented by a deaf/hh client, have pen and paper ready for these confusing number exchanges!
"Deaf people often say that numbers and dates are very difficult because of the similarities between how the numbers look," says British deafie Charlie Swinbourne, a deaf British man who taught himself to lipread and has been perfecting the "art" for years – through practice, and by attending lip reading class. "For example, 8, 9, and 10 look very similar, and so do 7 and 11. And then there's problems differentiating between 19 and 90, and don't even get me started on million and billion."
For deaf/hh people, life is one episode of Bad Lip Reading (BLR) after another.
Since 2011, YouTube's Bad Lip Reading channel has been spoofing songstresses, politicians, and movies by adding captions that look just like what people are saying … but are in fact hilarious jibberish. BLR dubs Paul Ryan as saying "I'm sweet. Made out of sugar and hormones, but this guy (Joe Biden) is made out of ice." Obama got lines like: "You don't even want twin ducks? Baby ducks? You, sir, are a loser." "Oh, I got the squirts," Hunger Games' heroine is dubbed. "You know, where you make fudge puddles?"
Who is the mastermind behind BLR? An (anonymous) music and video producer, whose also-musician mother suddenly became profoundly deaf in her 40s. As he explained in a Rolling Stone interview: "BLR marveled at the way his mom, of necessity, became an expert lip reader. He would sometimes sit around at night, watching TV with the sound off trying to pick up the skill himself. 'I was terrible at it.'"
Deaf/hh people really relate to these clips. One Seattle local decided to share the videos with coworkers, "to educate them on how tough lipreading really is." In real life, bad lip reading (or speechreading) is rarely a laughing matter. Miscommunications cost us everything from directions in a new city, to life-or-death details, and even relationships.
No. 1 Speechreading Rule: Don't Fake It 'Til You Make It
This strategy hurts all parties involved. Nodding "yes" and "uh-huh" while pretending to speechread (or hear) is no bueno when you're actually as lost as a Bermuda Triangle tourist. Unfortunately, it's a social survival habit that many deafies become accustomed to.
Speechreading is easier in lab conditions: Where you're given as much time as you need, and each statement is repeated twice. But most conversations don't pause or repeat … which means a deaf/hh person is still going to be parsing (analyzing) sentence two when the speaker is already onto sentence five.
If you're a hearing person who owns or works for a business, remember that speech reading is simply ONE TOOL. A patron could be doing fine for the first few sentences, then suddenly get the glassy-eyed look of confusion. It could be the noise level, how you pronounced "herbs filletes," or it could be fatigue. Don't give up: Whip out a notepad, or fingerspell using ABCs. Eventually, one or a combination of communication modes will prevail.
Tags
Comment Policy
We're aware that issues facing the Deaf, Deaf-Blind, and Hard of Hearing Community can become quite passionate and divided. What can we say, we're a group of passionate people! While we fully support a community full of passion, we also require that comments are respectful. We think negative attitudes and disrespect are a waste of everyone's time and energy. This doesn't mean you can't disagree with people, you just need to do it respectfully. We reserve the right to delete or edit any comments we feel are judgmental, rude, or of attacking nature.