Seattle, DeafNation Expo is Coming To Town!
Posted by: Staff Writer on Oct. 16, 2012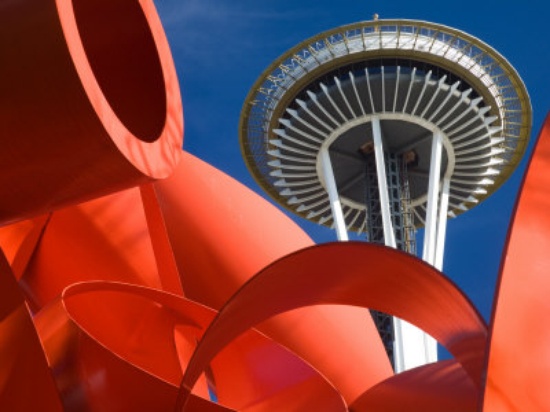 We can't help but brag about our own backyard. Not only does it boast stunning vistas, great software, and eye-popping coffee, it's so deaf-friendly that it's hosting DeafNation Expo once again. Almost-last, but not the least, DeafNation is nearing the end of its nine-city tour in Seattle this weekend. Haven't had a chance to hob-nob with SuperDeafy, Sean Berdy, or Marlee Matlin at the Vegas DeafNation stop in August?
Here's your chance to get your all-day "deaf fix," right here in Seattle on Saturday, October 20th. From 9 to 5 pm, there's a full lineup of things to do and people to meet during DeafNation Expo Seattle.
Get your fun on: Did we mention that this event is 100% free? Just bring your lovely self to the Seattle Center Exhibition Hall in lower queen anne. In addition to sponsor booths, fun activities are in store for you (and your kids): Try your hand(s) at the Sprint Relay Game Show with John Maucere, Dr. Z with Trivia and Prizes, the Crumbling Tower Game (sponsored by Purple), and a meet-and-greet with newly unretired UFC fighter Matt Hamill (we don't recommend that you try wrestling with the Hammer, though – you'll thank us for the tip!).
Job-hunters and diversity advocates, this is the place to be. If caffeinated curiousity courses through your veins, visit the Starbucks booth Saturday. For one, you can learn how to use deaf-friendly Starbucks apps on your smartphones & tablets. For another, learn about what the perennially deaf-friendly Starbucks (including its E. Olive branch) is doing to embrace diversity of customers and employee. HR recruiters, diversity team partners, ASL-fluent baristas, and interpreters will be there. Or just swing by to tempt Lady Luck with one of 13 Starbucks gifts. They're $45 to $75 in value – that's a LOT of caffeine!
Sticking around the day after DeafNation Expo? Check out Seattle's own local talent in "Vivacity of ASL." Deaf Spotlight is presenting Ryan Schlecht's one-man show, "The Vivacity of ASL." Whether you know sign language or not, you will be enthralled by this actor, producer, director and National Theater of the Deaf alumni's latest creative material. Run, don't walk, to buy your ticket ASAP on StrangerTickets.com. Viva la Vicacity!
Local deaf-friendly businesses, guess who's coming to dinner on Saturday? After all day of non-stop "deaf fix", you'll want to nosh on the best of Seattle's deaf-friendly cuisine. That's why we've assembled a "cheat sheet" of nearby restaurants and eateries that have earned the deafREVIEW stamp of approval (at least three stars). They are listed below: 
2125 Queen Anne Ave N
Seattle, WA 98109
Phone: (206) 283-4548
Deaf-friendly factors, from Echo and Jamie:
"They wrote back and forth on paper. Even the bartender had paper and pen ready when I was about to order a drink. In the past, they used to have a deaf chef, Kurt Irish Chef Ramborger. The owner has some knowledge about deaf culture because of the deaf chef."
"Huge props to the bartender that night who once realizing we were deaf, was not afraid to approach us and take our order. He brought the menu right to us for our pointing pleasure and did everything with ease and respect."
Good Beats for Good Eats: The service is groovy, and the music is groovin'! If you love great bass vibrations at your dining booths, this is the place to be.
803 5th Ave N
Seattle, WA 98109
Phone: (206) 267-7621
Deaf-friendly factor, from "Joshua": "One of their waiters knows a bit of sign and always makes sure I get my orders."
Drool-worthiness: Conveyer belt selection for the hurried, economical yet delicious (such as $1 green plates and  $1.50 sky-blue plates) for the budget-minded, and excellent nigiri sushi for the quality fanatics.
601 Queen Anne Ave N
Seattle, WA 98109
Phone: (206) 849-3602
Three of our reviewers gave Toulouse rave reviews, and they can't all be wrong! Deaf-friendly factors:
"Sometimes our waiter had hard time understanding what some of us tried to ask, so they always hand out the paper and pen to communicate with us. I always feel welcomed and treated equal as other customers every time I go there."
"Toulouse is a popular breakfast place in Seattle that has many deaf-friendly waiters and bartenders! They always make ordering easy and drama-free."
"Great waiting staff, very flexible and patient with us. Always leaving that place with a huge smile on my face."
Yum Factor:  New Orleans-style grub. Possibly the only breakfast happy hour in town (also has afternoon, and late evening happy hour).
Must-try factor: Try the avocado and roma tomato egg benedict,  Po' Boy sandwich with spicy fried shrimp, and highly recommended  mojitios!
1515 Westlake Ave N
Seattle, WA 98109
Phone: (206) 283-1515
"karmapunx"'s deaf-friendly factor:
"(The Chef) took his time to explain in his writing that everybody be dining in style. Just pick out white or red wine then the experience will start. Sit back and enjoy. He didn't treat us differently at all. He and his waitstaff were so humble, understanding, and attended our table often."
Yum factor: You never know what you're going to get. With at least 7 courses, each homestyle Italian dish is a surprise.
Crowd factor: For a large tab, one credit/debit card is recommended. Reservations only, but online reservations can easily be made through Opentable.com. Yet another deaf-friendly feature!
10 Boston St
Seattle, WA 98109
Phone: (206) 283-7118
Deaf-friendly kudos from "smilinsigner":
"The server/hostess was incredibly polite, patient, and visibly accustomed to receiving Deaf patrons, as she was not awkward nor confused by pointing on the menu, signing, interpreting discussions throughout for clarification, and the importance for visibility among patrons."
Yum-yum menu highlights: Complimentary tasty soup, colorful fresh salads, well-spiced dishes.
Wherever you decide to eat, remember our big tip:

Last but not least, come visit our booth at DeafNation on Saturday. We hope to see you there! 
Tags
Comment Policy
We're aware that issues facing the Deaf, Deaf-Blind, and Hard of Hearing Community can become quite passionate and divided. What can we say, we're a group of passionate people! While we fully support a community full of passion, we also require that comments are respectful. We think negative attitudes and disrespect are a waste of everyone's time and energy. This doesn't mean you can't disagree with people, you just need to do it respectfully. We reserve the right to delete or edit any comments we feel are judgmental, rude, or of attacking nature.