Road Tripping for Education: DeafVibe's National Tour Sparks Dreams, Plugs Vocational Pathways
Posted by: Staff Writer on April 11, 2013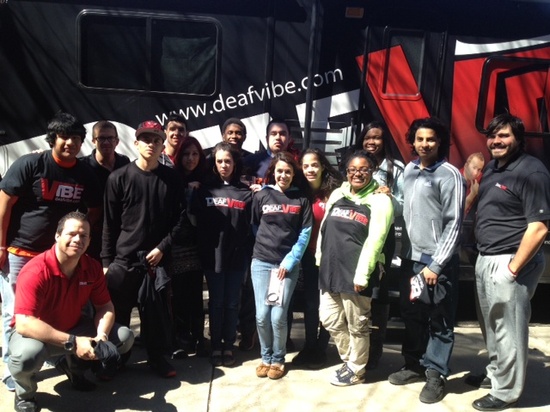 This isn't your Grandpa's RV, nor the road trip you took while barely out of puberty. In Jack Kerouac's On The Road, two soul-searching young men blaze across the nation in a '49 Hudson. Fast forward 60 years, and two men in an RV (see their tour dates here) are helping deaf/hard of hearing students find their calling – and spur them into academic action.
DeafVibe Foundation's CEO Brian Bearden and Associate Director Robin Shannon are in (or on the way to) your town. Their mission: Equal access to private colleges and vocational schools.
70 schools, 53 days, 47 cities
As Gallaudet pals and former Bison teammates, Bearden and Shannon know how to go all out for Spring Break. One year, Bearden recalls, MTV flew out and taped them 24/7, "to show the world what 40 Deafies partying looks like."
Now, they're showing what Deafies achieving career dreams looks like, in the middle of a discouraging economy. It involves corporate donations, 501(c)3 grants, occasional poker tourney fundraisers - and an online storefront.
Ever ran out of TTY printer paper, infrared emitters/modulators, or needed a Baby Graco monitor for your CODA infant? With over 1,300 unique products, DeafVibe's online store is a motherlode of deaf and HH assistive products. Every penny goes to the good cause (not their salary).
Seeking accessibility: How it all started
The 501(c)3 non-profit DeafVibe Foundation was created by accident, recalled Bearden, who has worked in real estate for a decade.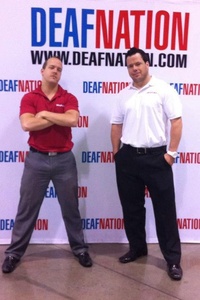 In 2011, he got a text that would set DeafVibe's RV wheels into motion: Operations Manager Kristina Watkins was a then-instructor at Heald College in Portland, and she was texting to ask about ADA rules for two students who needed interpreters for class. She and Bearden began negotiating with the private college to provide interpreters at an agreed-upon rate of $30/hour.
"I finally realized there were thousands of Deaf and HH individuals without access to over 2,500 private vocational colleges and schools," said Bearden.
DeafVibe was inadvertently born, first as a for-profit interpreting agency then (later) re-born as a 501c(3) organization that contracts with interpreting agencies.
DID YOU KNOW?
Both the ADA and U.S Dept. of Education have separate rules about student accommodations. But both are often needed to secure such accommodations.
Federal laws behoove public universities to provide an interpreter or Real-Time Captioning. But private colleges exist in an ADA loophole that few talk about: 
"A vast majority of private, for-profit educational institutions actually knowingly tiptoe around enrolling Deaf students. Tuition could be $1 and interpreting could cost $1 million, the school is still obligated to provide," said Bearden.
Connecting the Community
At the Denver DeafNation Expo last May, The DeafVibe Foundation was born. Bearden sought Robin Shannon for the DeafVibe team: "Robin has always had a huge voice in the Deaf community, and as a Certified Deaf Interpreter (CDI) understands interpreting and has a passion for understanding the ADA just like me."
Indeed, Shannon has been vlogging from the road before switching places with Bearden in Arkansas and returning to the Vancouver, WA headquarters.
"At first I wasn't sure if I fit into the 'business world,' but I saw DeafVibe as a way to give back to the community," said Shannon, who still takes CDI jobs to pay the bills.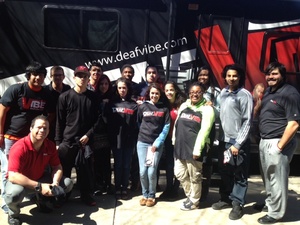 Five to eight unpaid staff members currently work out of the headquarters, including full-time volunteer Tyler Kerger as well as part-timers Minh Truong and Alex Turner-Alleman. DeafVibe is also a family affair: Shannon's brother Shawn recently joined DeafVibe's Student Support Team as a Client Intake Specialist.
"This trip has involved a lot of networking, meeting friends in different cities, and talking to people about the importance of school," said Shannon. Travel is part of the job, but to fully commit to DeafVibe, he moved to Vancouver, WA months ago. "My productivity has improved 5 times since."
A trip of a lifetime it is, but a cheap one it isn't. RV fuel alone is close to $11,000, and this year's projected annual operating cost is about $200,000.
Smart budgeting means it's about empowerment, not handouts
The Division of Vocational Rehabilitation (DVR) is known for waiting lists, paperwork, and red tape.
"DVR struggles with a heavy load of clients, many of which are just looking for free financial handouts," said Bearden. That's why DeafVibe added eligibility requirements and student incentives to attract only the most motivated clients.
That includes $125/month attendance incentives, and placing students with the same terp through the program's duration. The Equal Access Student Support Program also includes career placement services with the foundation's employer network.
Not just for teens: College prep is for all ages
Though the tour stops at elementary and high schools, more than half of DeafVibe's existing clients are over 35 years old. The tour's target: Those in the 16-50 age range.
"Because of the tour, (Deaf) people are starting to realize that the era has changed, and they are noticing more options for their education," said Shannon.
The usual routes: Go to Gallaudet (or RIT), enroll into community college, or join the workforce sans specialized training. Little wonder that DeafVibe is using a road trip to show students other routes: High-demand vocational fields.
Young students they've met on Tour have dreams like becoming a professional basketball player, said Shannon. DeafVibe meshes "Deaf can do anything" confidence with economic practicality:
Requiring two years or less as well as statistically proven ease of employability, these fields just might be what you need to jump-start your career.
Four hottest vocational careers for the Deaf right now

                                                                          Source: DeafVibe Foundation
Curious about the other vocational certifications, associate degrees and training programs DeafVibe offers? Visit their Careers for the Deaf page, and apply today!

Tags
Comment Policy
We're aware that issues facing the Deaf, Deaf-Blind, and Hard of Hearing Community can become quite passionate and divided. What can we say, we're a group of passionate people! While we fully support a community full of passion, we also require that comments are respectful. We think negative attitudes and disrespect are a waste of everyone's time and energy. This doesn't mean you can't disagree with people, you just need to do it respectfully. We reserve the right to delete or edit any comments we feel are judgmental, rude, or of attacking nature.