Our Silent Storm: What Lydia Callis' 15 Minutes Means For Deaf Culture
Posted by: Staff Writer on Nov. 1, 2012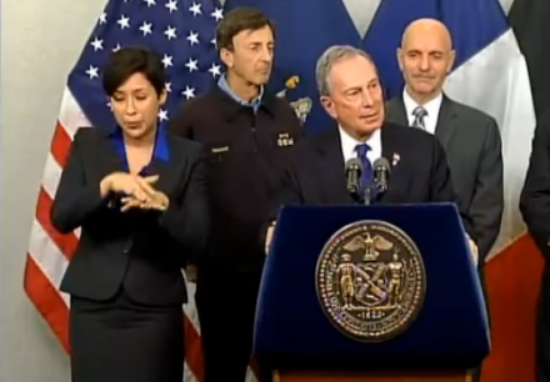 Like Hilary Clinton, she's got her own Tumblr. Numerous outlets have crowned her "Hurricane Sandy's breakout star." She is a blogger's dream (one christened two of her top 12 signs as "Double Yoda" and  "Roadside Sobriety Test"), with SNL skits rumored to be underway. 
As you surely know by now, she is Lydia Callis – a sign language interpreter who worked during Hurricane Sandy for NYC Mayor Bloomberg.  
None of us have heard a peep out of her. But we're all transfixed by her hands – and non-manual markers (that's eyebrow expressions, and shifts in posture, for you linguistics geeks). Hearing people are eating up the free lesson on how to sign "tree," "flood," "subway," and "hurricane." Andy Warhol would say this is her 15 minutes of fame. But does she want it?
Based on the national infatuation, you'd think interpreters ("terps," for short) had been hiding in a quiet cave for decades. So. Not. True. According to the Bureau of Labor Statistics, jobs for interpreters and translators are expected to grow a whopping 42% through the year 2020. Other than NY1 webcasts, you can find terps in schools, hospitals, lectures, churches, and work offices.
Within the Deaf Community, feelings are mixed. How wonderful that our beloved language (and culture) is getting mainstream attention. Finally, much-needed dialogue and enlightenment. But Callis' fame is a Machiavellian victory: Interpreters are not called upon to be stars – they are called upon to do their job according to a code of ethics.
That's why most interpreters would not wish celebrity status upon themselves. Saamanta Serna, a Portland-based interpreter, admitted "I would hate this if this happened to me. Also, I feel like a lot of people are mis-interpreting it, but I'm happy the mayor had a terp (on-screen)."
"I don't crave an audience or (worse) a following. My concern is that I am providing communication access, but if it's not televised then it's not really being provided," said Elizabeth Rothman, a Seattle-based sign language interpreter. "Good for him for having an interpreter, and good for them for having her on camera, unlike many public events here in Seattle, where there is an interpreter but they choose not to have her/him televised."
The social media hoopla gave the Deaf Community an opportunity to educate others about the oft-misconstrued craft of sign language interpretation. For one, Callis' solo job working overtime has sparked debate about why her hands must do the hard work alone, and why other politicos (like Gov. Christie) don't have terps. "She is good, but she needed a teammate! There were times when we could tell she was tired and needed a feed every now and then," a NY-based interpreter commented.
Others, such as a deaf New York actor, offer critical praise. "It takes a lot to steal the stage from not only Michael Bloomberg but also Hurricane Sandy, but Lydia Callis has done just that. And deservedly." said Garrett Zuercher, who is also an ASL teacher. "I can see all my interpreter friends looking at her with envy (some of it undeserved, considering the amazing talent of my interpreter friends), but nonetheless, she was astounding."
The mainstream clearly agrees. Look at all the "jobs" Callis has been offered: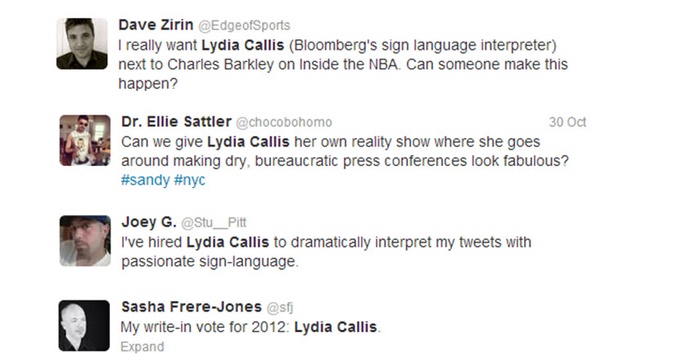 What a far, far cry this is from the SuperBowl snub of Miss Deaf America. We've been trying for years to beat the fear that fluent signers are a distracting, hand-flapping force to be muted (pun intended). How many terps have been asked to move to the back of the classroom, or to not "sign so big"? It's a grey area you can't cry ADA foul on. It also comes down to real estate (such as proximity to the speaker, and camera). That too is a grey area.
"(Callis) is like the human emoticon for one of the nation's most expressionless majors," Boing Boing said. While intended as flattery, such misconceptions are the ones Rothman counters throughout her career. "Signed languages are not just the things done with the hands; the face, the body movement, and eye gaze changes are all integral to the language. To sign without movement or expression would be like speaking in a monotone, without any verb tense or conditional (if/then, cause/effect) statements. When someone (hearing) says how fun I am to watch because I'm so expressive, maybe I can say, 'Thanks, and I love those vowel sounds when you talk! They really make it fun to listen to you!'"
Just as baby signing became the must-do trend among hearing parents, we hope interpreters (and even deaf actors) will be deemed essential, not just entertaining; they will be recurring cast members, not guest stars; they will be accessible, not hidden.
Want Callis' job? A great place to start training is the Rochester Institute of Technology American Sign Language and Interpreting Education program (which Ms. Callis herself graduated from).
But don't do it for the limelight or because you think it's prestigious. Do it because it's a personally rewarding to most who choose this path. It has been, long before Sandy's breakout star stormed into our nation's consciousness.
Whether Interpreters are in the eye of the storm, or safely tucked away in our communities, we thank them for their service.  
Tags
Comment Policy
We're aware that issues facing the Deaf, Deaf-Blind, and Hard of Hearing Community can become quite passionate and divided. What can we say, we're a group of passionate people! While we fully support a community full of passion, we also require that comments are respectful. We think negative attitudes and disrespect are a waste of everyone's time and energy. This doesn't mean you can't disagree with people, you just need to do it respectfully. We reserve the right to delete or edit any comments we feel are judgmental, rude, or of attacking nature.