Money Talks. At Kramer Wealth Managers, It Signs and Listens Too
Posted by: Staff Writer on Oct. 14, 2014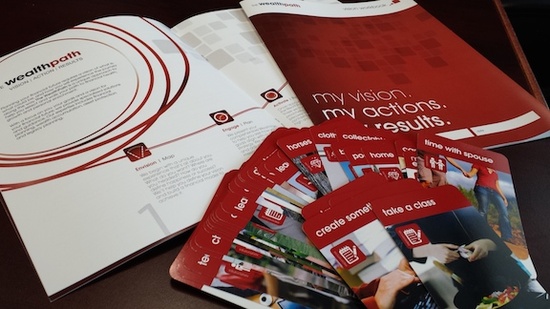 One unspoken rule of adulthood: Talking about money is taboo, confined to hush-hush conversations. But the Catch-22 is that talking about money early and often is what helps children build a solid financial foundation later.
That's why many in the Deaf Community are disadvantaged from the get-go, says Lee Kramer, a long-time Deaf Certified Financial Planner™ who grew up in a Deaf family. Because one does not simply learn finance from an adviser or in accounting school – it's an organic process that starts at home.
"I believe this was the case with my own parents and then as I was growing up, my parents did not have the knowledge to pass on to me, even though they were able to communicate with me.  
– Lee Kramer
"For deaf people who grow up with hearing family members who do not sign, conversations are often limited to superficial topics," Kramer explained. "The hearing parents may find it too cumbersome to try and explain these types of topics or they may try, but perhaps the full information may be lost in translation."
In spite of that, this ultra-marathoner has come a long way … and is here to show the rest of the world the way.
Kramer has earned series 7, 24, 63, 65 financial and life insurance licenses. In 1985, he founded Kramer Financial Services – which recently became rebranded as Kramer Wealth Managers. 
Modern finance: A brave new world
That was the year a hot new technology came out: A Touch-Tone telephone that converted tones to letters that a deaf or hard of hearing person could see. Life expectancy was 71 years (for men), and a gallon of gas cost $1.20.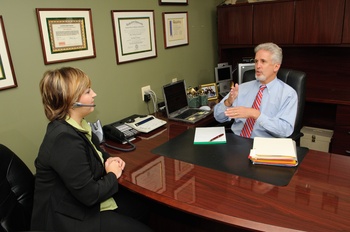 Fast forward nearly three decades: Americans are living longer, pinched by plus-$4 rates at the pump, and college tuition has ballooned over 500%. Also, the Kramer Wealth Manager firm's clients walk in with shiny iPhones, punch in appointments with their iPad apps, and ping their advisers and customer representatives (Jeremiah Thompson an RIT graduate and Jack Morley, a Gallaudet graduate) using videophone products with bandwidth speeds 1985 clients could only have dreamt of. 
Technology actually has done the opposite of endanger the job of Lisa Dewing, who was hired full-time in 2000 as a Customer Service Representative for Kramer Financial Services. In 2003, she acquired the role of staff interpreter part-time.
"Since the inception of video phones and VRS, my interpreting role here is now very small - mostly for continuing education for the financial advisors and meetings with hearing clients who do not sign," Dewing, who is now NIC-A (advanced) certified, explained.
Instead, her role has branched out in ways unimagined. She is now a full-time Operations Manager with a Series 7 and 66 financial license, as well as a life and health insurance license. 
"What I liked about this job as opposed to interpreting is that here, I am able to develop a relationship with the clients and see the long-term impact of what we do," she said. 
It's not just the communication tools that have changed in the long term. Today's clients have to figure out "how to live off of their life savings with inflation averaging 3%, health care costs rising at an average of 8%, and bank interest averaging 0.2%," said Dewing.  
Because of these challenges and the complexity of today's financial products, the firm sets the bar high for its employees: Dave Frank is the first deaf financial advisor to have earned a doctorate, and Stephanie Summers, who is the first deaf woman advisor to earn the Series 7 General Securities license.
Redefining wealth
The firm, which manages over $220 million in client assets, doesn't focus on how much money one has in the bank.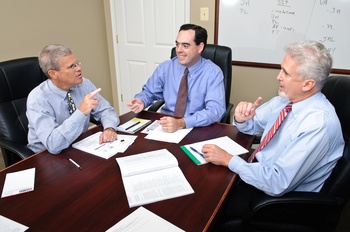 Instead, what they want to know is: "Not just how much money they have but who they really are as people and what they want out of life," said Dewing. "They may not be 'wealthy' by traditional financial standards but that does not mean they do not have wealth."
That includes burned-out high earners hoping to downsize their lifestyles, as well as professionals trying to find new paths after being hammered by the recession.
"Wealth to us means whatever it is that is important to our clients." – Lisa Dewing 
At Kramer, this non-monetary wealth is categorized as Contributions, Experiences, Relationships, and Treasures. Some examples listed on the firm's Vision Cards: Donating to charities, coaching a sport, volunteering, time with one's spouse, and even horses can count as part of one's wealth.
Sign language literacy, meet financial literacy
The firm's highly visual 5-step WealthPath model is so visual, that it has been a hit with hearing clients as well.
The Deaf Community's initial hesitance to become clients due to confidentiality concerns, meant that Lee Kramer mostly worked with hearing clients in the beginning. But word of mouth and the firm's total managed assets have grown (from $80M in 2004), so has the firm's deaf and hard of hearing client base: Now 90% deaf, and 10% hearing.
Or, the information may still not be clear, if the interpreter is not knowledgeable of the content.  One common example is the word "distribution" which is a common industry jargon. 
"Many interpreters use the sign for SPREAD OUT/DISTRIBUTE, which is not what it means in our industry," said Lee Kramer. "It can either mean a dividend or it can mean a withdrawal, depending on context." 
And that's if a deaf client is even lucky enough to have an interpreter. Many don't have that accessibility, and end up writing notes or reading lips during appointments: "I don't think I need to elaborate on a site like deaffriendly.com what dangers that can present. Your readers have already experienced it, I'm sure."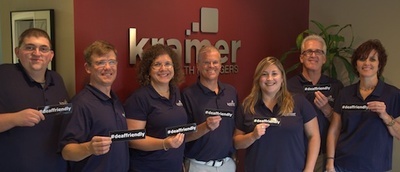 He's seen how, in one brief appointment, miscommunication can result in a botched investment portfolio for life: Mr. Kramer once sat down with a self-labeled conservative deaf investor whose adviser had put her assets in high-risk commodities. On the other extreme end, he met a deaf investor whose retirement portfolio had plateaued. The reason? He was invested in very low-risk T-bills and cash.
Want to know how Kramer Financial Managers can help you define – and grow – your own wealth in a deaf-friendly way? They have offices in Frederick, MD and Austin, TX. Or better yet, visit KramerWealth.com to discover their #deaffriendly services and take a "Need a Wealth Manager?" quiz.
.
*** Securities and Investment Advisory Services offered through FSC Securities Corporation, member FINRA/SIPC. Fixed Insurance products offered through Kramer Wealth Managers, which is not affiliated with FSC Securities Corporation.  Branch office: 9099 Ridgefield Drive, Suite 101, Frederick, MD 21701.  240-439-6889 VP.  240-379-6929 V.

Tags
Comment Policy
We're aware that issues facing the Deaf, Deaf-Blind, and Hard of Hearing Community can become quite passionate and divided. What can we say, we're a group of passionate people! While we fully support a community full of passion, we also require that comments are respectful. We think negative attitudes and disrespect are a waste of everyone's time and energy. This doesn't mean you can't disagree with people, you just need to do it respectfully. We reserve the right to delete or edit any comments we feel are judgmental, rude, or of attacking nature.