Howie Seago Infuses Deafhood, ASL into Oregon Shakespeare Festival Roles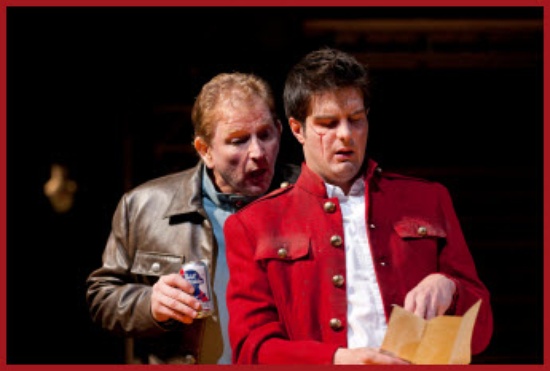 Talk about turning Shakespeare on its head. By powerfully portraying characters we perceive to be hearing, Howie Seago is here to shatter the mold this summer. Not once, but twice.
As the first and only deaf actor in the Oregon Shakespeare Festival, Seago is now preparing to take the stage in two plays: As Duke of Exeter in Henry V (June 5 – Oct 12) and as Duke Senior in As You Like It (June 7 –Oct 14). Widely remembered for his role as deaf conciliator on "Star Trek," and as the deaf father of a musician in the German movie Beyond Silence, Seago now channels his energies on his true love: The stage.
"I can become totally immersed in the character for two hours," Seago, a native of Seattle, said in an interview with deafREVIEW. "In acting for film or TV, you only perform the character for 2-3 minutes at a time." 
As a full-time contracted actor, he is beginning his fourth year with the company. He reveals an exciting change from prior productions: His Henry V character is a military commander with his very own Royal Interpreter (RI), played by Christine Albright-Tufts, who follows him around on-stage to interpret the dialogue.
"You'd think a Deaf Military Commander to the King would need to know a few details, yes?" said Seago. This stage adaptation "may be groundbreaking in how to cast Deaf talent in mainstreamed Shakespearean works that are not produced as a "Deaf Theatre' production."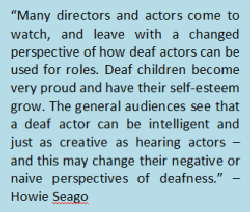 In a way, this shatters the theatrical "fourth wall". Previously, Seago's characters used ASL to communicate with other actors, who then repeat Seago's lines out loud before speaking and signing back with their own lines. Having learned ASL during his teen years, Seago is not a native signer. Thus, even in his sleep, he practices signing his lines to program his hands to achieve the choreography that revives the Shakespearean era both iconically and artistically.
Many in previous audiences have also commented that ASL adds a new dimension to characters, making them much larger on stage than if they used their voice.
"The directors have been brilliant in utilizing deafness and/or ASL to bring out more character depth, relationship and to the play's overall message," Seago says. That includes artistic director Bill Rauch (who incidentally has a deaf brother), and Henry V director Joe Haj, who positions the RI onstage without distracting the audience from the main action.
Shakespeare is not light reading. Rehearsing since April 3, Seago's steep learning curve includes long sessions with the show's dramaturgy (a historical expert on Shakespeare). Together, they analyze the meanings of the Bard's words, and use inversion and gloss to translate them into ASL. He studies "No Fear Shakespeare," which contains side-by-side modern and historical text.
It's a lot for someone who, Seago jokes, was once challenged by a brother to name seven Shakespeare plays – and came up short. But by June, he'll know Henry V's Battle of Agincourt, and the Forest of Arden (the setting for As You Like It) by heart.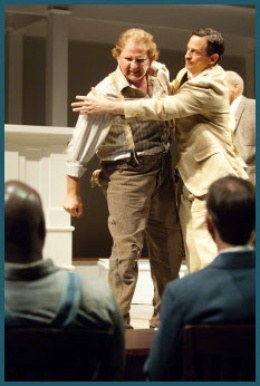 Modernizing Shakespeare isn't new, but infusing it with deafness is. Characters in Romeo + Juliet drive flashy sports cars, and "10 Things I Hate About You" (The Taming of the Shrew) is set in modern-day high school. Just as modern adaptations are attracting younger generations to Shakespeare, accessibility draws deaf crowds to OSF.
In 2011, about 60 deaf patrons flocked to OSF to watch Seago portray Bob Ewell, an abusive alcoholic who forces his daughter Mayella to interpret his lies in court (To Kill a Mockingbird). Seago and his on-stage daughter created a "white trash" sign language, which lends a credible psychological layer to Ewell's mind: Marginalized, discriminated, angry and broken by communication barriers.
Likewise, in Music Man, Seago played an ex-con who uses sign language with his former partner in crime. ASL became a secret plot device, symbolizing how they silently hatch nefarious schemes.
Described by IMDB.com as one of the "most engaged deaf actors in America," Seago is nonetheless described by artistic director Rauch as a "great actor." Not a deaf actor.
"He already had the affinity for relating to me, and this set the tone for the entire company," said Seago. "Some of the other actors are eager to learn ASL." 
Progressive casting just one example of the festival's inclusivity: Since its establishment in 1935, OSF has added ramps for wheelchair users, Braille playbills and accepts service animals. Also, the facilities now include nine sign interpreted performances in addition to 26 open captioned performances. For a list of interpreted or open caption performances, check OSF's accessibility page here.
"It has become increasingly important to OSF over the years to diversify its company and audience," said Amy Richard, the media and communications manager. This includes not only expanding our racial and ethnic diversity, but also increasing access for people with disabilities, age diversity and socio-economic diversity. Since Rauch was hired as artistic director in 2007, those efforts have expanded."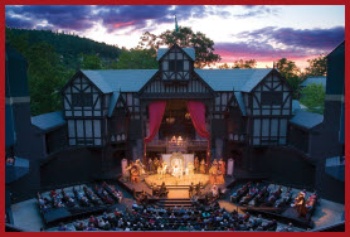 That includes efforts to hire specialized interpreters who can translate the difficult subject matter. Seago praises the work of Julie Simon and Joy Marks, noting: "my eyeballs don't get strained and my mind doesn't get burned out figuring out the meanings and concepts of what others say."
Rehearsals often run from noon to midnight, but it's not all work and no play. When not in rehearsals, he often goes cross-country skiing (winter) or whitewater kayaking (summer) before evening shows or on days when he does not have a show. "Ashland is a great tourist destination for theater and outdoor recreation, so it's easy for me to get my friends to visit and play," says Seago. 
To visit, play and watch in Ashland, now is the time to purchase tickets to Oregon Shakespeare Festival. In support of the rich history of Shakespeare and deaf culture, deafREVIEW will raffle off two tickets (each worth $21, for deaf patron access). To find out how to win, visit our Facebook page for contest details.
Tags
Comment Policy
We're aware that issues facing the Deaf, Deaf-Blind, and Hard of Hearing Community can become quite passionate and divided. What can we say, we're a group of passionate people! While we fully support a community full of passion, we also require that comments are respectful. We think negative attitudes and disrespect are a waste of everyone's time and energy. This doesn't mean you can't disagree with people, you just need to do it respectfully. We reserve the right to delete or edit any comments we feel are judgmental, rude, or of attacking nature.