Hammer 2.0: Matt Hamill Coming Out of Retirement at UFC 152
Posted by: Staff Writer on Sept. 17, 2012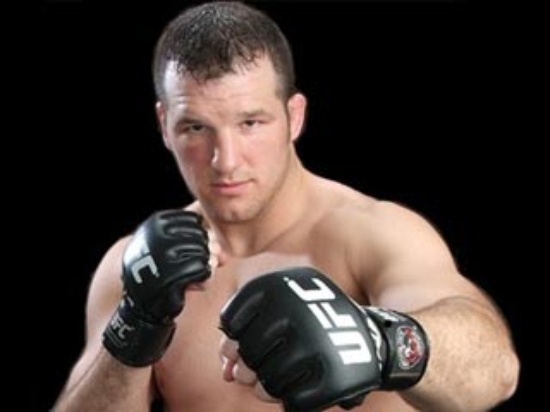 As the Terminator says: "I'll be baaaaaack." A terminator in every sense of the word on the UFC octagon, Matt "Hammer" Hamill didn't have this famous tagline in mind when he announced his retirement last August.
But in a surprising twist, Hamill will end his hiatus by taking on Roger Hollett (who is taking the spot of the injured Vladimir Matyushenko) next at UFC 152 in Toronto on Sept. 22, 2012. They have been added to the main card for UFC 152: Benavidez v. Johnson.
He's calling his comeback "Hammer 2.0." Not that Matt was whiling away on a rocking chair. At 35, he is still young, albeit aging out of a sport where liver kicks, KOs, and eyepokes are the norm.
You could say that UFC is one of the two worlds he lives in. In the deaf community, he puts the "champion" in the sign phrase "champ!" As known for his deafness as he is for his cobra choke, Hammill once came out at UFC 130 to the Rolling Stones' "Can't You Hear Me Knocking." Last month, the headline "UFC 152: Matt Hamill Heard The Call To Fight Again After Walking Away In 2011" made a sly jab at his "deaf fighter" persona.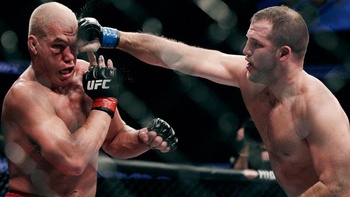 His career is more fight card than deaf card. But his coach Duff Holmes explains in MMA Junkie that part of return is partially motivated by the deaf community: "He's a hero to the deaf community, and he takes that really seriously. But it was kind of like the deaf community didn't put him on that pedestal like they did before (retirement) when he was carrying that flame for them."
Two questions on every fan's mind: What prompted his retirement to begin with, and how many more fights does he have left in him (this Saturday's included)?
There were clues. Earlier last year, I watched the Hammer get nailed 38-7 by "Rampage" Jackson at UFC 130. We were in a sports bar, *squinting at the only television screen with closed captioning (which also happened to be the smallest screen).
*Probably not an experience a deaf person will have if they watch at The Cage, a sports bar that Hammill and his coach own and promote.
This was the precursor to the fight (Hamill v. Gustaffson) that made Hamill realize his heart wasn't into the sport anymore. He left with a 9-4 record (10-4 overall), a career noted for wins over Tito Ortiz (UFC 121), Mark Munoz (UFC 96), as well as a Jon Jones (due to illegal elbows) in 2009.
Sting like a bee, metamorphosize like a butterfly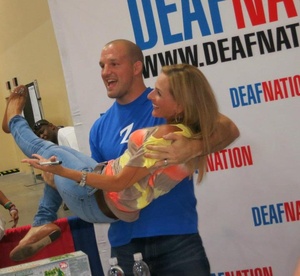 It's been a busy retirement, if we can call it that. Hamill got re-married, for one, with a baby on the way next Spring. He's been maintaining his "deaf roots," for another: You may have seen him promoting the ZVRS booth at Deaf Nation World Expo 2012 in Vegas, gaming the National Deaf Poker Tour in February, as well as getting Wal-Mart to restock sold-out DVDs of his autobiographical film, "The Hammer" (in which we watch him fail an audiology test as a baby, and learn sign language as a RIT student).
But he's also been rehabilitating, after nearly 3 decades of bodily pounding. As reported in the MMA News:
By January, Hamill had begun talking about returning to the cage. He'd left on good terms with the UFC, so the door was still open. He'd rehabbed his shoulder without surgery, and his body was finally starting to feel good again. He started tugging on Holmes' sleeve, bugging him to call up the UFC and ask about getting him a fight. He'd been retired less than half a year.
One has to see The Hammer to understand where Hamill gets his drive from: His grandfather. Shortly before his death, Stanley McCoy donned a blue wrestling leotard and challenged his discouraged Purdue-dropout grandson to wrestle. Now deceased, his spirit lives on: "I feel like I let my grandfather down," Hamill explained of his decision to un-retire.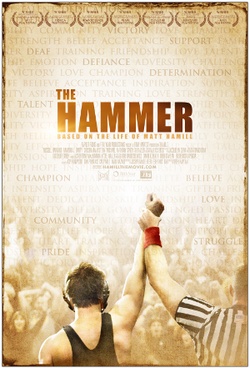 It's also about his biological clock: At 35, now is the time to make a comeback (the estimation is he's got 5-10 more fights left in him).
It won't be easy, of course. But as the saying goes, "If you only have a hammer, you tend to see every problem as a nail."   
Hammer's loss to Michael Bisping five years ago is the moment when, as a sports writer put it, "He was no longer simply a novelty, the deaf fighter who once appeared on The Ultimate Fighter. He became a symbolic figure in the rally against what was perceived to be poor MMA judging".
Still, the deaf fighter gives MMA and UFC fans a novel perspective of what it's like being deaf in the octagon. Even his opponents want ASL interpreters in the sport, for technical reasons:
When Hamill broke Jon Jones' undefeated streak, Jones' camp argued that an interpreter should have been available to help Hamill communicate with the referee (who stood over Hamill asking "are you done?" and resorted ot the MMA's instant-replay option to declare the winner).
In the "Becoming the Hammer" interview, we learn more about Hammer's deaf world. His Purdue interpreter had to drive 2 hours to get to his calculus class, for one. He spoke lovingly of his 8-year old daughter Tierra, a CODA (child of deaf adult) who once bribed him with ASL interpretation in exchange for ice cream. His coach (Holmes) also offered the straight scoop on how deafness helps and hinders his fighting:
"For me, trying to corner him, It's one of the most helpless feelings there is. And it's just so fast, he really is out there on his own. And it's almost like you're watching somebody drowning. As an athlete though, I think, being deaf, I think all of his other senses are heightened. One thing I notice about him is like, his balance, his vision, his feel, his sense of where he is, is just uncanny."
Pros and cons aside, Hamill wouldn't change himself for anything. "I'm happy to be deaf. I must have a good gift or something. I don't know what it is but, I'm just happy the way I am."
Now that's a winning attitude. Hammer, we will be rooting for your continued health on and off the octagon!
Want to watch Hammer v. Hollett on TV? Get thee to a pay-per-view  for UFC 152 at 10PM EDT/7PM PDT. You'll also get to see Joseph Benavidez and Demetrious Johnson fight for the flightweight title, as well as Brian Stann vs. Michael Bisping (Hammer's former rival). Also in the fight card are Evan Dunham vs. T.J. Grant, and Charles Oliveira vs. Cub Swanson.
Tags
Comment Policy
We're aware that issues facing the Deaf, Deaf-Blind, and Hard of Hearing Community can become quite passionate and divided. What can we say, we're a group of passionate people! While we fully support a community full of passion, we also require that comments are respectful. We think negative attitudes and disrespect are a waste of everyone's time and energy. This doesn't mean you can't disagree with people, you just need to do it respectfully. We reserve the right to delete or edit any comments we feel are judgmental, rude, or of attacking nature.