Got Deaf-Friendly Resolutions? Let Us Count the Ways.
Posted by: Staff Writer on Jan. 8, 2013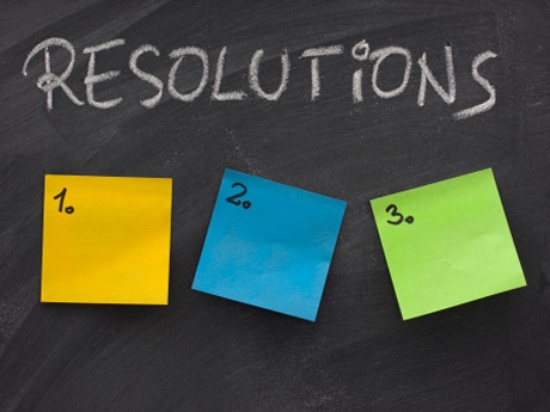 Whether you're a Type-A personality or a serial couch potato, there's little doubt about what's been on your mind: New Year's resolutions. To make, or to not make? To resolve big, or to resolve little? You see, resolutions are like religion. Even if you don't overtly subscribe to it, the chiming of the midnight clock rattles through our champagne-induced joy, making all of us realize that it's time to (once again) try to be a better person.
At deafREVIEW, we have a bunch of resolutions as well. Some of them are ongoing (Network! Attend conferences! Discover more new deaf-friendly businesses!). Some of them are completely new for 2013 (Launch in new cities! Add nifty new features and partnerships! Review over 1,000 businesses). We share your pain and excitement of being humans who try to stick to our goals, and that's why we've put together some cool ideas on deaf-friendly resolutions. Each and every one of these ideas is inspired by what we've learned from 2012's life lessons:
Find a Deaf-Friendly Trainer/Gym/Cross-Fit Box/Hiking Club.
Still trying to melt those leftover pounds from Auntie's fudge, Mom's gravy, rounds of tequila shots with the high school buddies, and endless potluck snackings? You're (really) not alone. But confining yourself to the lonely and punitive hamster wheel of a treadmill is the best way to doom your bod's remodeling project to a premature end.
This year, ask your gym if its locker rooms are equipped with flashing lights (so you're not That Naked Gym Rat who's still sudsing up in the shower during a fire alarm). Ask around for trainers who are either deaf or have experience working with deaf and hard of hearing individuals. . Reach out to that weight-lifting junkie you see socially (but have never gone to the gym with). Curious about the Cross-Fit craze you haven't experienced yet? Ask a deaf Crossfit junkie to host a junket at his or her local box. Lastly, ski/snowboarding is in full swing. It burns about 500 calories an hour. Enough said.
Take care of your travel bug – tell us where else you'd like to see us launch.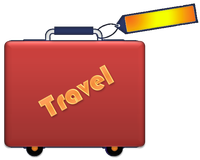 In 2013, deafREVIEW is actively planning to launch in more cities, in part to cater to travelers like you. It's an unwritten rule that deafies are consumed by wanderlust.  Maybe it's because other cultures (Buon giorno, Italianis!) are so much more expressive. Maybe it's because we're addicted to meeting new deafies (or RIT/Gally/CSUN alums) in different states and countries. It may even be because of our first-boarding airline privileges.
So why not do it like Joel Barrish of DeafNation and discover all the Deaf businesses, artists, restaurants, and and businesses  around the world. DeafNation's "No Barriers" has done the homework for you: Now you just have to book your ticket and make the arrangements – or make it a goal to find a place that Joel hasn't discovered yet. A more deaf-friendly world, equates to a more deaf-friendly city when you come home.
Shape up your finances this year. Shop ONLY at deaf-friendly businesses!
2012 was probably hard on your pocketbook. Not only did it end with Christmas consumerism, the economy is still in recovery mode (and that's speaking optimistically). Voting season is over, but right now the most powerful way to vote is with your pocketbook. Writing consumer reviews for deafREVIEW is another way to cement your loyalty (or constructive criticism), too.
Do a deep and searching inventory of those within or "allied" with the Deaf Community, and you'll find that many are freelancers/small business owners. Some work for big businesses that have a track record of deaf-friendly hiring, services, and products. Maybe their infrastructure is set up so that getting a terp is a cinch, or maybe they have employees who brighten your day by signing to you. Invest in these businesses, because they invest in you.
Tired of getting overlooked by people in your daily life? Be bold.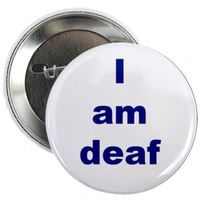 As we explained in our article, "Tips for Getting Through the Holidays with Hearing Loss" social events can try a deafie's patience. We usually "grin and bear it" (or "drink gin and bear it"), but why not be bold? Einstein posthumously gives you his blessings: He said the definition of insanity is doing the same thing over and over again while expecting different results.
Some tactics you could try: Buy a "I AM DEAF" pin, patch or sticker for work (you'll see this patch worn by some deafies who work in retail environments, such as Trader Joe's). Engage co-workers or family by teaching them a little bit of sign language day by day (it's hard to forget someone is deaf and needs eye contact, when you're learning ASL from him). If you're really comfortable, you could add humor by raising a homemade "What? I didn't hear you!" paddle whenever the subject switches and you're lost.
Life is short – why not try a little bit of social engineering this year?
Educate others through your pen: Guest post in a corporate blog!
Being perceived as accessible, innovative, culturally diverse, and sustainable is all the rage for modern companies. If you're lucky enough to work for one that actively welcomes diversity, see if they're looking for blog submissions or open to hosting workshops about accessibility best practices. Case in point: Last month, a deaf Seattle local wrote a blog called "How Can You Best Communicate with a Deaf Employee? REI Staffer Shares 5 Simple Tips" for her employer, the outdoor gear giant REI.  
Look for guest blogging opps on a site that you admire. You'd be surprised how willing and appreciative many site hosts may be to get a fresh now perspective in exchange for some Web traffic and SEO (Search Engine Optimization).
Speaking of bold – conquer your fear of public signing or performing? 
Deaf Spotlight is always looking for new performers at its Epic Jam (as well as artists of various types to host workshops, presentations and events). For the first time in seven years, Salon of Shame (which we covered in our Deaf-Friendly Showcase) just had its first deaf reader last month. Let's keep the momentum going: The more ASL-fluent people who dare to tread on-stage, the more visible our language and culture becomes to the mainstream.
2013:   Be bold. Be brave. Be informative. Choose DEAF-FRIENDLY Businesses.
Tags
Comment Policy
We're aware that issues facing the Deaf, Deaf-Blind, and Hard of Hearing Community can become quite passionate and divided. What can we say, we're a group of passionate people! While we fully support a community full of passion, we also require that comments are respectful. We think negative attitudes and disrespect are a waste of everyone's time and energy. This doesn't mean you can't disagree with people, you just need to do it respectfully. We reserve the right to delete or edit any comments we feel are judgmental, rude, or of attacking nature.