flashBACK friday: Deaf Contestant on The Price Is Right
Posted by: Staff Writer on June 27, 2014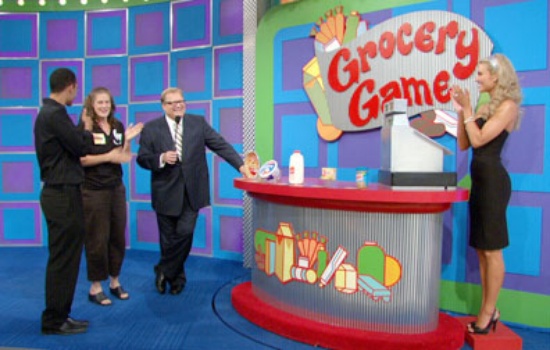 The price was right, indeed, for deaf contestant Kristine Hall. On October 19, 2009, Hall became the first deaf contestant on the CBS show "The Price Is Right". A longtime deaf fan of the game show, her victory prizes (bicycles, mattress, bedroom set, and a thousand bucks); she also won a victory of accommodations.
This Gallaudet alumna teaches deaf adults at an occupational center, as well as ASL. Once selected as a contestant, she requested 30 tickets (for her ASL class) and two interpreters. As viewers may remember, one of her two interpreters (who used PSE instead of ASL) often blocked her from the audience's view, as well as Hall's view of host Drew Carey.
Third time's a charm. Hall had attended two tapings (then hosted by Bob Barker) years ago, but no deaf contestants were chosen. When Drew Carey took the helm in 2007, Hall tried again … successfully!
Three big things happened at CBS Television City's Studio 33:
Hall got a "Lucky Spot," to get on Contestants' Row, where she correctly bid $800 for the One Bid segment. Prize: Pair of Dahon mountain bikes.
On "Grocery Game" – she correctly guessed the total cost ($20.98) of five ingredients needed to make a no-bake peanut-butter pie. Prize: Bedroom set and mattress set.
"Showcase Showdown" – Hall spun the Big Wheel to reach a total of $1. She spun 5, then 95, then 30. The last spin took her out of the tiebreaker.
Despite her disappointment, she was comforted by Carey after the show. Prize: Priceless!
Thank you, Mr. Carey, for being a #deaffriendly host. Thank you, Kristine, for setting an example of persistence for the rest of us deaf aspiring contestants!
Tags
Comment Policy
We're aware that issues facing the Deaf, Deaf-Blind, and Hard of Hearing Community can become quite passionate and divided. What can we say, we're a group of passionate people! While we fully support a community full of passion, we also require that comments are respectful. We think negative attitudes and disrespect are a waste of everyone's time and energy. This doesn't mean you can't disagree with people, you just need to do it respectfully. We reserve the right to delete or edit any comments we feel are judgmental, rude, or of attacking nature.