flashBACK Friday: Billy Seago and the Bravo Family
Posted by: Staff Writer on Feb. 28, 2014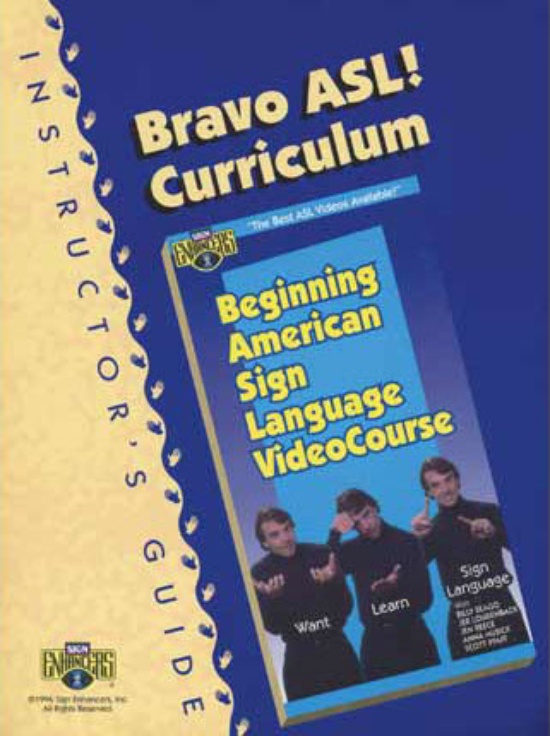 If you remember stopping by your local library or community college to borrow one, or several, of these videos you probably were a Deaf child of the 90's or a fresh-faced new signer in college with a funky sweater.
Beginning ASL Videocourse with Billy Seago and his trademark black turtleneck were the hottest go-to ASL lessons for in or outside of the classroom. Billy took you through new sign vocabulary, and then immersed you in the world of the Bravos, a Deaf family, where you could witness American Sign Language in real-life action.
The Bravo family had a goofy Deaf father, Dennis, gentle and wise hearing mother, Jen, and two Deaf children, sweet Anna and mischievous Scott, and the family dog. Each of the 15 videos present common, themes such as: having breakfast, going to school, shopping, or not so common themes, such as visiting a Deaf doctor. With the help of Billy Seago, the Bravo family, and retro video effects you could eat breakfast and learn how to sign 'eggs', go to a Sears to help the Bravo children buy back-to-school clothes, or watch Scott wince in pain as he goes to see Billy the doctor.
Beginning ASL Videocourse videos were humorous, heart-warming, and educational. Whether you were just curious about learning new signs, how to interact with Deaf people, or were just entertained by the animated Bravo family, these videos were popular with the signing community.
Well into the second millennium, these videos can still be borrowed from your local library or purchased at Harris Communications (luckily, they caught up with the times and upgraded from VHS to DVD).
Do any of you remember watching the Bravo family and learning new signs from Billy Seago?
.
Tags
Comment Policy
We're aware that issues facing the Deaf, Deaf-Blind, and Hard of Hearing Community can become quite passionate and divided. What can we say, we're a group of passionate people! While we fully support a community full of passion, we also require that comments are respectful. We think negative attitudes and disrespect are a waste of everyone's time and energy. This doesn't mean you can't disagree with people, you just need to do it respectfully. We reserve the right to delete or edit any comments we feel are judgmental, rude, or of attacking nature.