Deaf-Inclusive Tech Conferences: Accessibility Lessons From &yetConf
Posted by: Staff Writer on Nov. 12, 2015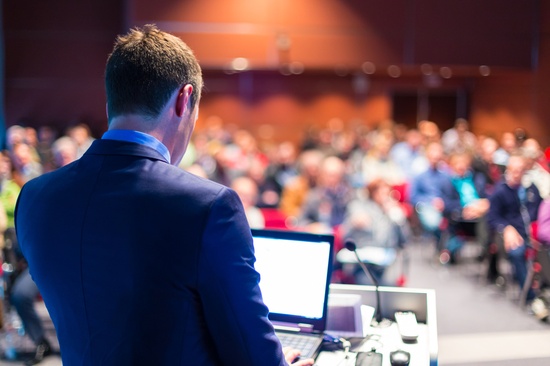 Though I was born deaf, I had very few opportunities to meet culturally Deaf, ASL-fluent peers until after college. As I began learning sign language for the first time, I noticed that many Deaf and hard of hearing people gravitated towards careers in tech. 
Conferences should be a safe gateway to exploration, new skillsets, and mentors. But unlike many Title IX-compliant campuses (like the one where I recently learned to code), many conferences continue to skirt the Americans with Disabilities Act. Myopic budgets assume that a wheelchair ramp or assistive listening devices is the be-all and end-all.
Usual result: A kludge where I pay full price to speech read everything in a 3-day event except the keynote and several one-hour sessions of my choosing. 
I had sworn off conferences forever. Then recently, I got an email from Adam Brault, founder of software company &yet and self-described headband connoisseur. He was organizing &yetConf, which included themes like privilege, disconnection, and barriers to entry. 
Brault suggested that I give a talk from a deaf perspective. I said yes, and titled my first slide: "No More FOMO: Fight for Deaf End-Users."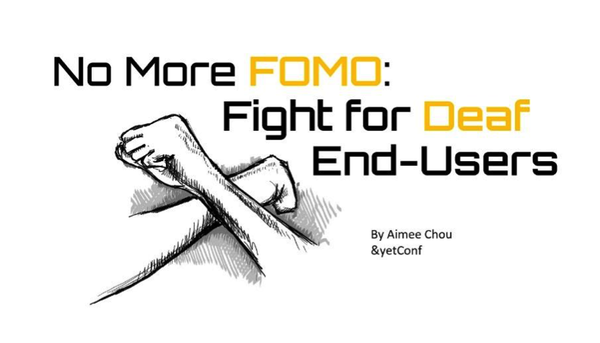 Two certified ASL interpreters voice-interpreted for my presentation. The following day, captions stenotyped by White Coat Captioning skittered across a giant monitor viewable to nearly 200 people from seven countries.
Amazingly, I didn't need to lift a finger to request this.
"It's much more welcoming to offer and let people know they'll be taken care of than make them do the asking," Brault told me. "Seeing other conferences include this accessibility as a default made it an absolute 'must' for us."
He praised colleagues Jenn Turner and Karolina Szczur, who "have a deep passion for creating inclusive events and have really helped us improve our efforts in the past couple years."
Accessibility: An organic part of conferences
Initially, &yetConf considered the services of a local CART provider. But after listening to recommendations from a deaf engineer, they learned of a specialized remote CART provider with a proven track record in the tech community. "I always say with our conference elements, 'make it great or don't do it,' said Brault." Once I'd done my research and we'd committed to CART, there was only one way we could go."
That way was through White Coat Captioning, a boutique Communication Access Realtime Translation (CART) provider specializing in captioning services for medical and tech communities. 
White Coat Captioning founder Norma Miller emailed me after the conference: "Almost all of the tech conferences we have captioned have provided the service proactively, whether or not they knew of any prospective deaf attendees. They have genuinely wanted to make their events as inclusive as possible."
Founded in 2014, the company has captioned nearly 30 conferences. Many have one thing in common, Miller adds:
.

.
"Software is for humans"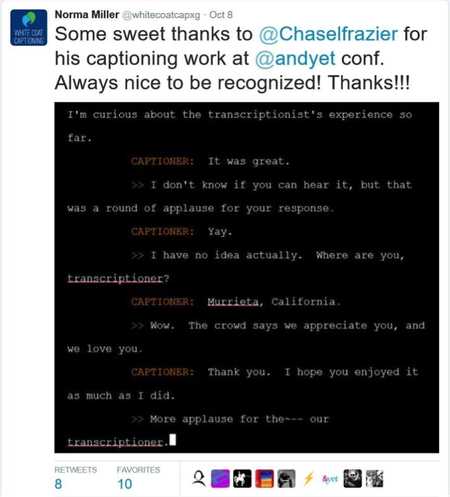 Three days of inclusion felt like a Twilight Zone dream. &yetConf began with a skeleton mariachi band's entrance, and ended with an all-female choir singing "Guns of Ireland" as well as a piñata party.
Riveting talks about the decentralization of the Web, identity on the Internet, calm technology, spoken word poetry, and more. "Software is for humans" &yet tees summed up their values.
Yet it was terrifying to be onstage explaining why software is also for deaf humans. I was always a reluctant self-advocate. My internal Devil's advocate harped: How is it worth investing so much to benefit one deaf attendee?
But my &yetConf experience turned that paradigm on its head. 
Accessibility isn't a self-contained bubble: It has multiple use cases for everyone. As Norma Miller pointed out, CART can be useful for those:
Who are learning English (non-native speakers);
Whose attention wanes for a moment;
With auditory processing disorders;
Who have to leave the room for a few minutes.
"The best benefit was the message (accessibility) sent to people," said Brault. "I know a high percentage of the people who came to the conference personally … they are incredibly big-hearted people who yearn for greater equality, respect, and inclusion."
Also, Full Stack Fest's initial captioning fiasco showed that using lower-cost providers can result in poorly-timed, inaccurate captions that are an eyesore to everyone.
"White Coat's rates are the equivalent of paying a good software contractor for their time," said Brault, who had consulted with me pre-conference about my provider preferences. "Why should it be any less?"
Merging ASL and CART
On Day Two of &yetConf, we got into shuttle buses. We each opened an envelope detailing our secret destination: A field trip to the controversial Hanford B Reactor, which generated the plutonium used in the WWII atomic bomb dropped on Nagasaki, Japan.  
The ASL interpreting team came into play during the B-Reactor walking tour, outdoor events, meals, and various other mobile conference portions.
I grew up in Richland, wearing sweatshirts bearing our high school's controversial mushroom cloud mascot. Because I did not have accommodations then, I zoned out of all classroom discussions about the Manhattan Project. 
After the field trip, roughly 20 attendees went onstage to give lightning talks.
This time, I understood. An attendee from Japan made a brave, halting statement. I wiped away many tears to see his words displayed on the monitor.   
Diversity in action: Talky gets Real-Time Text
We can't reverse the destruction that nuclear fission has done, but it's never the wrong time to apply STEM towards benefiting humankind.
That includes redesigning software to have a more accessible UX (User Experience). Shortly after the conference, &yet developer Lance Stout announced the Real-Time Text feature on Talky, the company's videoconferencing software:
"Many software developers think it's OK to not bother supporting people who are hearing impaired, or simply aren't aware of how the user experience of their app changes when a person can't hear. Given that audio and voice is a large part of what I work on, I was especially impacted by (Aimee's) plea to be considered when building apps. So I ended up skipping most of the conference talks to focus on bringing RTT to Talky."
Talky is a game-changer. Incidentally, I made plans with Sharon Steed (a stutterer who presented at &yetConf about the power of empathy in communication) to use Talky for a videoconference. 
Sponsorships create an accessibility win-win
So how does one budget for conference accessibility? The same way as diversity outreach: Diversity scholarships and childcare tracks are becoming more available at conferences (&yetConf had both).
Sponsors can be powerful accessibility allies. This year, Norma Miller says, three companies have eagerly come forward to sponsor the CART portion of conferences. 
"Companies who sponsor will probably get some of the best impact they can get from a conference by sponsoring the captioning," said Brault. When the season comes for &yet to be a sponsor, he added, "CART sponsorship is going to be at the top of our list."
He encourages conference organizers to email him at adam@andyet.com for advice about selling the value of accessibility/CART to potential sponsors.
As technology skyrockets, it is critical we ensure that accessibility never lags behind. 
.

.
Aimee Chou is a deaf freelance bard who dishes up Deaf Culture and accessibility topics on deaffriendly.com (check out her online alias, Le Petit Chouette, for reviews). She is a longtime Seattleite.
Tags
Comment Policy
We're aware that issues facing the Deaf, Deaf-Blind, and Hard of Hearing Community can become quite passionate and divided. What can we say, we're a group of passionate people! While we fully support a community full of passion, we also require that comments are respectful. We think negative attitudes and disrespect are a waste of everyone's time and energy. This doesn't mean you can't disagree with people, you just need to do it respectfully. We reserve the right to delete or edit any comments we feel are judgmental, rude, or of attacking nature.