Deaf-Friendly Showcase: Salon of Shame, Seattle
Posted by: Staff Writer on July 23, 2012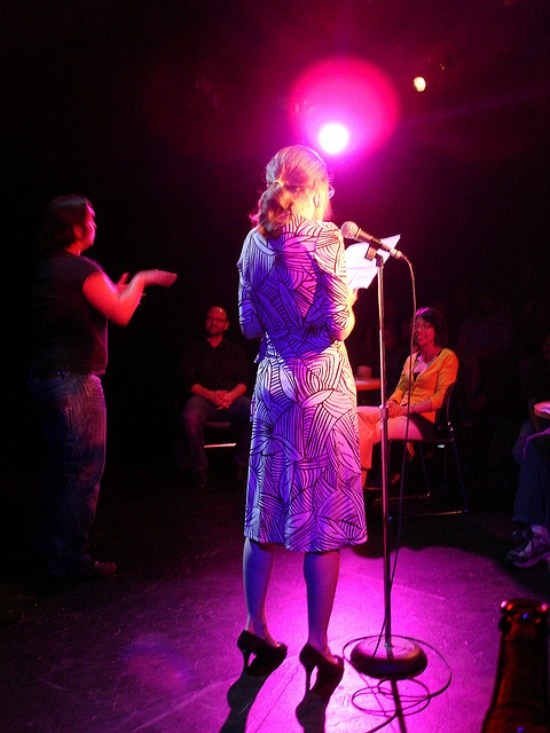 If you had to write a recipe for cathartic comedy, it may look like this: Adolescence, 3-ringed notebooks, beer … and sign language. This is the winning formula Ariel Meadow Stallings created in 2005. Ask her some of the ASL she's learned as the founder of Salon of Shame, and she's not shy to dish. Topics ranging from hormonal urges to wine coolers are fair game as courageous locals bare their teen souls on-stage.
Armed with liquid courage and hand-written journals (dating before MySpace), everyone embraced their inner teen at the 41st Salon of Shame show in early July. 
"If I promise to give you my pager number, will you promise to use it?" a woman read her 1994 diary entry. It's one of the less raunchy, if lower-tech readings.
"Number one: Take your time," Stallings read from her 1992 diary entry titled "How to Give a Blowjob". "Try this: Pretend your mouth is like a vagina."
The audience screamed with laughter as diaries are interpreted by Joanna Ball and Meredith Hedges, two sign language interpreters in Seattle who took turns sharing the spotlight with diary readers.
At every show, the Salon of Shame reserves 10-12 seats for deaf and hard of hearing patrons. But many in the hearing audience also find themselves enthralled by sign language that brings teen angst to life.
Salon of Deaf Culture
Long before sharing fellatio tips at the Theatre Off Jackson, Stallings had another challenge: Creating a deaf-friendly entertainment venue.
Shortly after founding Salon of Shame at the Belltown's Jewelbox Café, the small business owner's friend and now-deafREVIEW founder Melissa "echo" Greenlee requested an interpreter for herself and several deaf friends. As the result of research, networking, and advocacy, Pam Parham was hired as the show's first ASL interpreter. 
"The Salon wasn't making a lot of money at the time," Stallings recalled. "I had this moment where there were only two deaf people in the audience and I was paying about $100 a night (for interpreters).. so I had some bumps on the way." 
She quickly learned that accessibility wasn't just about money or obeying the Americans with Disabilities Act.

The accessibility has been an unexpected boon to those souls whose teen personalities are caricaturized: The diary readers.
"As a hearing person, I feel so much better when there's an interpreter on-stage," says Laura Moreau, who has read her diary in a prior show. "Everyone feels a little bit lost up there. I'm used to being on-stage, but it can be lonely."
Deaf-friendliness doesn't stop at providing interpreters. Several years ago, Salon of Shame created a new ticketing system for its deaf attendees. Because every show has been sold out (often within minutes, on brownpapertickets.com) since 2007, this has added a boost of accessibility.
"Whether we have only one deaf person or 10-20 deaf people in the audience, interpreters really make a difference," says Phyllis Fletcher, who coordinates interpreters, reimburses them for their work, and distributes the Salon of Shame passwords to the deaf and hard of hearing "Notification List of Shame."
To get on the list, send an email to deaf@salonofshame.com.
Juicy interpretations

At the Salon of Shame, interpreters are integrated, beloved, and challenged. Among the show's motley crew of interpreters, Pam Parham and Jeffery Wildenstein are considered long-time veterans.
Some readers have repeated phrases just to watch how interpreters tackle the comic challenge of signing "my equipment failed me."
This was the line that sign language interpreter Jeffery Wildenstein brought to life in 2011. Though his career includes interpreting for the Dalai Lama and President Obama, teen diaries are a whole new challenge. Interpreters must deliver beet-red doses of Shame on the spot - without seeing a script.
"I have to let go and be ready to interpret anything: Poetry and song lyrics, pros and cons lists of being Anne Frank, break up letters, lists of friends' names, crooked body parts, lists of bands, tutorial instructions to specific sex acts," Wildenstein said.
It's like exercising a different interpreter muscle, including role-shift (a skill he credits Parham with).
"It's one thing to describe a nervous teenage gay boy making out for the first time with another guy and quite another to watch Pam do it."
Indeed, a Salon interpreter's job is to cleverly read between the double entendres of adolescent poetry. Joanna Ball nailed this when a reader sang a hormonally laced song from his 16-year-old self: Give me a taste ... Open up your heart, let me get inside. I'm all pent up, I want to show you my feelings, my head hurts so bad.(video credit: Jason Tang)
Salon of Shame "educates a hearing audience that may have never encountered sign language before, and challenge peoples' assumptions about it," says Stallings. That included her own assumptions, such as the time she commented to Parham: "You're a big part of why the hearing audience comes here."
The lesson about cultural appropriation came, with Parham clarifying:  "I'm not here as an entertainer - I'm doing my job." 
Stallings learned the irony of sign language: "Just because it's so expressive doesn't mean it it's meant to be entertaining." 
To date, no deaf diary readers have stepped up. 
Wildenstein admits he is not keen to read his own diary. But he and Stallings are looking forward to the day that the Salon of Shame debuts its first deaf reader.
Do you want to attend the next Salon of Shame? Tickets for the September 11th reading go on sale August 19th. Ticket info here.  

Tags
Comment Policy
We're aware that issues facing the Deaf, Deaf-Blind, and Hard of Hearing Community can become quite passionate and divided. What can we say, we're a group of passionate people! While we fully support a community full of passion, we also require that comments are respectful. We think negative attitudes and disrespect are a waste of everyone's time and energy. This doesn't mean you can't disagree with people, you just need to do it respectfully. We reserve the right to delete or edit any comments we feel are judgmental, rude, or of attacking nature.