Coming Up Feb. 3: Super Bowl XLVII – Who Will Be Signing The National Anthem?
Posted by: Staff Writer on Jan. 28, 2013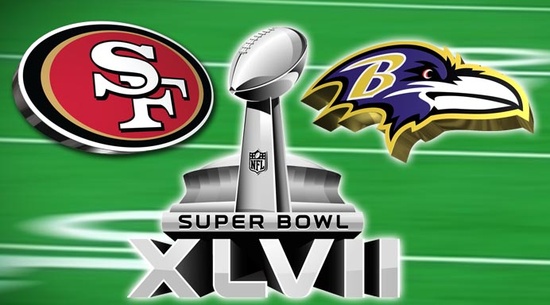 Confession: Here in deafREVIEW's flagship city of Seattle, we're still mourning the Seahawks' by-the-skin-of-our-teeth 28-30 tearjerker loss to the Atlanta Falcons en route to Super Bowl's Mercedes Benz Superdome in NOLA. Wads of Kleenex later, we're ready to move on. That's because it's only T minus 7 days to SuperBowl XLVII, and there ain't a moment left to waste on anything but trash talk, betting pools, Manti Te'o memes, and geeking out over point spread bets.  
We already know what this year's funny commercials will be all about (animals behaving badly, buxom models, and beer that beer snobs don't drink). You know which team you're rooting for (either the 49ers or Ravens) . As a host, you've already picked which sauce your infamous home-baked wings will be drenched in (teriyaki or buffalo).
But suspense is still mounting where this year's National Association of Deaf-selected anthem signer is concerned. The big question on our minds: Who will be signing alongside singer Alicia Keys during the halftime national anthem this year?
Until NAD's official announcement surfaces any day now, it could be anyone. But one thing we do know: It won't be Miss Deaf America.
"The NAD has a long history of working with the NFL and the various broadcasters that rotate to televise the Super Bowl,"NAD's Chief Executive Officer Howard Rosenblum said in an email to deafREVIEW in early January. "The National Association of the Deaf will soon announce who the signer will be for the National Anthem at this year's Super Bowl, however it will not be the current Miss Deaf America."
Though NAD has been working with pre-game show organizers in recent years to ensure a deaf National Anthem signer, Rosenblum confirms that 2012 was a year of firsts – and lasts – in terms of the Miss Deaf America involvement with SuperBowl.
"In previous years, we have primarily used deaf individuals in the local area of the site where the Super Bowl was being played," Rosenblum explained. "Last year was the first time that we were given the chance to bring in Miss Deaf America to the Super Bowl and sign the National Anthem. As in years past, there was no guarantee for the signer to be broadcast on television."
Whether you're calling it a HarBowl, a SuperBaugh, or the Brother Bowl (because of opposing head coaching brothers, Baltimore's John Harbaugh and San Francisco's Jim Harbaugh), this year's gridiron matchup it's sure to be a fun one.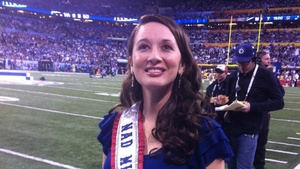 That doesn't mean painful memories of last year's SuperBowl snub don't linger today still. A brief flashback: Miss Deaf America Rachel Mazique (who reigned from 2010 to 2012) was invited to sign the anthem, only to receive practically nil air time while standing in the sidelines. Meanwhile, M.I.A. received plenty of airtime (and flack) for the only sign language she used during the halftime show: Her middle finger.
An outraged petition to NBC and NFL Commissioner Roger Goodell soon followed, circulating among press outlets all over.
Lest last year's remorse or this year's suspense dampen your pre-funk tailgate party, let's focus on the really important positive aspect of this year's game: It will be 100% captioned commercials.  
ASL anthem, captions, and Bad Lipreading bring Super Bowl inclusivity to living rooms across America


For a quick, knee-slapping example of what it might be like to be a deaf person watching an uncaptioned football game, look no further than Bad Lipreading's (BLR) latest video spoof: "THE NFL"  (turn cc on) It just came out a couple weeks ago, depicting NFL stars saying (according to captions that are fictional but dead-on accurately synced with mouth movements) the things you'd never imagine them saying out on the field.
The irony of this timely BLR short is that it was produced during an era when all Super Bowl commercials are now captioned. This was not the case just a few years ago, when only 20% of commercials showing during the SuperBowl were captioned. That means for every four out of five commercials, you were nudging your hearing buddies to find out what the Clydesdale Donkey said, or what the eTrade baby was jabbering about.
"This is a phenomenal accomplishment in a short time," said Rosenblum. And it's hardly an accident of our modern era: "We have worked with (NFL) to increase captioning of the commercials that often debut to great fanfare during the Super Bowl, and with the NFL's help we have achieved 100% captioning of national commercials as well as network promotions."

Challenges still linger: Some commercials are locally shown only and not on a national basis, making it difficult to ensure that all such commercials will be captioned. Nevertheless, added Rosenblum, "we are confident that the day will come when the entire Super Bowl experience from start to end will be completely captioned."

At deafREVIEW, we can't wait for that day to come. On behalf of our community, we thank NAD for all its hard work, collaborating with media and NFL titans to make a huge national pastime like the Super Bowl an accessible, inclusive experience for proud American football fans of all jerseys and affiliations.
While we wait for the big announcement to uncover this years National Anthem signer, we are going to pre-funk with a little more trash talking and some more knee-slapping viewings of Bad Lip-Reading.
Old-timers: Who are you rooting for this year, and do you remember watching Super Bowl on the telly back in the old days when there was no such thing as a halftime anthem signer … or fully-captioned commercials? Any ideas who will be signing the National Anthem this year? Drop us a line in the comments below!
Tags
Comment Policy
We're aware that issues facing the Deaf, Deaf-Blind, and Hard of Hearing Community can become quite passionate and divided. What can we say, we're a group of passionate people! While we fully support a community full of passion, we also require that comments are respectful. We think negative attitudes and disrespect are a waste of everyone's time and energy. This doesn't mean you can't disagree with people, you just need to do it respectfully. We reserve the right to delete or edit any comments we feel are judgmental, rude, or of attacking nature.