Best of 2014 #deaffriendly Businesses
Posted by: Staff Writer on Dec. 30, 2014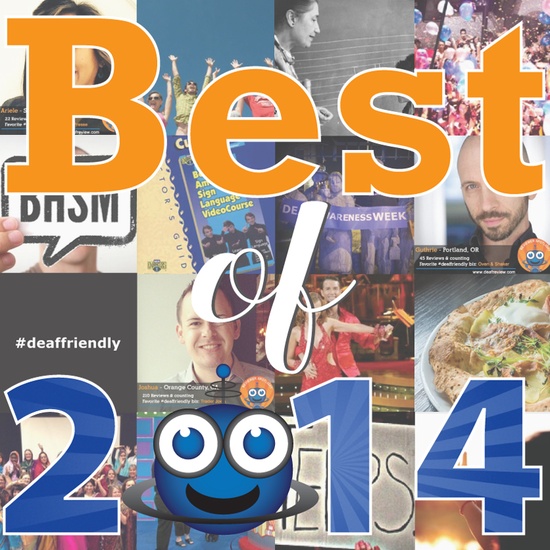 As the year winds down, counting is the name of the game: Days to 2015, partridges and pear trees, holiday pounds to shed, shopping budgets, and resolution lists. But at the deaffriendly headquarters, we count with spreadsheets: Analyzing #deaffriendly businesses and which one's deserve top honors in several business categories.
Easier said than done: Once we opened up our review potential nationwide in September, it opened the floodgates for 1700 reviews from every corner of the country! With hundreds of thousands of businesses in our database, it's like finding diamonds in a haystack.
In pure math terms, we looked at businesses based on:
1) total number of reviews and 2) an average of at least four stars. We also looked at #deaffriendly features including any unique out of the box ideas.
But that doesn't mean only long-established businesses made the list: Uber, that new kid on the start-up block, reined in a slew of glowing reviews in its inaugural year on our platform. So did ZVRS, which earned all of its reviews (averaging 4 stars) this year alone. 
DINING

Mozzeria quickly rose to the top as a #deaffriendly dining favorite this year. Featured in our #deaffriendly Business Showcase earlier this year, accolades continue to pour in. Our developer swears by their "best burrata in the Bay area," and another reviewer swears by the Brie and Pear pizza. But all of them will easily agree on one thing: The combination of an all-ASL-fluent staff is the secret sauce to this rising star.  
On our 2015 wishlist: We'd love to see Mozzeria set up a second shop near our Seattle HQ (a hungry start-up staff can only dream, right?).

With so many combinations of rice, veggies, meats, and tortillas, Chipotle has a near-infinite number of ways to goof up a deaf/hh customer's order. But the franchise continues to pull in glowing reviews. So, what's their secret sauce, other than jalapeños? 
As one reviewer pointed out, Chipotle workers have pointing down to a science. Proactiveness is another ingredient, especially when one waitress quickly picked up on a reviewer signing to his wife: "She got us waters already RIGHT BEFORE we planned to tell the cashier, which surprised us."
Finally, we have it on good authority that the University of Phoenix offers ASL courses, resulting in a one Chipotle store manager communicating with his customers smoothly.
That, folks, is a "wrap". We have the most #deaffriendly fast food chain of the year. 
Our 2015 wishlist: Could we get other fast-food chains on-board? We'd love to experience more drive-thru's that aren't audio-dependent. 
VIDEO RELAY SERVICES
This hasn't been the easiest few years for video relay service providers: Purple's legal tangle with the National Labor Relations Board, for one and Sorenson VRS' ongoing competition with other providers such as ZVRS. But in the thick of all the controversy, one VP provider shines this year. One Apple-besotted reviewer raves about how smoothly ZVRS works on his iPhone, iPad, and iMac without crashing. Another is impressed by the "crystal-clear quality" of his ZVRS connection: "I have been using this VRS provider on my mobile device only AND while outside of WiFi area."

ZVRS is also winning in the "trailblazing" department, says mommyn2kids: "They were the 1st to have single line VCO, a Mobile App, a customizable answering machine and many more!"
Bravo, ZVRS. Keep up the good work, and we look forward to seeing more of your #deaffriendly innovation leaps in 2015. 
COFFEE HOUSES
Caffeine-slingers continue to be a #deaffriendly powerhouse on our site. We have many theories: Perhaps the increased alertness from arabica beans results in increased communication skills? 

Whatever the case, Coffee Bean and Tea is a hit among Deaf coffeeholics all across California, with one reviewer delighting in employees who can sign in the Irvine shop, and another raving about Santa Monica baristas who wave (not yell) to get his attention.

On the national front, Starbucks continues to do little wrong - regularly pulling in 4- and 5- star reviews from 12 cities. Whether it's employees in the Mishawaka, IN based store eager to learn phrases like "GOOD MORNING," or the Saratosa, FL based Starbucks which continues to draw pleased crowds for Deaf coffee chats (in which tables are pulled together).
2015 Wish List: Not to mess with perfection, but could someone find a way to teleport cups of joe directly to our bedsides?  
RETAIL - HOME IMPROVEMENT

It's safe to say that home improvement franchise Home Depot has hit the nail on the head when it comes to providing #deaffriendly service. 
A Chino, CA reviewer walked into a store in search of a bathroom lighting set, and was greeted by a staffer who immediately directed him to shelf, row, and aisle after a quick glance at his iPhone picture alone. A Denver, CO reviewer stopped by for a chalkboard project, to be greeted by an employee who promptly referred him to a Deaf employee: It was "very empowering that the Supervisor proudly presents his (deaf) employee." 
TRANSPORTATION 
"Crapshoot" is how many deaf/hh individuals would describe transportation options in the city. If it's not awkwardly dodging small talk with a thickly-accented driver, or being hung up while dialing for a ride at 1 A.M., teleportation can't arrive fast enough for us.

But something almost as magical is now available at our fingertips: Uber Technologies, a smartphone-based private car startup. Instead of trial and error, as one reviewer described the Uber experience as "press the request, text, hop in, short greet and confirm with correct driver, enjoy, and hop off". Easy, peasy. That's why in 2014 alone, Uber has snapped up rave reviews:
"From placing the car request, to watching as it navigates to your pick up location, to knowing when they have arrived, to paying the bill automatically using your mobile phone.... Everything about this technology WORKS!" raved our founder and CEO, Melissa "echo" Greenlee.
2015 Wish List: Due to a growing number of Deaf Uber Drivers, we suggest Uber build a feature for Deaf customers to request specific #deaffriendly drivers. 
MASSAGE THERAPY
How do I tell her to focus on the lower-left? Does he understand that my divorce caused this Titanic-sized knot?
Finding a trustworthy masseuse often causes deaf/hh people more anxiety than it resolves. But in the middle of Colorado, is a #deaffriendly gem whose hands, which one Fibromyalgia-challenged reviewer says "glide like butter," can heal and communicate. 

One reviewer summed up the 'Jules Cameron massage experience' beautifully: "It's a rare privilege as a Deaf consumer to receive clear communication access with professionals. Cam is willing to listen and learn what I will need specifically due to FMS related trigger points."
Other patient testimonials from 2014 alone include:
Treating back pain so bad, that client couldn't sleep for 3 nights

Helping a groom-to-be release tension, so he could "greet (his) wedding day with a smile and a deep feeling of peace in my body!"

A long-time migraine suffer, who happily drives 40 minutes to Cam's clinic for her super-relaxing 2 hour massages 'Nuff said.
Our 2015 New Year's resolution: Travel to Colorado.
INTERPRETING AGENCIES
Remember Thamsaqua Jantjie, that infamous hand-flapper from the Nelson Mandela memorial? He's not yet in "that's so 2013" territory: In May, he surfaced in a commercial for video-sharing app Livelens. The world still has a short memory about the importance of hiring qualified, certified interpreters from a reputable sign language agency. Shady, fly-by-night interpreting "agencies" still exist in many places.

So when Deaf reviewers sent in their vote of confidence for San Diego-based CLIP Interpreting, you know it's the real deal.
"It's also the only NIC testing facility in the whole state of California, so they care about their interpreters as well," a Deaf San Diego-based client shared in a 5-star review "CLIP not only focuses on the Deaf, Hard of Hearing and Interpreter communities, but when it's necessary, they will also educate hearing business about how to use interpreters and the laws relating to providing interpreters."   
RETAIL - TECHNOLOGY
Without a doubt, the Deaf Community is a tech-savvy bunch. Whether it's using FaceTime to keep in touch, using videophone apps or even video-texting, we are early adopters. 

From Irvine, CA, to Tigard, OR, Apple Stores across the nation can do no wrong to their deaf clientele:  Allowing customers to schedule same-day Genius Bar appointments online and hiring deaf employees. In Tigard, OR their store alone boasts not one, not two, but FIVE sales associates/technicians who are reportedly fluent in sign language.
Now that's putting the Genius into the Genius Bar. Last we checked, AAPL's stock is holding strong at $113. Being ahead of the accessibility game reaps rewards for all shareholders. 
2015 Category Wish List: A #deaffriendly Healthcare Experience
Though many categories generated great reviews, we noticed a troubling theme in the Healthcare category. Save for a few glowing reviews about exceptional doctors, midwives, dentists, and veterinarians with the "bedside manner" to communicate with deaf patients and their loved one's, subpar experiences showed up (hospitals were an exceptionally common recipient of one- and two- star reviews).
In 2015, expect a series about how our Community can collectively address this issue. Until then, keep on trucking, dear reviewers.
Our 2015 resolution: Create a more #deaffriendly world. Every review you write, every star you give (or don't give) makes a huge difference to our vision. We'll raise a glass to that!
Tags
Comment Policy
We're aware that issues facing the Deaf, Deaf-Blind, and Hard of Hearing Community can become quite passionate and divided. What can we say, we're a group of passionate people! While we fully support a community full of passion, we also require that comments are respectful. We think negative attitudes and disrespect are a waste of everyone's time and energy. This doesn't mean you can't disagree with people, you just need to do it respectfully. We reserve the right to delete or edit any comments we feel are judgmental, rude, or of attacking nature.