ACT Theater Redefines the Deaf Theatergoer Experience - With the Help of deaffriendly Training
Posted by: Staff Writer on March 25, 2019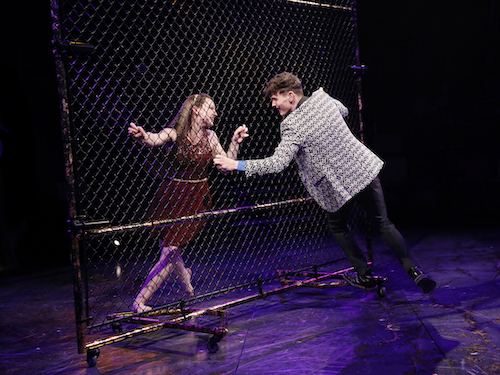 Life doesn't imitate art at one of Seattle's three largest playhouses, where one unusual set — full of chain-link fences — symbolizes divided worlds. 
ACT Theatre has enlisted deaffriendly to train staffers in tearing down barriers for Deaf, hard of hearing, DeafBlind, and late-deafened audiences. In late January, about 30 ACT staffers took a deaffriendly Customer Service Training before hosting a doubleheader: Deaf Spotlight's Short Play Festival production (ACTLab) in February, followed by a run of Romeo + Juliet (March 1-31) with Deaf actors Joshua Castille and Howie Seago.
"We're human, just like you, and we enjoy the arts and theater," trainer Vicki Moseley explained to the staff. "There's a huge Deaf Community here, and we tend to share news with each other. It's like 'word of sign,' not word of mouth. So we tend to create a strong fan base."
So much so, that by popular demand ACT has added an extra ASL-interpreted performance on March 27.
Approximately 65 percent of communication is nonverbal, Moseley said. In a pairs exercise, many discovered how difficult it is to read lips.
"Even though my guess was wrong each time, I kept repeating the word," one staffer reported his attempt to read his partner's lips.
Thankfully, it was much easier for all to practice survival signs like INTERMISSION, CAPTIONS, SEAT, and DEAF SPOTLIGHT.
"Each department, especially our Ticket Office and Audience Services teams, walked away from the training with concrete tools to implement right away," said Becky Witmer, ACT Theater's managing director.
Staffers also got pads of pencil and paper, created new menus for the Ticket Office and concessions so patrons could point to items, and made sure their signage was prominently displayed. Ushers signed "Romeo and Juliet" and those in the Ticket Office whipped out small whiteboards and markers which were also spread throughout the theatre.
Setting the stage for #deaftalent and deaf audiences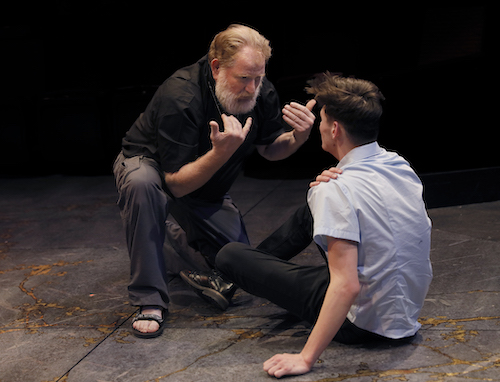 After the training, several of ACT's team members started an ASL affinity group or are taking lessons in their spare time, Witmer reported.
With a huge spectrum of hearing loss, she said the training's biggest takeaway was being aware of unique needs.
Being deaf remains an invisible disability. "We don't wear a big 'DEAF' sign, or this shirt, all day," Moseley joked, referring to her #deaffriendly tee. On the topic of keeping all screens captioned, she added: "It benefits the entire public, not just the Deaf Community."
Sign language flourishes at ACT Theater, as do other accessibility options.
In partnership with ACTLab, Deaf Spotlight's Short Play Festival featured six Deaf writers' scripts in the Eulalie Scandiuzzi theater. All ASL plays were captioned, and one matinee offered pro-tactile interpreting for DeafBlind audiences.
"ACT Theatre is one of the few local theaters offering the Deaf Community accessible options to experience theater," said Patty Liang, executive director of Deaf Spotlight. For the short play festival, "the ACTLab crew was very helpful and learned how to interact and work with deaf artists and crew."
The theater used its largest uninterrupted bank of seats in the Allen theatre for Romeo + Juliet's ASL section. After the third preview, they also modified the Figaro closed captioning system: patrons can now choose to read captions in either Shakespearean text or plain English.
"We wanted to make sure that we were centering #deaftalent on and offstage, so collaborating with Castille and Seago, two highly respected Deaf actors, was a must," said Witmer.
That includes #deaftalent behind the scenes: For Romeo + Juliet, Sign Master Ellie Savidge led the ASL translation and worked with the entire acting company on clear, consistent ASL. Monique Holt is a Sign Coach for the performance interpreters and an additional translator.
The beginning of a long-term equity roadmap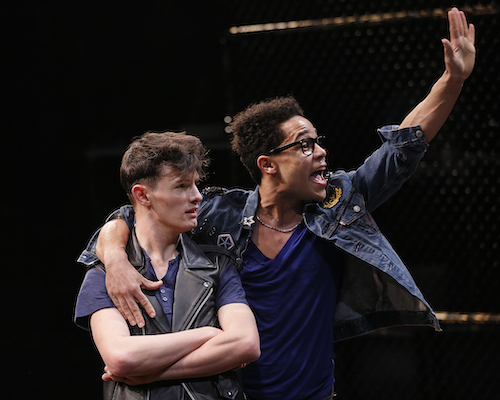 For ACT Theatre, customer service training is not a one-and-done item on an access checklist. It's part of an even bigger picture: ACT leadership has developed a three to five-year strategic plan integrating an equity roadmap into its operations and capital goals.
Future efforts include improving services for Blind and Low Vision patrons, and focusing on racial equity throughout the organization.
"Consistent and high-quality services" are key to an accessible arts destination, said Witmer.
In addition to deaffriendly, partnerships with Deaf Spotlight, Azeotrope Theatre, as well as recent efforts to launch a King County Disability Coalition (led by Elizabeth Ralston) for arts and cultural organizations underline the need for theater "that not only features Deaf artists, but is also created by and for the Deaf and hard of hearing community," she added.
ACT's commitment to the deaf theater experience has earned many positive reviews on deaffriendly.
One reviewer shared that her Service Dog (SD) gets a seat at each show. When her longtime SD passed away, ACT arranged for her and a new SD to attend a dress rehearsal on theatre etiquette.
And all plays are captioned, raved another reviewer. Unlike many theaters which only offer one or few captioned shows per run (if any), it means not waiting for extremely limited showtime options.
This is the level of customer service that brings to mind director John Lang's recent director's note that Romeo + Juliet is about "looking for and confronting the spaces that are uncomfortable between Deaf culture and hearing culture."
Life does imitate art, after all.
*****
Have you seen ROMEO AND JULIET?
There is one ASL-interpreted performance (March 27) left and many captioned performances. Tickets start at $20. www.acttheater.org. 700 Union St, Seattle, WA 98101
Tags
Comment Policy
We're aware that issues facing the Deaf, Deaf-Blind, and Hard of Hearing Community can become quite passionate and divided. What can we say, we're a group of passionate people! While we fully support a community full of passion, we also require that comments are respectful. We think negative attitudes and disrespect are a waste of everyone's time and energy. This doesn't mean you can't disagree with people, you just need to do it respectfully. We reserve the right to delete or edit any comments we feel are judgmental, rude, or of attacking nature.