Access Orlando: deaffriendly CONSULTING trains 100 hotel staff to welcome 1,000+ deaf professionals to #NAD2022
Posted by: Staff Writer on Aug. 23, 2022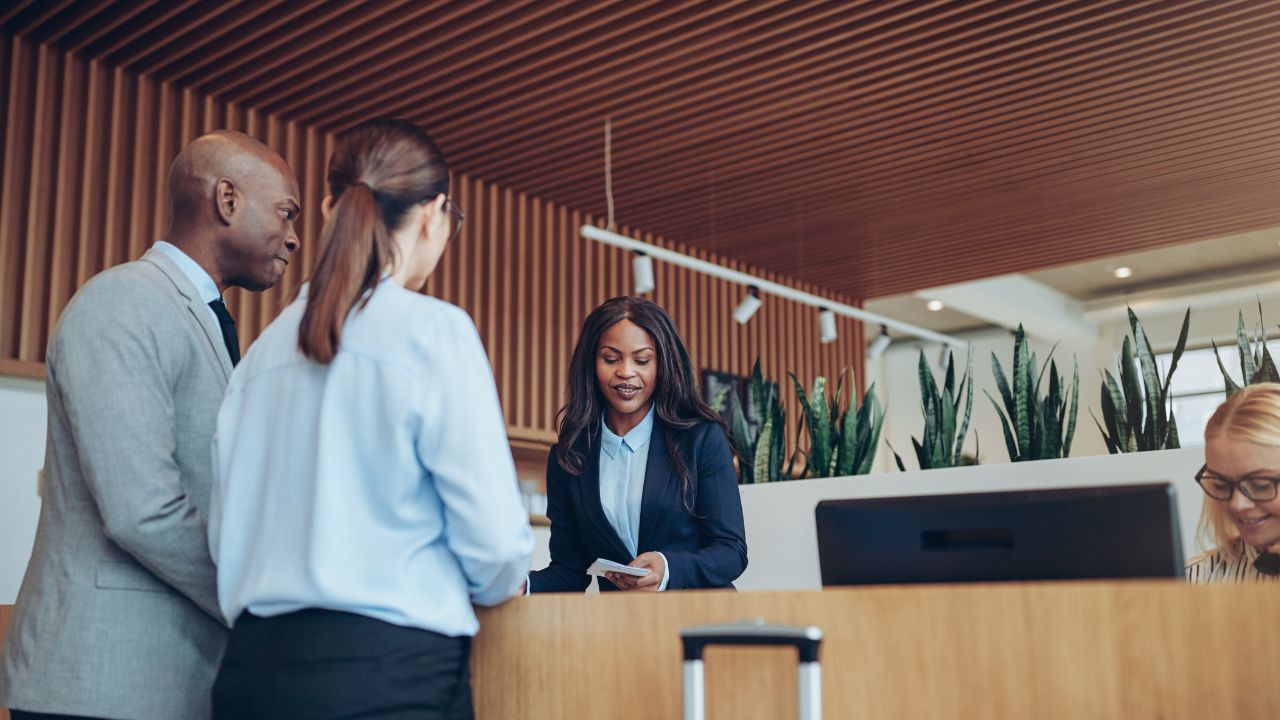 After its first virtual conference in 2020, the National Association of the Deaf is back with another milestone: hosting its biennial #NAD2022 conference in Orlando, FL for the very first time.
Long-time NAD members may remember New York, NY, Washington, D.C, Chicago, IL, and Cincinnati, OH as frequent host cities (prior to this year, NAD's last time in Florida was during 1962 and 1972 in Miami). O-Town, as Orlando is nicknamed, shined in its debut as a host city last month.
From June 30 to July 4, over 1,000 Deaf, hard of hearing, and DeafBlind attendees flocked to Hyatt Regency Orlando. In the month prior, deaffriendly CONSULTING trainers Melissa "echo" Greenlee and Vicki Moseley provided a comprehensive two-day training (totaling four back-to-back workshops) for approximately 100 hotel staff to prepare for this unique demographic.
"Echo and Vicki provided a wealth of valuable knowledge for our team, from common sign language communication tips in a hotel environment, to suggestions on enhancements to our operational procedures in order to create a more inclusive environment for our deaf guests," said Mark Havard, Director of Human Resources for Hyatt Regency Orlando.
This training is especially important as hotels and hospitality businesses took a mega-hit in 2020. "Revenge travel" means tourism is back – and bigger than ever. Thanks to a partnership between Hyatt Regency Orlando and deaffriendly CONSULTING, Orlando is on the map for more than just Disney – it's got an inclusive vibe, too.
As part of the partnership, deaffriendly CONSULTING conducted a detailed assessment – resulting in an assessment and action plan that was a whopping 17-pages.
It's not just a one-off, Havard added: Hyatt Regency employees walked away with skills that "they will use far beyond just the NAD conference."
In and outside of Hyatt Regency, Orlando flexes its inclusion muscles
This year's conference kicked off with a keynote by Kumar Singh (host and founder of ASL Slam Orlando), the Senior Citizen Luncheon, and reports on NAD's top five 2022-24' priorities (ranging from dismantling racism in the Deaf Community, to equity in Deaf Ed, and addressing Deaf Senior issues).
As attendees trickled in, they found plenty of cues (and clues) to navigate the space: flashing ILY signs, black-and-yellow tape on the floor to help guide DeafBlind, interpreters ready to assist guests as they checked in and many staffers at the ready with clear masks and basic sign language and other communication tools.
Not only did attendees have two years of catching up on pandemic-paused social interactions, many were also eager to get back into the tourism saddle. Outside of the hotel, Orlando did not disappoint: deaffriendly CONSULTING found major inclusion wins outside of HRH: Helicopter tours, Carlos Bakery, and of course, the esteemed Walt Disney World.
This marks deaffriendly CONSULTING'S second time training the Hyatt Regency chain: in 2016, they also trained staff at Hyatt Regency Phoenix (Phoenix, AZ) for NAD's 53rd biennial conference.
Unlike pre-pandemic days, the Orlando trip posed new, unique challenges for our trainers.
"We were definitely a bit anxious about traveling to Florida. The first in-person conference (during a pandemic) was an adjustment for everyone, including us and NAD," said Greenlee, noting the conference was held with the backdrop of Florida's headline-grabbing political climate – including how it approaches public health in a pandemic as well as a controversial bill that aims to limit discussions of sexual orientation and gender identity in schools.
Lax masking rules were, on one hand, "a relief to our deaf eyes." However, as the days progressed, more and more attendees were seen wearing masks: "In our action plan, we did recommend clear masks as a resource for staff that chose to wear masks. Clear masks have come a long way since March 2020 when the pandemic first arose. Our training discussed masked communication and making sure that regardless if employees chose to wear masks, that the staff felt comfortable communicating in a variety of ways."
O-Town (which locals sign as an "O" in circular motion against a non-dominant palm) is well-poised to continue growing its deaf-friendly presence in a state where many Deaf, hard of hearing call home: The Florida Deaf Art Show, Florida School for the Deaf and Blind, and Florida Registry of Interpreters for the Deaf all have a presence in this state.
"Deaf organizations love the Hyatt due to their friendly, welcoming attitude for business travelers," said Greenlee, referring to growing openness to practices such as in-room texting solutions. "Other deaf conference planners should know about this hotel, since Hyatt Regency Orlando is already trained to be deaf-friendly and welcoming. In our discussion with the HR Director who attended our training, we learned that the hotel already works with outside disability organizations to train and employ folks with disabilities in their kitchen. We're excited to see this hotel is already walking the INCLUSIVE walk, in more ways than one!"
If you were one of the lucky ones to have experienced the NAD conference at Hyatt Regency Orlando, leave them a review to share all that you loved!
Comment Policy
We're aware that issues facing the Deaf, Deaf-Blind, and Hard of Hearing Community can become quite passionate and divided. What can we say, we're a group of passionate people! While we fully support a community full of passion, we also require that comments are respectful. We think negative attitudes and disrespect are a waste of everyone's time and energy. This doesn't mean you can't disagree with people, you just need to do it respectfully. We reserve the right to delete or edit any comments we feel are judgmental, rude, or of attacking nature.