A Signing Santa and the Miracle on 6th & Pine
Posted by: Staff Writer on Dec. 25, 2012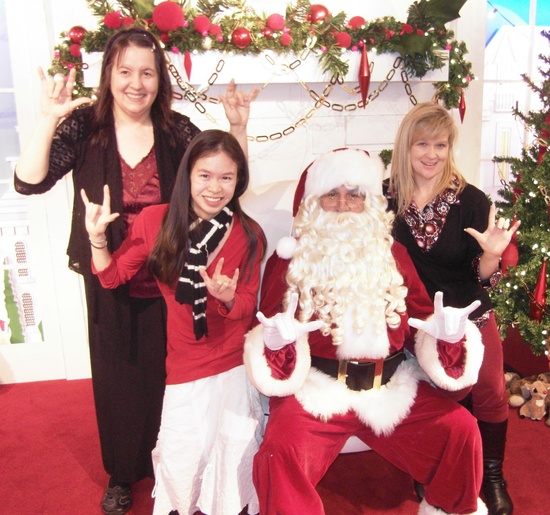 Yes, Virginia, Santa Claus and his elves know sign language. If you've been good, you can SIGN your wish list as you sit on the Jolly One's lap at Nordstrom Santa's Lane in Seattle, WA.
St. Nick will always be St. Nick, but times are a-changing. Children still hand Santa envelopes with handwritten letters, but increasingly they bring iPads to show their Christmas list. At Santa's Lane, many are now flocking to African-American Santa, Asian Santa, a Santa who sees special needs children … and even Signing Santa Larry.
On a busy Friday, three children gather upon his chair, introducing themselves with finger spelled names. "Wow, impressive technology. You've got quite a list!" Larry signs as he looks at their iPad lists. After a last hug, they all sign "I love you" as they leave.
"Isn't that the most amazing thing you've ever seen? That moment there made me tear up," a woman in line commented to a deafREVIEW staffer. "I've been bringing my kids (to Santa's Lane) for 12 years, and this is the first time I've seen a Signing Santa."
Free cookies, hot apple cider, and a chance to get a photo with the Santa of their choice: Just a few reasons Seattleites brave the 4-hour lines at Nordstrom. But don't call it "just a seasonal part-time job" for this mall Santa. For Larry, being Santa means his heart, soul … and a new kidney.
A miracle within the Seattle Deaf Community
Only a few families and children know how Larry Valdez – a real-life local who has had a day job since 1997 as a Boeing engineer came to moonlight on this white upholstered Santa chair. We find that he's almost completely deaf in one ear (but doesn't wear his hearing aid as Santa). Shortly after deafREVIEW took a seat at his plush-red lap, we learned about his incredible journey to becoming Santa.
"My story is quite the 'Christmas Miracle'," began Santa Larry's email from the North Pole. The year was 1998. Hot items that year included Tamagotchi pets, Teletubbies, and Pokemon Gameboy. But Larry's wish list was unique: diagnosed with a kidney disease, he knew he needed a kidney transplant.
Fast forward seven years, and kismet happened: Larry went to see a friend, Joani Bishop, who was then working as an interpreter for the Signing Santa at Nordstrom (the two met years ago at Highline School District, when Larry was working as an interpreter).
While signing to Bishop about his medical condition, Larry noticed the Signing Santa trying to get his attention. "Hey Larry, is that you?" the Santa signed.
"At that time I didn't know who the Signing Santa was. I was intrigued and fascinated that there was actually a SIGNING SANTA!!" recalled Larry. "I was stunned because I still didn't know who the Santa was. The still-nameless Santa then signed back: 'It's John Plecher, and I was watching your story'." Plecher then explained something that would change Larry's life forever: Plecher's wife Anne Del Vecchio was in the process of becoming a benevolent kidney donor at Swedish Medical Center.
The rest, as they say, was history – and his story of the ultimate Christmas miracle.
Phone calls and half a year of tests followed suit. Doctors confirmed that Del Vechhio was a perfect match for a kidney donor. The irony (which is not lost on those who understand the tight-knit dynamics of the Deaf Community) is that Larry and Del Vecchio knew each other from back in the early 90's, when he volunteered for the Deaf Youth Drama Program, founded by Deaf brothers Howie and Billie Seago.
"Guardian Angels do exist, and Anne Del Vecchio is mine and will be forever! Anne donated her Kidney to me on December 3, 2008 and forever she and John will be linked to my life. If it wasn't for John and I seeing each other that cold winter day in December 2005, and him passing my story to his wife Anne, I would not have a story to tell."
Becoming Signing Santa Larry
Yes Virginia, miracles can happen in twos. On that same cold winter day, Larry found both a kidney angel and a new job. As he was leaving the Santa's Lane, the manager pulled him aside asking if he'd be interested in applying as a Signing Santa.
"They are always looking for Santas, especially Santas that can also work with the deaf," said Larry, who attended the American Sign Language Interpreter School of Seattle (ASLIS). "Nordstrom's called me in 2006, and I have been there every year since then with the exception of 2008 when I had my transplant."
Playing against St. Nick's stereotype takes guts, and the rotating cast of diverse Santas is no fluke. It's exactly as Nordstrom intended.
"In an effort to represent the many communities we serve, we've had diverse Santas at Nordstrom for about 15 years," said Katie Chambers, Nordstrom Santa's Lane Manager. "Many families have told us they are impressed and appreciative that we can accommodate deaf visitors to Santa's Lane. They love to watch Santa sign and know that Santa and his helpers are able to understand them."
In addition to the ASL component, there is also an Asian American Santa and an African-American Santa. The diversity takes some visitors by surprise – even the interpreters themselves.
"Years ago, I brought my son here and commented: 'Hey, Santa seems really tan this year!'" reminisced Michelle Fuller, who interpreted for Signing Santa Larry for the first time last week. That was when they learned about the diverse Santa line-ups at Nordstrom.
Working in an interpreter team alongside Joelle Kleich (who also terped for Santa for the first-time this year), the deciphered hundreds of childrens' words and signed them to Santa Larry - and vice versa.
Children with disabilities can meet with Santa in a special accommodation area – a private room where they can stay comfortably out of the public eye. "If a family wants to schedule with (Santa Larry) in our special accommodation area, we do our best to make it happen," said Chambers.
"I didn't know Santa can sign"
Though deafness is usually categorized as a disability, sign language is visible through the 6th and Pine entrance street window where Santa's Lane is set up every year.
"I absolutely love seeing the Deaf kids when they come to see me and see that Santa can sign," said Santa Larry. "The thrill on their faces, their body language is simply amazing. I also tell the Deaf kids that Santa teaches my elves to sign during the off season," he jokes.
Retailers aren't the only ones stepping up to the plate for accessibility. This year, California School for the Deaf hosted a 2nd Annual Signing Santa event for Deaf children and their Bay Area families. Three nights a year, their Jolly One's been making wishes come true - for just $2.00 admission and $3.00 photos with Santa.
A few days ago, a deaf Massachusetts 3-year-old boy with auditory neuropathy got the surprise of his brief life when a mall Santa signed to him: "Have you been a good boy this year?". His priceless reaction national headlines, tugging heartstrings and proving that yes, deaf-friendly Santas do rock our world.
Missed Signing Santa Larry this year? Catch him next year!
Anyone who's braved the long lines, knows that Nordstrom Santa's Lane is wildly popular. Yet Santa Larry and his elves only see about five to six Deaf families a year.
"Advertising has been a challenge," admitted Santa Larry. It's partially because of limited availabilities (this year, his shifts were on December 17, 21, and 22) and a hectic Boeing work schedule. "Nordstrom normally does a flyer, advertising on the dates that I am available. I send emails to a lot of my Deaf friends and School District DHH programs. I wish I could do more."
deafREVIEW will be reminding you where to get deaf-friendly Christmas pictures next year! Want to prep your kids for a meet-and-greet with Santa Larry? Find his schedule at Nordstrom.com and on the Nordstrom Seattle Facebook page. You can also call the Santa's Lane hotline at 206-628-1000 for times and more information.
WANT TO GIVE THE ULTIMATE GIFT? Santa Larry has a suggestion for you: Become an organ donor (he's also a donor). "If you can't be a living donor, PLEASE be sure you are registered as an organ donor and consider making a contribution to this worthy cause": http://www.kidney.org/support/
Tags
Comment Policy
We're aware that issues facing the Deaf, Deaf-Blind, and Hard of Hearing Community can become quite passionate and divided. What can we say, we're a group of passionate people! While we fully support a community full of passion, we also require that comments are respectful. We think negative attitudes and disrespect are a waste of everyone's time and energy. This doesn't mean you can't disagree with people, you just need to do it respectfully. We reserve the right to delete or edit any comments we feel are judgmental, rude, or of attacking nature.