Dan Savage's "Miracle!": Insult or Ode to The Deaf-Blind?
Posted by: Staff Writer on Aug. 27, 2012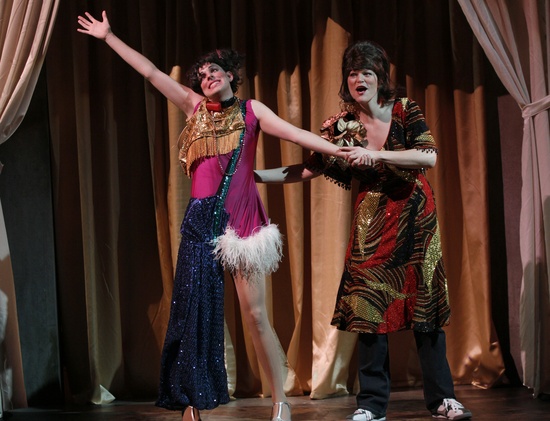 If Dan Savage were Dr. Jekyll, then his latest theatrical potion turned Helen Keller into a glittery Dr. Hyde: A shock-collared Deaf-Blind pet of drag queens. But he hasn't cooked up a monster, he's cooked up a re-examination of the story we all know and love.
50 years after The Miracle Worker touched our hearts, Intiman Theatre's controversial Miracle! touched both our hearts and our funny bones. Written and directed by Dan Savage, this version of Helen Keller is aged 20 instead of seven, and her drag name is "Helen Stellar" (John Pyburn). But before she's stellar, she's out of control: She lacks language beyond throwing tantrums, sequins, and lipstick.
Who'd have thunk she had the capacity to learn sign language, cross her legs, and the ramrod poise of a drag queen? Annie Sullivan (Hannah Victoria Franklin) did.
Savage's version of the teacher is a lesbian, so cross-dressing and Sapphic humor makes for raunchy theatre. "Tasteless," "self-aggrandizing toilet humor," and "demeaning," are just a few choice words of critics (mostly those who haven't actually seen the play).
And then! Something weird happened: Nearly 20 Deaf, Deaf-Blind and hard of hearing people bought tickets to see this play.
"It starts off with people wondering if they are going to cringe at the portrayal of Helen Keller," said Rob Roth, who is deaf. "But (it) ends as an affirmation to the power of educating children with disabilities to become free of parental overprotection, fully independent, and (for deaf and deaf-blind children) able to communicate through ASL."
Lesson #1: Language is a civil rights issue. Heck, it's a human rights issue.
Savage's "It Gets Better" campaign reached out to gay teens. He is a beacon of GLBT rights, but he's not Mother Teresa. So we can't decide if he's an ironic or fitting candidate to accidentally-on-purpose (or purposefully-on-accident) highlight deaf-blind issues. But his gift is getting people to talk, and deaf-blind issues certainly need to be talked about.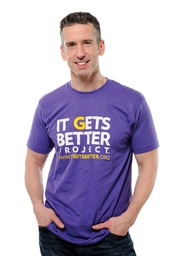 "(An) interpreter friend who saw the play earlier said it seems more an indictment of the system of educating the deaf than it is about Helen Keller," commented Roth in the SLOG.
During the post-show talkback, Savage revealed a secret:  28 years ago, he took two semesters of both Deaf Culture Studies and American Sign Language, with the brief hope of becoming an interpreter. "I wasn't any good, and someone begged me, 'don't become an interpreter,' admitted Savage to a deafREVIEW staffer, followed by the only sign he knows: "Nice to meet you."
Savage's version of Helen Keller has the mental age of two and the coordination of an epileptic. The queens put a shock collar around her neck, to "protect" her from falling off-stage. Savage noted the collar's parallel symbolism with the systemic oppression of deaf children: "It was very symbolic when Annie Sullivan had her take the collar off and gave her control. This is usually controversial with people who have a disability. For many deaf people who went to oral school, teachers forced them to not communicate with each other with their hands."
Lesson #2: Reverse psychology "works".
We weren't even supposed to see this play. The poster on-stage warned us: "This play will be deeply offensive to the deaf/blind community, so please don't tell them. Keep your hands shut!"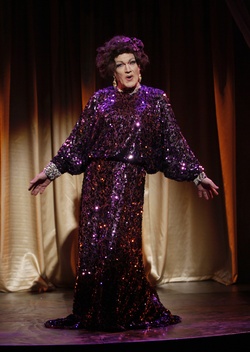 Oops. Someone (thank you, Internet) told us and we attended, en masse. When that happened, the actors and Intiman Theater's artistic director Andrew Russell were genuinely curious about our community's reaction. At the cast Q&A, they asked for our opinions. Some of the actors were almost apologetic about the risk of going too far.
From afar, a blogger thought they certainly went too far -- she posted a scathing open letter asking if accommodations were available "so that the people being mocked therein could judge it for themselves."
Affirmative!
Not just that, but Russell said yes when sign language interpreters Alyson Boote and Paul Bert suggested that they be placed on-stage, instead of in the front row. They enlisted Foster Lewis Larson, a deaf gay man and local ASL teacher, for consulting on drag-specific signs, because "(drag) is not our primary world," said Boote.
Lesson #3: In guise of drag, Miracle! is an ode to advocates, teachers, and parents
It's about "the passion of the teacher, the unbelievable shining light of the human soul, and John (Pyburn) has that in an amazing way," said Franklin, who prepared for her role as Annie Sullivan through ASL dictionaries and online tutorials.
Christened with the drag name Kitty Bukkake, teacher exclaims "look how bright she is!" to the skeptical queens. She comes to blows with Helen's overbearing drag queen grandmother (Crystal).
I wish we could have invited our parents to see this show. They've been there: Cochlear implant or no cochlear implant? Sign language, or oralism? Coddle, or empower? Folks with deaf children commented in defense of the play; one wrote: "I laughed until I cried. This play absolutely did NOT mock the deaf/blind community. It mocked drag all to hell and back, though."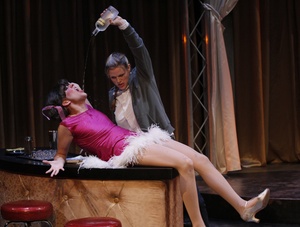 Savage said he was inspired by Jackie Scott, a real-life deaf drag queen who still performs at the Crescent Lounge in Seattle. "Obviously, she was not good at lip synching. You just had to admire her for her balls. Something about her perseverance won you over." 
You can't help but fall in love with Helen's drag queen soul, too. When she has a booze-fueled revelation that leads to her first word, V-O-D-K-A, we root for her. Helen now has language!
Lesson #4: Cultural appropriation is always an artistic risk.
"We are women. Large, tall women," the queens say when their womanhood is affronted at a lesbian bar.  "Wow, you're good with fingers," the lesbians smirk as Annie signs words into Helen's palm.  Chris Rock pokes fun at black people (he's black), as does David Sedaris to Jewish people (he's Jewish). "That's so gay!" is something you don't dare say unless you are, well, gay.
Question one: Would a self-respecting deaf-blind person take this role?
Yep! We just found out that Dan Savage has agreed to send the script to Deaf Spotlight, so they can do staged readings/signings of this play.
Question two: Why wasn't there a casting call for auditions among local deaf-blind individuals?
Intiman's artistic director Andrew Russell answered this one via email: "This would have been difficult with the nature of our repertory company - all actors are in at least two productions, and many of them are in as many as three productions."
John Pyburn is one of them, and his role as Helen Stellar is personally appropriate since he feels that he communicates better gesturally than with words. "I fought really hard to bring out the truth – Helen's character, her story. This role is the most amazing thing I've ever done. I am so sad to leave this, it has become part of me. I've always wanted to learn ASL (even before Miracle!)."
Question three: What other role can top this one?
"Helen Keller in drag? No, nothing can top that," Pyburn said, laughing humbly.
***CORRECTION: the reference to David Sedaris as Jewish is the result of a mental hiccup and, as the Internet confirms, is not the truth. We apologize for the error and thank our readers for pointing this out!
Tags
Comment Policy
We're aware that issues facing the Deaf, Deaf-Blind, and Hard of Hearing Community can become quite passionate and divided. What can we say, we're a group of passionate people! While we fully support a community full of passion, we also require that comments are respectful. We think negative attitudes and disrespect are a waste of everyone's time and energy. This doesn't mean you can't disagree with people, you just need to do it respectfully. We reserve the right to delete or edit any comments we feel are judgmental, rude, or of attacking nature.