2012 in REVIEW: The Deaf Highs and Lows
Posted by: Staff Writer on Dec. 31, 2012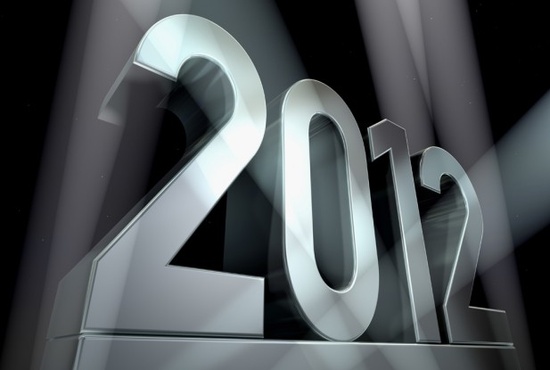 What a year it's been. As Mayan Apocalypse survivors, it's only proper that we break out the bubblies and reflect on the last 365 days: Facebook went public for $24 a share, "Gangnam Style" reached +808M views, and the Mega Millions surpassed $640M. We debated about the seven Tour de France titles Lance Armstrong lost, watched from afar as Greece wrangled debt-restructuring deals, mourned Malala's brave plight, as Syrian conflicts raged. 
We're all in this together as Earthlings. But we're all in this together as deaf and hard of hearing individuals, too. So as the clock ticked towards Dick Clark's New Year's Rockin' Eve, it's time to reminisce about the highs and lows of deaf news in 2012:
HB 1367 and Indiana School for Deaf  

Declining budgets, audism-deaf power struggles, and politics: Just a few of the variables making up complicated story of Indiana School for the Deaf (ISD) v. Hear Indiana. The Indiana General Assembly introduced House Bill (H.B.) 1367, intended to balance the education budget by establishing a "neutral" outreach center. The result, as Deaf Echo reported, would likely "not be staffed by trained, knowledgeable personnel who will know little or nothing about deaf and hard of hearing children and/or who may only know or view deaf people through the lens of the medical model."
Deaf artist Chuck Baird passes away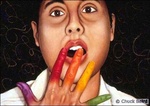 On February 10, we lost a beacon to cancer. The hands of Chuck Baird, which brought paintings of sign language and Deaf Culture to life, will now rest forever. He was 64.
In 1974, he graduated with a BA in Fine Arts … and never stopped mastering his craft. Works like "I Love You," "Couple in Love," "If I were M.C. Escher" will be etched into our eyes and hearts forever. They became the founding genre called De'VIA (short for Deaf View/Image Art) – created by 8 artists including Betty Miller. Baird never married, but called his paintbrushes his children. We like to think of his works as our children, too.
#CaptionTHIS movement OPENS Web floodgates

This summer, a hashtag (#) made a hot impression. Remember the viral #captionTHIS tweets and Facebook posts that blazed across your feeds? This revolution will not just be televised – it will be captioned, if 35 million deaf and hard of heraing Americans had any say about making online media more deaf-friendly.
It was a great start, but social media reminds us just how much remain- uncaptioned: "Trying to watch Downton's Abbey but not happy bc it's not captioned. #captionthis via @itvplayer," a deafie tweeted this week. Founder Adam Jarashow's  YouTube video gathered over 50,700 views in the last half year, but #captionTHIS is not just a summer meme. Even as FCC executed its rulings in September, there's still work left to be done.  
NAD campaigns for Deaf Truck Drivers

Once upon a time, Deaf and hard of hearing truck drivers seemed just as unlikely as a deaf opera singer. But times are a-changing. Four years ago, the U.S. Department of Transportation (USDOT) published a report showing that we (with private drivers licenses) are not at an increased risk for automobile crashes. In July, NAD submitted the applications of 45 deaf and hard of hearing truck drivers, to the USDOT urging that the Commercial Drivers Licenses (CDL) physical qualification of hearing (a forced-whisper test and audiogram) be waived. Will the arcane rules of "49 C.F.R. § 391.41(b)(11)" ever evolve to include the deaf and hard of hearing drivers who not only possess perfect driving records but also a "sixth sense" (situational awareness)? Stay tuned results in 2013.
New NAD president Chris Wagner appointed at conference & causes controversy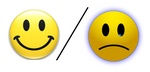 It wasn't just Obama and Romney tussling for presidency: This summer, NAD elected Chris Wagner as its new President. As NAD's Vice President from for the last two years, Wagner defeated Sheri Ann Farinha (who was Secretary for the last two years). If you thought the bipartisan bickering was bad in November, wait until you rehash what went down with NAD a few months before. With new NAD president-elect Chris Wagner being formerly affiliated with ZVRS, controversy erupted between Team Wagner and Team Sheri (which has not kindly been labeled a group of"Deaf militants"). Doubts about the NAD voting system also brought up a need to fix bylaws and processes. No doubt, these are issues that we'll hear more about in the coming years. For now, we're looking forward to seeing NAD, which does much of the legal heavy lifting for the Deaf Community, and Wagner rally in two more years of git-er'-done.
"Switched at Birth" scores a second season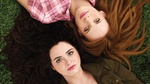 Hooray for deaf-friendly TV! Last summer, we devoured 30 delicously deaf-oriented episodes. Then we feasted our eyes on the January premiere earlier this year (a 12-episode run). In August, deafies (and their TV-loving families and allies) rejoiced when ABC Family renewed Switched at Birth for a second season. You can bet where we'll be on January 7, 2013: Watching the first episode of the next season! 
FCC Closed Captioning requirements take EFFECT

Snubbed by the Web no more: This fall, the Twenty-First Century Communications and Video Accessibility Act of 2010 (CVAA) was a breakthrough for over 35 million deaf and hard of hearing people in the U.S. Thanks to the NAD's pressure on the FCC, the bill won a deaf-friendly signature by President Obama which set the wheels into motion. The FCC's rule: Video programming shown on the Internet (within 45 days after being shown on television) must have captions based on three schedules. Next spring, live and near-programming must be recorded within 24 hours of broadcast on television. Next fall, we can see prerecorded programming like captioned bloopers and deleted scenes. 2013 is going to be a watershed year for accessibility. We can't wait.
"Hurricane interpreter" brings national attention to ASL, interpreting profession

2012 was the year that a hurricane produced an unlikely breakout star: Lydia Callis – a sign language interpreter who worked during Hurricane Sandy for NYC Mayor Bloomberg. Scores of social media memes, videos, a Tumblr, and blogs spawned overnight. The hoopla was both a mild nuisance and a golden opportunity, giving our Community a chance to educate others about things like the importance of eyebrows in sign language, the nature of interpreting careers, and just why we are so gosh-darn "expressive".
Chelsea Lately, Saturday Night Live mock Lydia Callis, Deaf Culture

As Lydia Callis rose to fame, Chelsea Lately stormed in as the ultimate party pooper . So-called funnywoman Chelsea Handler created a derogatory two-minute segment that sparked much outrage.
Using a fake, Callis-clad interpreter who used jibberish gestures, Handler's condescending approach was backed by zero research about Deaf Culture. Deaf Nation didn't let Handler get away with it, sending a stern letter to the studio. Way to go, Deaf Nation. And Chelsea, way to bully an already-marginalized group. We won't be tuning into your show in 2013 – or ever.
Americans re-elect Obama – and his disability-friendly platform

After much campaining, debating, stump speeching, canvassing, and obligatory baby-kissing, a clear victor  emerged on November 6: Barack Obama won a second term in the White House. In turn, the Deaf Community (and disabilities community at large) won another ally who arguably would be most likely to back our interests as a group.
Matt Hamill comes out of UFC retirement

Talk about one of the shortest retirements ever. When deaf fighter Matt "Hammer" Hammill announced his retirement last August., we thought that was the end of his reign on the UFC octagon. But in a sweet September surprise, Hamill ended his short-lived hiatus by taking on Roger Hollett  as the main fight card for the UFC 152 in Toronto. We're happy to report that Hammer won this fight, fair and square. Will the "Hammer 2.0" post-retirement resurgence last? Time will tell if our best deaf fighter has the heart for a few more years in the ring.
Deaf artist Betty Miller passes away


It's been a rough year for Deaf Arts, which not only lost Chuck Baird but his fellow deaf painter, Betty Miller. Miller, a CODA who taught art at Gallaudet University for 18 years, earned a Ed.D. in art education from Penn State University. She never stopped teaching – or learning: Over the years, she created a genre called deaf view/image art (De' Via). We will remember her broad, confident strokes in neon-based mediums, her one-woman shows (such as "Silent World," and "The Deaf Experience"), and the chutzpah to pain in neon-based mediums. 
Petition to recognize ASL gets 25K signatures, closer passage to Obama's desk

Half a year after #captionTHIS, another grassroots effort began. Calling upon our civic-minded friends, family, and co-workers, we blitzkreiged the Web to get 25,000 signatures for a White House petition. The objective? To urge the U.S. government to formally recognize American Sign Language. Racking up 30,000 signatures, we met the challenge: The Obama administration has pledged to provide an official reply to any petition (on its official) site that garners at least 25,000 signatures within 30 days. Even in the 21st Century, not all states let schools to provide credit for sign language classes, and sign language remains unlisted as an option on U.S. Census forms. In 2013 and beyond, we hope this petition will spark much-needed federal recognition. For more information on these efforts, visit ASL for America.
Netflix settles suit with NAD, agrees to be 100% closed captioned by 2014

With the recent execution of FCC's captioning rules, 2012 was a great year for Web captioning. But 2014 promises to be even better: Thanks to a settlement with NAD, Netflix - which over 20 million subscribers tune into in the U.S. and Canada - captioning is soon reaching totality. The company has agreed to make its entire video library captioned by 2014. This legal muscling began in 2010, when NAD, the Western Massachusetts Association of the Deaf and Hearing-Impaired (WMAD/HI) and a deaf Massachusetts resident submitted a joint Consent Decree to a federal court. Since then, Netflix began its closed-captioning program and states that 85% of its library is captioned. The rest, as they say, is history. And we are beyond ecstatic to watch this important chapter unfold before our eyes!
Tags
Comment Policy
We're aware that issues facing the Deaf, Deaf-Blind, and Hard of Hearing Community can become quite passionate and divided. What can we say, we're a group of passionate people! While we fully support a community full of passion, we also require that comments are respectful. We think negative attitudes and disrespect are a waste of everyone's time and energy. This doesn't mean you can't disagree with people, you just need to do it respectfully. We reserve the right to delete or edit any comments we feel are judgmental, rude, or of attacking nature.