100 Reviews Later: Why You Should Write deafREVIEWS
Posted by: Staff Writer on June 26, 2012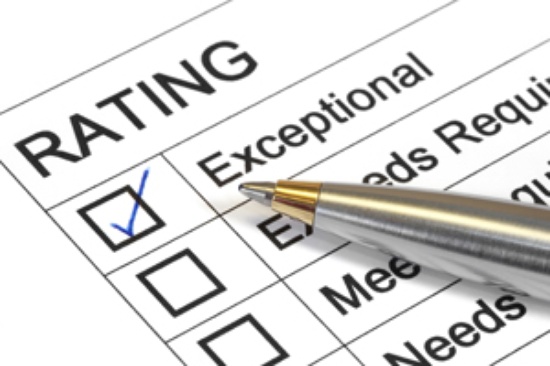 Are you still a "review virgin"? Last week, on deafREVIEW, we hit our first milestone – 100 business reviews since our launch – and want to thank the 20+ reviewers who have contributed! As these reviewers know, writing your very first deafREVIEW may feel scary, but very rewarding.
Just ask Joshua Jones, our most prolific reviewer.
"I love doing reviews, because I believe that many businesses are seeking feedback to make some  improvements with their customer service," says Jones, who has written 26 reviews (and counting) since the site was launched in March.
"For anyone who is review-shy, I urge you to write a review … (so that) businesses are able to better understand deaf and hard of hearing customers' needs," says Jones, a Seattleite who identifies as deaf-blind.
deafREVIEW is the first site he has ever written reviews for. His first was about Roro BBQ and Grill (a 5-star rating), and he hasn't stopped since. Unlike Jones, Melissa echo Greenlee has inked her opinions on other review sites (like Yelp) prior to founding deafREVIEW.
The "one-size-fits-all" approach on Yelp didn't work for her. 
"I always struggled with writing reviews that appealed to the hearing community," says Greenlee. "Being that my particular needs are so different from the average hearing person, I never felt my reviews were helping anyone other than the business I was reviewing."
Jones works at the Apple Store (University District), which has received two 5-star reviews from deaf/hh users. What comes around goes around, and he has plenty of ideas on how businesses can up the ante:
Improve the Lighting: "They need to improve the restroom lighting to make it easier for anyone to see anything. That is why this restaurant loses one star out of five stars…" - Wasabi Bistro
Use Pen and Paper: "Every time I go there, I inform them that I am deaf and they immediately grabbed the paper and pen to ready to communicate with me." - about Rancho Bravo Tacos
No Menu? No Problem! "(The waitress) informed us that she normally would explain every details of 7 courses but didn't want my boyfriend to interpret everything … so she printed us the copy of 7 course menu." – Le Gourmand Restaurant
"When I read a shining review on a business, you bet I am there the next week checking it out," Greenlee adds. "In almost every instance, I have received the same deaf-friendly service as the reviewer who wrote the post regardless if it was a different person who helped me."
That includes places like Thrive, Auto Battery/Po Dog, and Chiso.
While both Jones and Greenlee have given mostly-positive reviews, they have encountered some bad apples. Still, Jones will never say never: "Once some of businesses get bad review(s) I will give them the benefit of doubts to see if they improved their businesses after they got that kind of feedback."
So far, 20+ reviewers have shared their experiences on deafREVIEW. What are some of the common themes of 5-star deafREVIEW establishments?
They offer ASL Interpreters: I give it 5 stars because it provides scholarship to students who cannot afford training, childcare for mothers who can continue training, and ASL interpreting for Deaf students to train more!" – about Seven Star Women's Kung Fu
They learn ASL: One of the baristasis learning ASL at North Seattle Community College- about 5 to 10 minutes drive from JBC." – about Jewel Box Café
They text you: "She would text me if my orders are ready to pick up or have a question for me. How cool is that??" – about Fedex Office Print and Ship Center
They're Deaf Spotlight-approved: "The Deaf Spotlight team usually goes (here) ... The staff there are super friendly and attentive with us. One of them always come to us and give us a 15 minute warning before the closing time." -- Tully's Coffee
They close-caption their TVs: "Great drinks and hot dogs! Oh, and they have TVs with closed caption everywhere! -- Auto Battery/PO Dog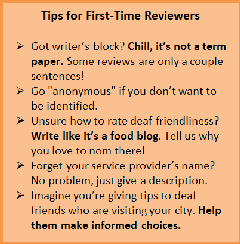 These glowing reviews are not the minority – they're the majority. BazaarVoice.com reports that
85 percent of
reviews are positive.
So the odds are that your review will be a positive one!
Think about every one of the advances we've had as a minority group: Captioning, the ADA, and more. None of these came out of thin air. They come from complaints, wish lists, and "what if" conversations.
That's what deafREVIEW is about: Highlighting what is working for us, and what is not so we can create more awareness of our needs and in turn increase our positive experiences.  
Can't find a business that you want to review? It's not you, it's us.
Some businesses have yet to be plugged into an API which verifies all our business listings. If this happens to you, just email us at info@deafreview.com so we can enter it promptly. We'll let you know ASAP once that business is available on our site. Thanks for your patience in the meantime and we'll see you around on deafREVIEW!
Tags
Comment Policy
We're aware that issues facing the Deaf, Deaf-Blind, and Hard of Hearing Community can become quite passionate and divided. What can we say, we're a group of passionate people! While we fully support a community full of passion, we also require that comments are respectful. We think negative attitudes and disrespect are a waste of everyone's time and energy. This doesn't mean you can't disagree with people, you just need to do it respectfully. We reserve the right to delete or edit any comments we feel are judgmental, rude, or of attacking nature.