When the Service is Whoa (Oh So) Good
Posted by: Staff Writer on July 18, 2017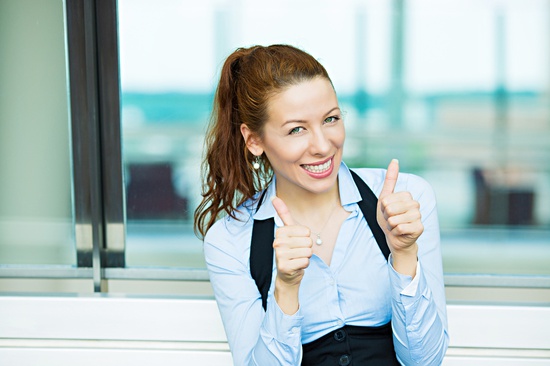 You're having a day… you overslept, spilled your coffee, misplaced your keys, and got a parking ticket. Lovely. Then, the clouds start to part; you go into a business and receive amazing customer service. The staff is dreamy, makes eye contact, smiles at you, knows some signs and you leave feeling a million times better. All of a sudden the day is looking better and the world is a more deaf-friendly place.


It isn't everyday we receive such great customer service. You want to do something really special like buy the staff a huge box of expensive chocolate but you're on a snickers bar budget. Fear not. There are more practical and direct ways you can say thank you.


Go Above Them
Ask to chat with a manager. Let them know their staff is awesome for welcoming you as a Deaf consumer and encourage them to continue to hire deaf-friendly staff.

Thank Them
Thank the person providing you service and let them know why being deaf-friendly made a difference in your day. Be specific, tell them the deaf-friendly skills you observed in them and encourage them to keep it up.

Write a Review

The power of sharing your story on deaffriendly.com cannot be underestimated. This not only lets the business know they're getting it right, it lets other businesses know as well, further increasing the new standards on providing deaf-friendly customer service. AND it lets Deaf consumers who are searching for a deaf-friendly business near them find that business.

Share your Review on Social Media
Similar to above, letting everyone know about your great experience encourages people to not only support that business but to also write reviews. The more reviews we write the more we can help create a deaf-friendly world.

Let Your Friends Know, Old School Style

The next time you are with Deaf friends, let them know in person about your experience and tell them you wrote a review. Encourage them to go visit and support that business and write their own reviews.
Go Back
Use your dollars to support them in the future. Repeat business sends a strong message to companies that the service they are providing is appreciated. It also lets them know who their loyal customers are, businesses strive to keep their loyal customer base happy because it brings in more revenue.

Tags
Comment Policy
We're aware that issues facing the Deaf, Deaf-Blind, and Hard of Hearing Community can become quite passionate and divided. What can we say, we're a group of passionate people! While we fully support a community full of passion, we also require that comments are respectful. We think negative attitudes and disrespect are a waste of everyone's time and energy. This doesn't mean you can't disagree with people, you just need to do it respectfully. We reserve the right to delete or edit any comments we feel are judgmental, rude, or of attacking nature.