Switched at Birth: How #TakeBackCarlton Made History
Posted by: Staff Writer on March 6, 2013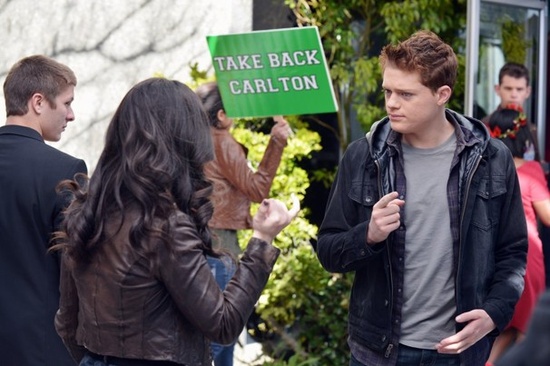 The mid-day *beep beep* of a hearing aid is usually a prelude to "sorry, my hearing aid just died" and a panicky hunt for the size 13/675/14 battery that will make things mostly-right with the hearing world again. But last night, the inconvenient end to Daphne's hearing aid battery life conveniently led to history on prime-time TV: Switched at Birth's all-ASL, (nearly) no-voicing episode.
Instead of a mere moment of silence to celebrate Deaf Culture, ABC Family – one of cable's Top Ten networks, and available in more than 97 million homes via basic cable -- went all out. With Daphne stripped of functioning hearing aids, they paid a tribute by depicting life from her point of view. The result: An hour-long episode of non-voiced silence in "Uprising".
Shocking. Risky. And nothing less than groundbreaking. Producers of the silent film The Kiss must be clapping from the grave: In 1896, they were "rebels" for cinema's first-ever kiss.
But Switched at Birth isn't a silent film, and silence didn't take anything away from this historic 2013 episode. Instead, it added many things. "English is a straight line. ASL is in 3D," creator Lizzy Weiss tweeted last week. It's also the richly textured, and rarely-seen vantage point of a Deaf person. Like Daphne's confusion walking into the kitchen, unaware that she had triggered a burglar alarm that was making the Kennishes run around in a silent panic.
This disorienting scene is one that 35+ million deaf/hard of hearing Americans (some of us are "accidental arsonists") can intimately identify with.
It's a moment long coming. It reminds us of popular concept restaurants in cities like New York, Paris, and Toronto. Called "O. Noir" and "Dans de Noir," these restaurants are pitch-black, with a mostly-blind staff. You are blindfolded as you eat steak that you can touch and smell, but not see. You find yourself groping for the table edge so as not to spill your Chardonnay. Inconvenient? Yes, and also one of the most memorable meals a non-blind person may ever have.
"Until hearing people walk a day in our shoes, they will never understand," said Marlee Matlin's character (counselor Melody Bledsoe) to her Deaf Studies class. But until Monday night, there were no such mass-marketed opportunities for hearing people to walk even an hour in our shoes.
25 years after the historic protest at Gallaudet University, "Uprising" helps the younger generation understand "Deaf President Now" in a 21st Century context. We saw hashtags like #TakeBackCarlton and #OccupyCarlton. We saw a frenzy of videos, texts, and tweets from other deafies in cities all over the country showing their support to keep the doors open to a Deaf school.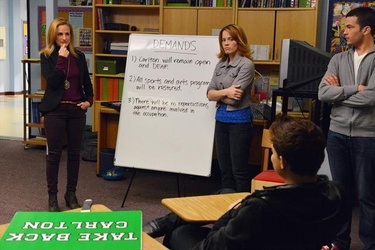 But when Daphne confiscated the smart phones and tablets, we realized: DPN and #TakeBackCarlton transcend generations. Whether it's from barricading gates or using hashtags, both movements were about delivering a unified message to the powers that be:
1. Carlton will remain open and DEAF
2. All sports and arts programs will be restored
3. There will be no repercussion against anyone involved in this occupation
Sound familiar? It should, because similar demands were made in DPN (for a snapshot, see our Deaf President Now! Flashback Friday).
Carlton's fictional, but it stands for all the other deaf schools, and arts, and after-school programs being shuttered across the country. During a time when Congress' sequester deal makes budget cuts left and right, Travis asks the rhetorical question: "We don't deserve sports and arts?"
That's something parents, teachers, and school administrators can ask themselves all over the country, as we plow millions into remodeling football stadiums while leaving next to nothing for vital programs and schools (like the play Romeo and Juliet or a school for the Deaf).
Show biz is also about how many eggshells you can step on without losing cash. People squawked about too much subtitled Korean dialogue between Sun and Jin in "Lost". Producers "loved" but balked at Marlee Matlin's proposal for "My Deaf Family" pilot show, saying it would alienate the hearing demographic.
Yet last night, over 850K* people tuned into the all-ASL episode of "Switched at Birth". It was a risk, no doubt. Yet ABC Family boldly dove in, armed with an interpreter for each deaf Carlton actor under the leadership of creator Lizzy Weiss. (*source: NTI, 3/4/13, U.S. ratings, Live + Same Day)
History means watching Gallaudet open house ads and Purple's SmartVP commercials featuring Katie Leclerc (Daphne) during the prime-time slot. It means no fumbling to find "CC" on our TV remotes. No waiting a few weeks for Hulu to follow FCC-required deadlines to transcribe captions for online streaming news. No Sim-Com dialogues (Lizzy Weiss admitted in an interview with HitFlix that Sim-Com was used to "cheat" the Daphne-Regina scenes in regular episodes, so as to not alienate mainstream audiences).
But it wasn't just a convenient for us deaf/hh fans. It was first and foremost a proud moment in Deaf history.
"Don't worry, nothing is wrong with your TV," actress Vanessa Marano (who plays Bay Kennish) signed reassuringly to the camera just before the show began.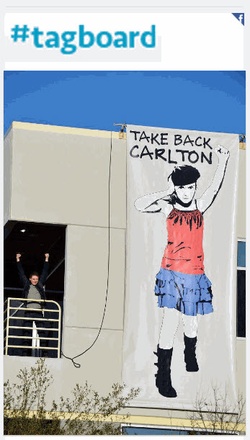 Just like nothing is wrong with us - and our capabilities. That's the message the show has been telling for two seasons, beginning when John and Kathryn Kennish urged their bio-daughter (Daphne) to consider cochlear implants. Much to their surprise, she declined.
But in Show and Tell, showing is powerful. By producing an all-ASL show, ABC Family shows a message that's just as clear as Bay's Angry Girl poster: Deaf Culture is something to be proud of, and it has a legacy and future to defend.
Of course, that's not to say the episode was without a few naysayers. The show was challenged by a few hearing viewers – those with dyslexia, those saying their 7-year-old child couldn't read most of the captions, and those who didn't like wearing deaf shoes (eyes glued to the screen) while trying to cook dinner or dust the foyer simultaneously.
Exactly. For an hour, welcome to our world! A world that's inconvenient, but one most of us wouldn't leave if offered a magic pill.
As we wait for the next episode, let's ponder the endgame: The possibility that Carlton is shut down for good, converted into a condo or business complex haunted by the ghosts of Deaf Culture. Imagine the impact not only on students … but entire families and social networks. We, residents of Seattle, are no strangers to this migratory effect. Every few years, we lose Deaf families from our community as their children reach school-aged and pack their bags for states with better quality of Deaf schools (such as California and Texas).
"Toto, I have a feeling we're not in Kansas anymore" sums up the universal feeling about this episode. Kansas-based Carlton represents every school, every student, every dream that's been abandoned by the system.
On behalf of all of us whose eyes are tired from speech reading in dim restaurants, defending our civil liberties when they are trampled, and fighting to prove our worth (in arts, sports, AND every other aspect of our lives) .... to ABC Family, we thank you from the bottom of our hearts for this hour of power.
#TakeBackCarlton
Tags
Comment Policy
We're aware that issues facing the Deaf, Deaf-Blind, and Hard of Hearing Community can become quite passionate and divided. What can we say, we're a group of passionate people! While we fully support a community full of passion, we also require that comments are respectful. We think negative attitudes and disrespect are a waste of everyone's time and energy. This doesn't mean you can't disagree with people, you just need to do it respectfully. We reserve the right to delete or edit any comments we feel are judgmental, rude, or of attacking nature.
Reviews by Advocates & Champions