Reviewer Spotlight: Paolo Luciano – Chino Hills, CA
Posted by: Staff Writer on March 10, 2015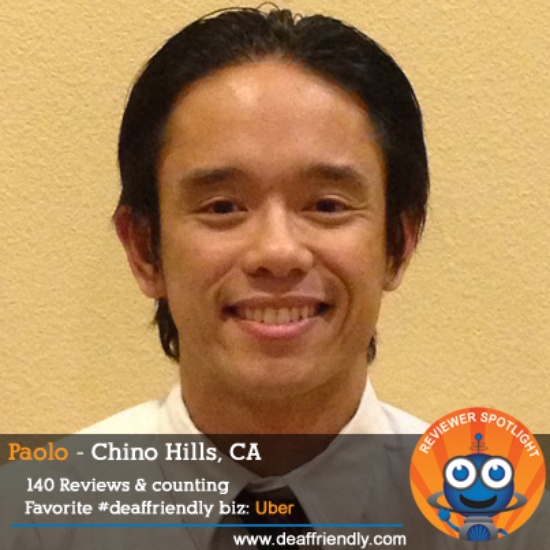 Do you know the people who are plugging in reviews on deaffriendly.com? Every quarter, we pick the brains of our most active reviewers. They are the words behind our deaf-friendly mission, the stars of our 1-5 star ratings, and the soul of this website.
Meet Paolo, a deaf Uber driver who resides in Chino Hills, CA. His rapid rise from deaffriendly Advocate to Champion has made him one of our most prolific reviewers on deaffriendly.com, with 140 reviews and counting!
You'll find Paolo's reviews range from delicious #deaffriendly restaurants with awesome communication strategies at Pho N Mor to #deafchallenged access at Doctor's office.

On Being An Uber Driver
As a driver for Uber, Paolo's job takes him all over which means, his reviews span from Chino Hills, to Los Angeles, Oakland, Irvine and beyond. On his lunch breaks he will take the opportunity to scout new businesses to review, and that's all part of the fun, being the first one to review a new business.

One of the benefits of being a deaf driver is introducing the concept of deaf-friendliness to his hearing riders and encouraging deaf-friendly communication strategies. "When I get requests from riders, I normally send a script in a text message to let them know that I'm deaf, which helps them reply back in text instead of a voice call. They hop in and enjoy the drive to their destination. Most of time, their reactions are pretty nervous (at first) but by the time we've reached the destination, they are very impressed."

Not only does he love being a driver for Uber, he gives it two thumbs up as a Deaf customer. "Uber is my favorite #deaffriendly business. It's not because I drive for them. I have ridden with Uber as a customer. I'm a tech guy so I love to use my iPhone to request a ride."

On Being a Deaf Dad
Paolo is the father of three adorable hearing children. And in between the joys of child rearing, visiting fun, family-friendly places like Seascapes Kid Fun and reviewing them, there are moments where places are #deafchallenged. "I sometimes find it annoying when a person learns my kids are hearing and ask that my oldest child interpret. I have taught my children to not interpret for anyone."
On Keeping It Positive
Paolo is known for writing positive reviews, giving businesses thumbs up when they go the extra mile to communicate. The majority of his reviews are four and five stars, and this approach is intentional. "My approachable personality is always positive and friendly because I know that every business does not know how to serve Deaf customers. Using that method enlightens them to adjust, and do their best to communicate with us. If I am completely satisfied with their business and I write a review, I'm pretty sure that the business will expect to have few more Deaf costumers."
On His Vision for Improved Medical Access
It's not always a five star deaf-friendly experience out there though. Hospitals in particular could use more improvement. Paolo would like to see hospitals really increase their access for deaf patients. "I really wish every hospital would improve their #deaffriendly experience and provide live ASL interpreters and put VRI (Video Remote Interpreting) as a second choice especially in ER and maternity departments. Hopefully, all hospitals will have at least two ASL interpreting agencies which will shorten the wait time for an interpreter to arrive."

On Why YOU Should Write Reviews Too
Paolo encourages every deaf person to write a review at www.deaffriendly.com, "… because it will help every business understand how we feel and what we need. Negative reviews are very important for businesses too because it will give them a better chance to fix their mistakes and continue to do better business with deaf individuals."
Tags
Comment Policy
We're aware that issues facing the Deaf, Deaf-Blind, and Hard of Hearing Community can become quite passionate and divided. What can we say, we're a group of passionate people! While we fully support a community full of passion, we also require that comments are respectful. We think negative attitudes and disrespect are a waste of everyone's time and energy. This doesn't mean you can't disagree with people, you just need to do it respectfully. We reserve the right to delete or edit any comments we feel are judgmental, rude, or of attacking nature.