Reviewer Spotlight: Joshua Jones – Orange County, CA
Posted by: Staff Writer on Oct. 8, 2014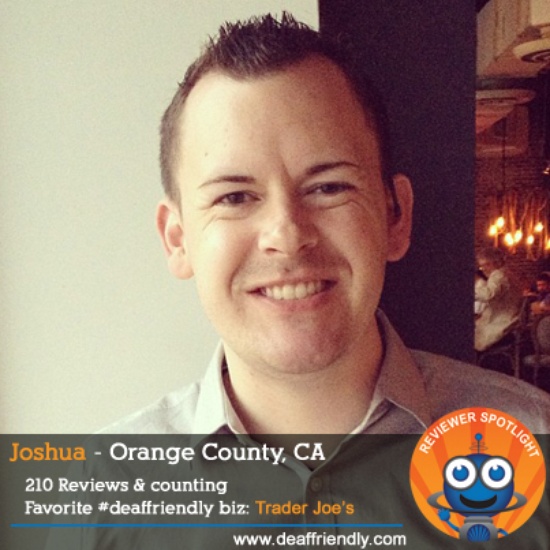 Do you know the people who are plugging in reviews on deaffriendly.com? Every quarter, we pick the brains of our most active reviewers. They are the words behind our deaf-friendly mission, the stars of our 1-5 star ratings, and the soul of this website.
Meet Joshua Jones, our best-kept secret since deaffriendly.com launched in 2012. He has written 210 reviews, quickly nabbing a "Advocate" Reviewer badge as well as a "Champion" Reviewer badge.
But quantity isn't the only reason why Jones is such a force behind the #deaffriendly mission.
For one, it's hard not to drool over his many restaurant reviews. For another, his level of detail is unparalleled: He lists the names of specific employees (such as the #deaffriendly Kurt at Mayo Family Winery), geeks out about Regal Cinema's USL glasses, and offers pragmatic bullet-pointed suggestions for improvement (are you listening, Laguna Hills DMV)?
On writing reviews here, there, and wherever he calls home
Formerly a back-of-the-house specialist at the Apple Store, Jones relocated to Irvine, CA last year. But his #deaffriendly impact holds strong in Seattle – it's where he helped the Apple team establish Apple Store's wildly popular accessibility workshops.
"There were almost no reviews in Orange County area when I relocated here," Jones recalled, except for a few Chino Hills reviews. But thanks to his tireless reviewing from the past year, deaffriendly.com is now much closer to mapping the #deaffriendly landscape of OC-based cities like Ojai, Los Angeles, Burbank, Costa Mesa, and Laguna Hills.
On his secret sauce for being prolific
At this time of writing, Jones has is merely 16 reviews behind deaffriendly.com's founder, Melissa "echo" Greenlee. What's the trick to doing this with a busy schedule? Passion and consistency:
"I love to go out and try many new places out. I love to write reviews about them. I believe that every business deserves reviews by customers based on their experiences," he said, noting that improved mobile-friendly features will soon make it easier for him to review while not on his desktop.
On reviewing, while running his start-up
Jones is currently busy running Roomz Design, an online interior design service. He launched this budget-friendly start-up six months ago, cranking out virtually staged designs like his & her walk-in closets, teenage girl bedrooms, and a wet bar in a brownstone basement.
Along the way, Jones was "blown away" by the discovery of an ASL-fluent employee (as well as another employee who was quick to grab a notepad) at Irvine's 5- star Living Spaces Furniture store. While building his start-up's profile through the media, he detailed his smooth VRS experience with an Orange County Business Journal employee.
"My philosophy of customer service for my clients, is to be sure that they are happy with the interior design service they receive and able to make their space beautiful and function within their budget," said Jones.
On the top rule of interior (usability) design: Lighting, lighting, lighting
Matsu, and Disneyland are just a few examples of businesses that would have nailed the 5- star deaffriendly.com category if not for a few minor tweaks … especially lighting. As a consumer with Usher's Syndrome, Jones cannot emphasize enough how important it is for a business to be well-lit instead of dim.
On being one of the Real Reviewers of Orange Country
One night, Jones and his fiancé dined at Sol Cocina. Despite the famed views and upscale Baja dishes, this real reviewer found disappointment with one waiter: "(Scott) tried too hard to be cool by standing far away from our table when we ordered something. I tried to communicate with him about my orders, he didn't try to communicate with me and depended on my fiancé to interpret for us."
The bottom line? "I don't appreciate being treated like a second-class citizen," Jones summed up his discontent.
On seeing businesses redeem themselves, after a review
85 percent of Jones' reviews are glowingly positive (4 or 5 stars), but he's experienced a few proverbial bad apples in the barrel. Namely, the ones who relegate Deaf customers to second-class status:
One was Trader Joe's: An employee, whom we'll refer to as the Rude Lady in Hot Pink (RLIHP), "acted like I was invisible and talked to (my fiancé) in front of me, even though I was the one paying for the groceries." RLIHP continued to deliver the next blow – an eyeball roll – when Jones signed "Thank you."
He later found that RLIHP no longer works there. "I appreciate the way Trader Joe's took my compliant seriously and improved its staff," he wrote in his second, 5- star review of the same store.
On why the national launch will help him become even more prolific
Jones has a long list of businesses he still wants to plug into the site. Now that deaffriendly.com is open nationwide, he'll finally be able to do so.
On why he wants YOU to write more reviews
"I plan to travel in the near future and will definitely check reviews in new areas that I am not familiar with. I would love to check any business out based on reviews so I will know what I expect."
Help us create a #deaffriendly world! Plug in your #deaffriendly and #deafchallenged reviews on deaffriendly.com
Tags
Comment Policy
We're aware that issues facing the Deaf, Deaf-Blind, and Hard of Hearing Community can become quite passionate and divided. What can we say, we're a group of passionate people! While we fully support a community full of passion, we also require that comments are respectful. We think negative attitudes and disrespect are a waste of everyone's time and energy. This doesn't mean you can't disagree with people, you just need to do it respectfully. We reserve the right to delete or edit any comments we feel are judgmental, rude, or of attacking nature.