Our Latest Obsession at deaffriendly.com: OtoSense
Posted by: Staff Writer on April 20, 2015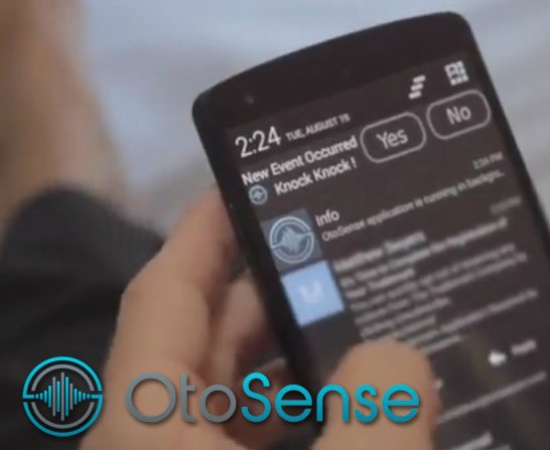 A couple weeks ago, during our weekly staff meeting, we were swapping stories about missed doorbells, burning cookies in the oven, and well… overflowing the bathroom sink. It's a Deaf thing. C'mon, you've been there too, right? One our staffers remembers the day she overflowed the sink, twice and burned a romantic dinner for her sweetie. Needless to say she wasn't feeling the love that night as she washed a load of sopping wet towels.
It's a world full of auditory cues. And while it makes for some funny stories around the water cooler, it's pretty annoying, actually. You could even say it makes our world pretty #deafchallenged. We've come up with some creative workarounds though. Like setting our phones to remind us when tasks are complete (laundry, the microwave, the oven, etc.) And many of us have become used to sticking near the door and peeking out the window to see if our guest has arrived.
Our boss rolled her eyes, shook her head and told us to get with the times. Melissa "echo" Greenlee, the founder of deaffiendly.com, just downloaded #deaffriendly OtoSense the week before. It's a new generation sound recognition technology, available to download for a small fee into your mobile devices from the Apple Store or Google Play. It comes programmed with the ability to detect a fire alarm plus you can program it to recognize other mechanical sounds and receive a notification that a sound is occurring either by vibration or a flashing strobe light. This is kind of a thing here- we're a little technology-obsessed and pretty hip to what's new on the market. So we all whip out our phones and downloaded the app.
Fast-forward one week later, we're sold. And while they only recently came out on the market, OtoSense is constantly improving the app using valuable feedback from users.
So here we are… grab a cup of coffee, sit down at our long, reclaimed-wood table, take in the view of the water canal next to the Ballard Locks from our headquarters in Seattle and hang out with us for a bit.
Echo, dressed in yoga pants and a T-shirt while somehow still looking professional will ask you if you would like some coffee. She'll set the Nespresso. When it beeps, her OtoSense app on her phone will let her know it's ready.
Buddy will show up at the door, five minutes late- which means on-time. Your OtoSense app on your phone informs you the doorbell has rung so you can let him in, just in time in fact for the cup of coffee that echo has waiting for him. He'll be wearing one of his famous scarves, dressed to kill. He'll tell you about the play he went to last week as he pops his lunch in the microwave. When the microwave goes off, his phone will vibrate- letting him know his lasagna from Trader Joe's is ready.
The doorbell will ring again, and all of our phones go off, thanks to OtoSense. A package from UPS- a box full of our new #deaffriendly hats has arrived, ready to take to the next DeafNation Expo.

Crystal, our editor, will crack some truly-awful jokes with the team as she fills the editorial calendar for the next month. When she asks us what we think of OtoSense for the article she is writing, we all give her a hearty thumbs-up.
In the world of auditory cues, OtoSense allows us to take the guess work out of the daily noise in our environment so we can focus our energy on more important things, such as educating businesses on how to improve their customer service for Deaf consumers.
If you want to check it out yourself, head on over to their website and learn more.
.
.
.

Tags
Comment Policy
We're aware that issues facing the Deaf, Deaf-Blind, and Hard of Hearing Community can become quite passionate and divided. What can we say, we're a group of passionate people! While we fully support a community full of passion, we also require that comments are respectful. We think negative attitudes and disrespect are a waste of everyone's time and energy. This doesn't mean you can't disagree with people, you just need to do it respectfully. We reserve the right to delete or edit any comments we feel are judgmental, rude, or of attacking nature.