Watch the Video! #deaffriendly or #deafchallenged?
Posted by: Staff Writer on Jan. 29, 2015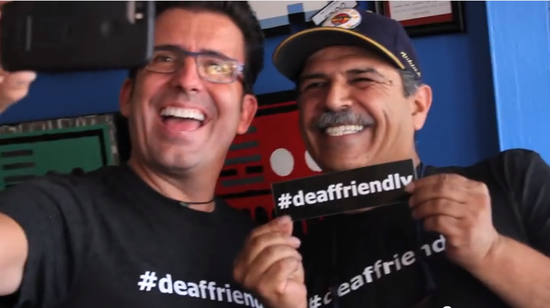 Actor John Maurcere, known for his role in SuperDeafy, displayed his usual charm and dynamic energy on screen as he engaged real-life Deaf people (not actors) and their real-life #deafchallenged and #deaffriendly stories.
Jules Dameron, Director and Editor says about John, "This was the first project I officially worked on with John Maucere. I loved working with him. His work ethic and professionalism is the best. I respect him for that."  John's chemistry with William Fidail, the hearing owner of Viscous Dogs where much of the filming took place, was fun, upbeat, and positive. Watching their relationship unfold is the perfect example of Deaf and hearing people working together to create a more #deaffriendly world. By the end, one of the webisode's best moments was completely unscripted and spontaneous.
Willie takes the black and white #deaffriendly sticker, walks outside his restaurant, and slaps it on the door with a huge grin.  Now that's what we're talking about!
Watch the webisode below and don't forget to plug in your #deaffriendly and #deafchallenged reviews on deaffriendly.com
.
.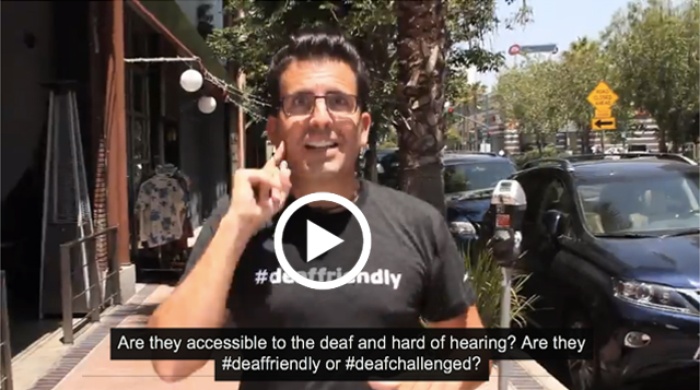 .
CREDITS
Directed by Jules Dameron
Producer: Elise Whitworth - www.satdayastudios.com
Executive Producer: Melissa "echo" Greenlee - www.deaffriendly.com
Associate Producer: Lee Whitworth 
Production Assistant: Chris Hibbs
Production Assistant: Shannon Rusnak
-- Crew --
Editor: Jules Dameron - www.julesdameron.com
Photography: Ruan DuPlessis
Sound Mixer & Editor: David Yoder
Key Grip: Quinn Cooke
-- Cast --

Host: John Maucere - www.johnmaucere.com
Interpreter: Francine Stern
Business Owner: William Fedail, Vicious Dogs
Mom & Coffee Story: Anavel Torres
Cute Son: Brian A. Robles
Doctor Story: Lukas Morkevicius
Deaffriendly Story: Ronie Malasador 
Appointment Walk-Out Story: Kami Dal
Hair Salon Story: Rexy Mendes

Many thanks to locations for allowing us to film on site:

Vicious Dogs - www.viciousdogshotdogs.com
Bob's Espresso Bar - www.bobsespressobar.com
Crowning Glory Hair Studio - www.crowninggloryhairstudio.com

And special thanks to:

Tracy Hyman, SAG
Jody Stevenson
Keisha Tucker

Share your story: www.deaffriendly.com

Buy #deaffriendly gear: www.deaffriendly.myshopify.com

See John Maucere's review of Vicious Dogs!
http://deaffriendly.com/business/1590...
Tags
Comment Policy
We're aware that issues facing the Deaf, Deaf-Blind, and Hard of Hearing Community can become quite passionate and divided. What can we say, we're a group of passionate people! While we fully support a community full of passion, we also require that comments are respectful. We think negative attitudes and disrespect are a waste of everyone's time and energy. This doesn't mean you can't disagree with people, you just need to do it respectfully. We reserve the right to delete or edit any comments we feel are judgmental, rude, or of attacking nature.
Reviews by Advocates & Champions