Deaf-Friendly Certified Businesses YOU Need to Know
Posted by: Staff Writer on Aug. 10, 2017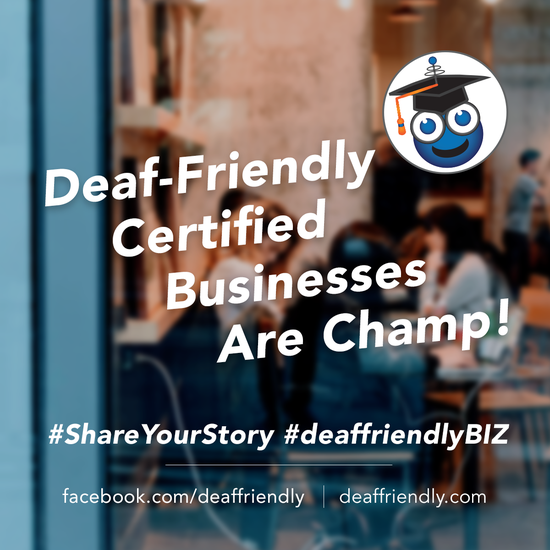 Our first Deaf-Friendly Certified Businesses were announced in the spring and now we're eager to share more about each of these stellar Businesses. Out of dozens of businesses who came close, each of these businesses made the final cut, meeting a rigorous criteria below, created by Deaf reviewers and deaffriendly staff.
Business has a high number of deaf-friendly reviews, written by Deaf people.

Business has demonstrated a wide variety of deaf-friendly skills.

Business has undergone an internal vetting process.

Business has completed our "Deaf-Friendly Customer Service" training.
Mozzeria - San Francisco, CA
Mozzeria is an acclaimed pizzeria in San Francisco in the Mission neighborhood, garnering fans since 2011. With favorites on the menu such as the Mozzeria bar and the Hosui Pear pizza with pancetta, brie, roasted garlic, spinach and balsamic cooked inside an impressive wood burning, five thousand pound Stefano Ferrara oven- this isn't your ordinary pizzeria and dining experience. They have made a stamp on the culinary map by being one of the foremost deaf-friendly restaurants in the country, showing that Deaf-owned, Deaf-run, Deaf-staffed businesses are not just an enjoyable experience for Deaf dining patrons but for hearing diners as well. Through the use of technology such as Convo relay, and an online reservation system- they've made dining and communication a breeze. Today, they're as popular as ever with a catering component to their business and the expansion two food trucks that travel all over the Bay area. Mozzeria met our reviewer's Deaf Friendly Certified Business Program criteria with ten reviews and six deaf-friendly skills with ease. Becoming one of the very first to be certified, they show it truly pays to be a deaf-friendly business.


Based in Longmont, Colorado Julia Cameron operates out of her office, providing Swedish integrative, Lomi Lomi, Ashiatsu massage therapy to Deaf and hearing massage clients alike. When she's not operating out of her office, she is traveling, offering her services all over the nation through events, gatherings, festivals, and celebrations. She believes that nurture, connection, relaxation and care are essential elements for a happy human experience; these values are embedded into her practice and one that she hopes to give to her Deaf clients. As a Deaf business owner she knows how to provide deaf-friendly customer service; reviewers have given 29 (and counting) glowing reviews on deaffriendly.com, listing eight deaf-friendly skills. "A super skilled massage therapist that is also Deaf and ASL fluent was just the thing that I needed. When I was able to communicate effectively without struggles, it put my mind to ease and truly allowed me to relax, just as a massage should be."


A small niche interpreting agency located in San Diego, CA, prides itself on having a #deafheart and demonstrates in their business model a passion for serving the Deaf community. One of the ways CLIP Interpreting shows this is by hiring only nationally certified interpreters; one hundred percent of their interpreters are certified. They prioritize giving back to the community they serve by distributing scholarships to Deaf youth to attend leadership camp as well as providing interpreters for job interviews and funerals. One reviewer on deaffriendly.com states: "CLIP Interpreting is one of best interpreting agencies I have ever worked with...CLIP is not just an interpreting agency, but it is a bridge between hearing world and deaf world. Thank you for being more than stellar interpreting agency." Clearly, CLIP is dedicated to increasing the accessibility, communication, and independence of the Deaf community. You can keep up with CLIP Interpreting on their website blog, and of course by following their reviews on deaffriendly.com
Convo is a small but growing Video Relay Service company with a big vision. Their mission is to provide the most natural and organic VRS experience possible by providing relay services and other communication solutions for Deaf and Hard of Hearing people. Organized in a non-hierarchical structure that allows communication to flow more freely, they have embodied a signing-centric philosophy that impacts everything they do. As a Deaf-owned company they are committed to changing the world, one community at a time, with their Deaf business directory, the rich stories they capture on their video campaigns. They strive to strengthen and preserve their culture as part of their lifelong journey of collaborating with Deaf communities everywhere. One reviewer on deaffriendly.com agrees with Convo's approach, "Convo represents what I would visualize of a deaf-friendly business. Convo is a deaf-owned business and has many deaf and hard of hearing employees. The business does not limit, only to relay services but the business also do a lot of community advocacy work for deaf and hard of hearing community...Convo's quote on their website states, 'Because we understand.' Convo truly understands us."


That's it for now folks, but not for long! Keep an eye out for more Deaf Friendly Certified Businesses in the months to come and as always, if you know a business that deserves to be considered, do your part and leave them a review!
Tags
Comment Policy
We're aware that issues facing the Deaf, Deaf-Blind, and Hard of Hearing Community can become quite passionate and divided. What can we say, we're a group of passionate people! While we fully support a community full of passion, we also require that comments are respectful. We think negative attitudes and disrespect are a waste of everyone's time and energy. This doesn't mean you can't disagree with people, you just need to do it respectfully. We reserve the right to delete or edit any comments we feel are judgmental, rude, or of attacking nature.