Ann Silver: Don't (Just) Call Her The Crayon Lady
Posted by: Staff Writer on March 24, 2013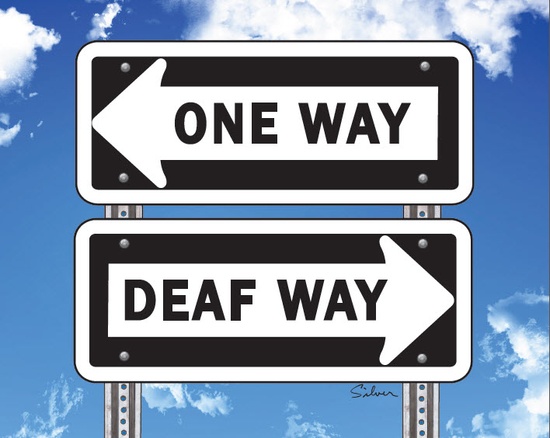 You know you're the grand dame of Deaf Pop Art, when your work continues to be re-invented in unexpected mediums. Just a couple weeks ago, lucky wedding guests got a taste of Ann Silver's artwork in the form of carrot, chocolate, and chocolate/peanut butter ganache wedding cake prepared by a local Seattle pastry artist, Jeffry Kahle. The cover of her latest biography "ANN SILVER: ONE WAY, DEAF WAY" (Empyreal Press, 198 pages), topped a 3-layered creation along with the work of artists David Hockney and Robert Rauschenberg.
Let them eat wedding cake. Or boxes of KELLOGG'S DEAF STUDIES, NOT PATHOLOGY (1996) or GALLAUDET DEAF STUDIES SOUP GROUP (1992). Eyeballing Silver's work is like a quick, but profound survey of Deaf History Month.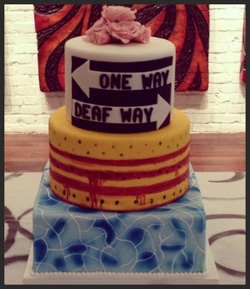 Once a starving artist in Manhattan, Silver's creative process continues to evolve and provide food for thought. In order to chat with deafREVIEW before hitting the road to promote her book, Silver tackled a medium that has eluded her for years: Email (just two summers ago, she confessed to ONE WAY author Jim Van Manen that she still uses a TTY).
You may most remember her for DEAF IDENTITY CRAYONS, the 16x20" mixed medium piece that has come to symbolize Silver as much as it symbolizes Deaf Culture. But don't (just) call her The Crayon Lady, lest you miss out the full spectrum of Silver's opus. "I have ideas for more. Why would I want to be known as The Crayon Woman?" she rhetorically asked Van Manen, a CODA and assistant professor in the Department of ASL-English Interpretation at Columbia College Chicago.
THROUGH DEAF EYES: REINCARNATIONS
Van Manen begged to differ, responding: "(The crayon icon) may become a gateway to all other things you have done. As all are Buddha, each piece of your work is another icon of you".
Indeed, Silver transforms ordinary household items and hundreds of road signs into new life, as wry symbols of Deaf Pop Art.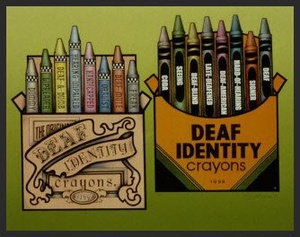 "Oftentimes people come up to me and say that I am the reincarnation of Andy Warhol. Truth is that I was ahead of him in some ways when it came to copying or popularizing stuff in our work like Mona Lisa, motorcycles, etc. I enjoy deconstructing and parodying the work of other Pop Art pioneers and reworking them into Deafcentric sensibilities."
Now reaching her mid-60s, Silver – who now lives in her childhood stomping grounds, Seattle – shows no signs of retiring her creative urges: She spent the past week promoting her book with author Van Manen in Austin, Texas, and is accepting the LCCF Laurent Clerc Cultural award from the Gallaudet University Alumni Association on April 6. On April 20, you can find her on a panel of 13 artists recognized by DeafNation's Deaf Artists Gallery Row along with 12 other influential artists.
"DeafNation always supports different Deaf business owners, including artists," DeafNation CEO Joel Barrish told deafREVIEW. "(It) provides one place for everyone coming in as FREE Admission, to show that Deaf Artists have great talents like everyone else."
DE'VIA, DEAF ART MOVEMENT: LIGHTING THE TORCH
It's safe to say that the Deaf Art Movement (DAM) of the 60s and 70s was born in the Galluadet University cafeteria. It has withstood the test of time, though not without battles along the way.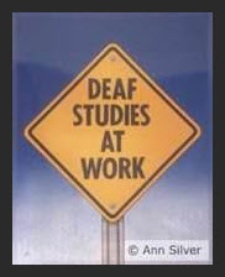 That's when Silver's '72 classmate John Darcy Smith introduced her to the person who would then become a best friend and gallery/museum buddy: Harry R. Williams. That fateful introduction sparked many conversations about d/Deaf professional artists, and contemporary ethno-art movements such as African-American/Black Art, Feminist Art, and Gay/Lesbian Art.
Something, these two realized, was sorely missing.
"That gave us an 'Aha! Moment': Why not Deaf Art? From there, we spread the word to our classmates and developed a blueprint for a basic art movement that corresponds to the Deaf Experience.  We wanted to create Deaf Art rather than art that had nothing whatsoever to do with ASL or Deaf culture. and the rest, as they say, was history."
The two ended up registering for  an Art History course, taught by Deaf professor Deborah M. Sonnenstrahl (now Blumenson)'s, which became a "watershed moment in my embracing Deaf Art from an art-historical and theoretical perspective."
BACKLASH: DEAF ARTS GENRE'S UNEASY BIRTH
The art world can be a testy one, a tension of politics and personalities as much as it is for composition, color, and creative meaning.
At Gallaudet University, even deaf people – such as Angelo Corte (then the art department chair) and Betty G. Miller (an art professor) initially suppressed the genre, deeming it "entirely inappropriate" for classroom learning. It made for an oppressive climate inside the Washburn Art Center, Silver recalled.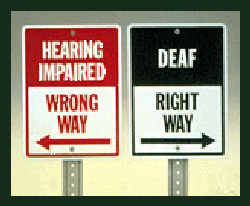 So when Professor Miller's solo faculty art show "Silent World" (1971) emerged with strong Deaf overtones, it sent shockwaves among students.  
"Her well-kept secret left us understandably angry and profoundly disillustioned. For the record, she was never a founding member of DAM but merely someone masking her plot to claim Deaf Art as her own. To this day, uninformed people continue to call her the 'Mother of Deaf Art/De'VIA.'"  
Silver isn't shy about setting the historical record straight. Nevertheless, she added, there's no question that Miller's seminal art show "provided a spark that lifted the small DAM group off its feet." 
Miller's passing (last year) a "tremendous loss for the world of Deaf Art/De'VIA. As her creativity, vision and passion will continue to inspire many others for generations to come, she will be greatly missed. With Deaf Art/De'VIA giants like Miller and (Chuck) Baird gone forever, it's kind of lonely for me. (They) were not only colleagues but also friends of mine. We enjoyed butting heads on many issues. While adhering to Deaf Art dogma, each of us maintained our own artistic styles and different media." 
BREAKING DOWN WALLS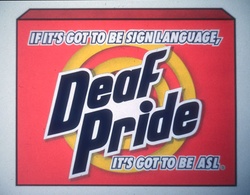 Born into a hearing family in 1949, Silver became an adept speech-reader. But she was even more adept at using art to communicate with her family. Though black-and-white TV was light years away from closed captioning, its pop culture messages caught her eyes: Cereal boxes, TV commercials, iconic brands and Mad Magazine, billboards, shop signs, logos and advertising.
So when she was 13, Manhattan was her dream. By her mid-40s, her work had graced over 2,000 covers of books by publishers like Ballantine Books, Ace Books, Random House, and Prentice-Hall.
But behind the success story, was the journey of a starving artist struggling to eke it out in a not-yet-progressive 1970s/80s Manhattan.
So take heart, all ye who are dogged by today's job market: It took Silver nearly 150 interviews to secure a job there. Always one to frame life in creative terms, she admits she could easily paper all her pre-ADA interview rejection letters on the walls of an entire apartment.

Even family ties to the Deaf Community didn't count for getting her foot into the door. Silver was interviewed by a prominent publisher whose wife was a principal of a school for the deaf in the city.
"He loved my design portfolio so much he was ready to hire me on the spot. As soon as my deafness (sic) was discovered, he immediately showed me the door."
But doggedness paid off: Silver convinced him to tackle a one-day cover design assignment – resulting in layouts that led to her hiring. She worked her way up to Art Director in other companies, during pre-ADA days when ASL interpreting, TTY, and relay services were barely figments of our imaginations.
The battle is far from over, though.
"Despite the fact that Deaf Art/De'VIA has had made great inroads over the years, I still face audism on all levels, especially art funding" said Silver. "Museums and galleries still have not embraced Deaf Art on a major scale."
Art agencies and private foundations have very little or no contact/exposure to Deaf artists. But television is one medium that's seen recent success in getting the message out to the mainstream. You may see in a future episode one of Silver's logos for ADWAS (Abused Deaf Women's Advocacy Services), as printed on the front cover of an old Deaf Life issue, tacked onto a bulletin board in one of ABC Family Network's "Switched at Birth."
Calling all Gen-X/Gen-Y Deaf artists, curators, art historians, art writers, and art consultants to carry Deaf Art/De'VIA into the future! What advice does she have for the next generation?

Looking to order the new book? You can find Ann Silver's: One Way, Deaf Way book online at Dawn Sign Press. Be sure to check-out her Facebook page and look for her art at an Expo near you!
Tags
Comment Policy
We're aware that issues facing the Deaf, Deaf-Blind, and Hard of Hearing Community can become quite passionate and divided. What can we say, we're a group of passionate people! While we fully support a community full of passion, we also require that comments are respectful. We think negative attitudes and disrespect are a waste of everyone's time and energy. This doesn't mean you can't disagree with people, you just need to do it respectfully. We reserve the right to delete or edit any comments we feel are judgmental, rude, or of attacking nature.
Reviews by Advocates & Champions