Spreading Awareness for DEAF AWARENESS WEEK 2015
Posted by: Staff Writer on Sept. 9, 2015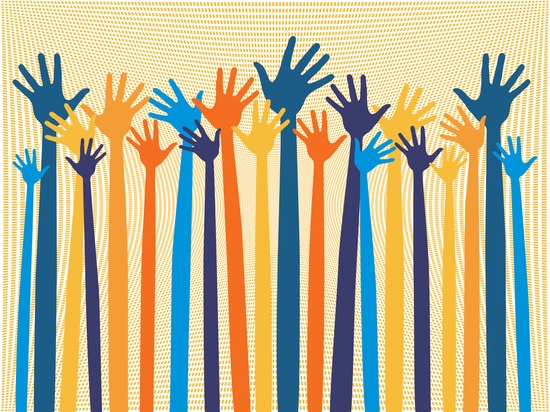 Deaf Awareness Week (DAW) is rolling around again, falling during the last week of September. It's a great opportunity for businesses, organizations, and individuals alike to spread #deaffriendly awareness.  
The World Federation of the Deaf (WFD) is credited with creating the International Week of the Deaf, in Rome, Italy in 1958. The celebration around Deaf people's cultural achievements, education, language, and access have been the focus. It is traditionally celebrated the last week of September all over the world.
According to the WFD website: "International Week of the Deaf is the only week in a year that sees highly concerted global advocacy to raise awareness about the deaf community at individual, community and governmental level. It is about gathering together, becoming united, and showing that unity to the rest of the world."

Whether you are a Deaf organization, a Deaf/hearing individual, an ally, or an employee at a place of business, there are a lot of ways to celebrate DAW. Here are a few fun ideas for everyone to kick start the awareness.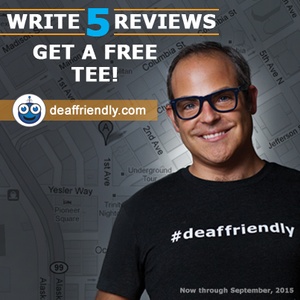 1. Host a Deaf night in your place of business, invite community members and advertise with local Deaf organizations in your city. Don't forget to share your event on social media!
  2. Invite a local Deaf ASL teacher to come in and give your staff a lesson in basic American Sign Language (ASL) so they can interact with your Deaf customers better.
  3. Have a movie night featuring Deaf films or Deaf actors. Don't forget to turn the Closed Caption on.
  4. Enroll in a local ASL class if you don't know ASL and have always wanted to learn.
  5. Start a book club and read works by Deaf writers and poets.
  6. Volunteer time at a local Deaf organization.

At deaffriendly.com we're gearing up to celebrate Deaf Awareness Week too and are spreading the #deaffriendly love with free #deaffriendly tee giveaways for our Deaf and allied reviewers. Write five new reviews during the month of September, and we'll send you one of our super-soft and uber comfortable tri-blend tees, sporting the #deaffriendly hashtag. Because we believe when businesses become more aware of Deaf people and their needs, they, "tru-biz" become more #deaffriendly.  
.
What will you do for Deaf Awareness Week to help create a more #deaffriendly world?
Tags
Comment Policy
We're aware that issues facing the Deaf, Deaf-Blind, and Hard of Hearing Community can become quite passionate and divided. What can we say, we're a group of passionate people! While we fully support a community full of passion, we also require that comments are respectful. We think negative attitudes and disrespect are a waste of everyone's time and energy. This doesn't mean you can't disagree with people, you just need to do it respectfully. We reserve the right to delete or edit any comments we feel are judgmental, rude, or of attacking nature.
Reviews by Advocates & Champions