In A Deaf Economy Deaf Artists Set Up Shop: Jena Floyd
Posted by: Staff Writer on Aug. 9, 2016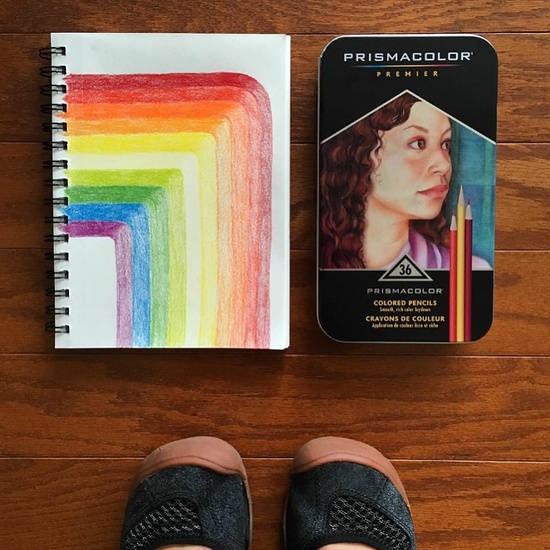 Deaf people are innovative problem solvers. They're also a visionary and inspired group across the board. So it's no surprise there are many creative and artistic entrepreneurs who are shaking up their industries with new ways of doing business, paving the way for others to follow them, and inspiring the rest of us who are buying up their products and services as we intentionally come together to support a Deaf economy.

But why are there so many Deaf people in creative fields who are setting up shop for themselves? Perhaps part of the answer can be found in their individual experiences and their collective frustration with being unable to find employment in the private sector. Perhaps their solution to this problem was to go into business for themselves.
Taking a problem such as deaf-challenged experiences faced by Deaf people day in and day out takes a toll. Being proactive and writing a consumer review on deaffriendly.com is one approach to create a more deaf-friendly world.

Creative entrepreneurs figure out their own solutions that work not just for Deaf consumers but also making a lasting impact on industries. We want to not just highlight them, but celebrate them- from the up and coming graphic designer to the mad-skilled independent tattoo artist, they deserve more than our attention.
So welcome to our newest series, The Creative Deaf Entrepreneur. Join us. Get to know them and show your support for a thriving Deaf economy.

Jena Floyd is Deaf artist from Kentucky who comes from a hearing family of four sisters. Jena grew up learning Signed Exact English (SEE) with speech therapy until 12 where she learned American Sign Language (ASL) and fell in love with Deaf culture. From there she went to Gallaudet and earned her BA and MA. Her adventures post graduation took her to Seattle and then Arizona, and now she has come full circle and is back in her home state to be near her family.

And all along the way, art has been a big part of her life:
"I was born to draw. My mom told me I started to draw houses and trees when I was only 18 months old. That one of my first drawings consist a detailed face — eyebrows, eyelashes, and the works. Ever since then, drawing has always been a huge part of who I am. "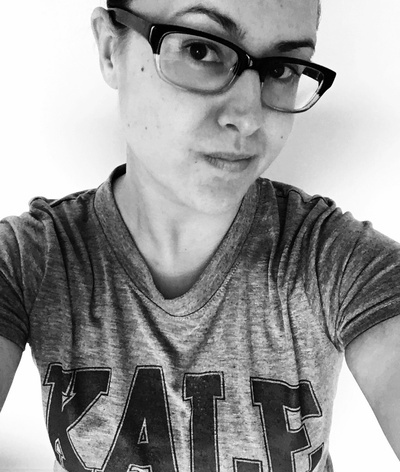 When she's not drawing, you'll find her with a book in her hand, and hiking occasionally.  She loves to learn and try new things. One of her obsessions is anything mid-century, in particular the furniture designs of Eames, Saarinen, and Knoll. One of her newest loves is traveling, which more recently has taken her to Europe where she traveled and was inspired by old world architecture and paintings seen up close by old masters.
She comes by her talent and love for art honestly; her own creatively inclined mother has a life long appreciation for oil painting and has played a key role in nurturing Jena's own artistic aptitude. Without formal training, Jena is primarily self-taught and is versatile, and experimental in her approach and works mostly with ink, and sometimes acrylic paint. She also ventures into digital art and graphic design and doesn't reserve herself to a certain medium. "That way I can still maintain a sense of freedom as an artist."  Art also gives Jena an outlet for self-expression while connects her with others through her commissioned and voluntary work.
We asked Jena to share with us her most recent project, ASL Lingo and what inspired her to do it and her insights on why she felt it resonated with so many.
Initially I was browsing Pinterest and came across this lettering, "knockout" and I thought to myself, why not make it into a Deaf/ASL thing — by twisting to "kissfist" in a similar fashion.  It was around the time when the whole AGB thing erupted…which was upsetting for me. That I wanted to do something to help deal with the negativity — and channel it into something positive. I then decided I would do another monthly challenge, the rest — history.
I have always been attracted to the newness and trendiness of the logos and signages that I saw the opportunity to revitalize ASL in such form.
ASL slangs are what we use everyday — it's an innate part of our language and culture — possibly like a secret code for a lot of us. Familiarity would be the reason why it clicks with so many people. It's a cultural thing, I would say.
She keeps her skills sharp and stays motivated and disciplined to continue to do her work by  showing up everyday. "I have a stack of old sketchbooks evidencing the years and years of my commitment of drawing. To keep my skills sharp and fresh, I would do personal sketches and it's addictive. It's meditation to me." Her commissioned work helps her grow as an artist as well.
She is hugely inspired by the following artists. Lisa Congdon, Ann Silver, and Scott Bakal.
Jena believes art is important to the Deaf community and art makes significant contributions to our shared narrative as Deaf people. "Since we're already visual beings, we express ourselves through our hands. Doing art is an extension to who we are as Deaf beings. Narrative-wise, it's important to recognize the positive aspects of being Deaf through art while at the same time, it helps us to recognize that oppression and discrimination continue to happen based on our shared experience as a linguistic minority group. That way we can tell our stories through art as a way to decolonize ourselves from stereotypes and assumptions from the mainstreaming society. Again, it's important to celebrate our victories -- through art."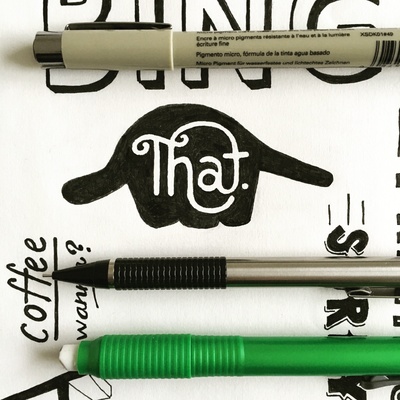 Like with the Nyle DiMarco hype going on, it's important that we use this opportunity to reframe ourselves as Deaf people — through different lenses — especially art since it's already accessible to anyone (through the social media and in real life).

Jena would like hearing people to know that Deaf artists are:
"just human like them at so many levels unimaginable. That we as Deaf artists can do anything and it doesn't require our hearing to be better artists (including singers, dancers and musicians!). That Deaf art can take on so many forms and opportunities of creating new realities for our society, adding the richness to the biodiversity of our planet."
She is working towards materializing some of her works so that everyone can enjoy them tangibly and aesthetically. "It's in the works….thanks to the ongoing encouragement from friends and family. I've done it before via Etsy yet this time I'm doing it differently. Keep your eyes peeled!" Someday she would love to be in a highly creative environment where she gets to work with other creatives on a daily basis and at the same time, run her own illustration business or a design agency on the side.        
Her advice for other young, aspiring Deaf artists based on her experience:
Sometimes it takes a huge yank from one's comfort zone to realize countless opportunities out there. I've done it few times and to be honest with you, it's a place where I had to learn how to be comfortable with the uncomfortable. It is where growth takes place.
.
See the popular ASL Lingo tee's "kissfist" or "that" where part of the proceeds will go towards LEAD-K and the Nyle DiMarco Foundation.
Tags
Comment Policy
We're aware that issues facing the Deaf, Deaf-Blind, and Hard of Hearing Community can become quite passionate and divided. What can we say, we're a group of passionate people! While we fully support a community full of passion, we also require that comments are respectful. We think negative attitudes and disrespect are a waste of everyone's time and energy. This doesn't mean you can't disagree with people, you just need to do it respectfully. We reserve the right to delete or edit any comments we feel are judgmental, rude, or of attacking nature.
Reviews by Advocates & Champions