Got Captions? Washington State says You Betchya!
Posted by: Staff Writer on Aug. 16, 2021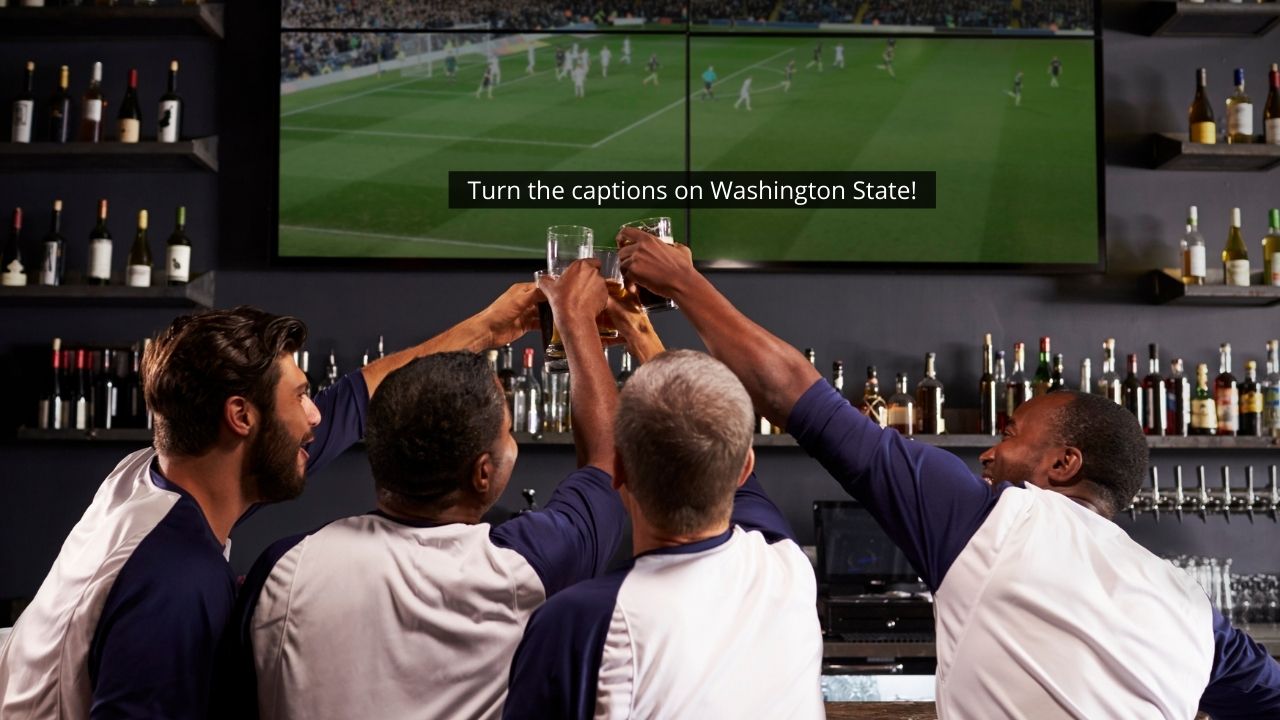 Washington State is the first state to mandate closed captions be turned on for screens in all public places and places of public accommodations, at all times. This is a major victory for deaf and hard of hearing consumers in Washington State, making it one of the most deaf-friendly states in the country.
When does this law go into effect?
Right now! It went into effect on July 25, 2021. Businesses have until October 23, 2021 to be in full compliance.
What does this mean?
You no longer have to ask for closed captioning in public places! Every time you go into a restaurant, a bar, a salon or barbershop, a hotel lobby, a doctor's waiting room, or any public place, the televisions will have closed captions already turned on.
Why is this a big deal?
It is exhausting to have to constantly ask for businesses to turn on their closed captions.

It is also frustrating to interact with employees who don't know how to find the closed captioning setting on the device and struggle (or fail!) to figure it out.

It is equally, if not more, upsetting when a business refuses outright to turn on closed captions because it bothers other people (or for any other arbitrary reason).
Now businesses are mandated by state law to make sure these scenarios never happen.
The law makes it clear: the responsibility now falls exclusively to businesses and not the consumer. Businesses alone are responsible for training their employees to ensure they know they are required to have the closed captions on at all times and train them to know how to do so (before a request is ever made).
Who was responsible for passing this law?
The Senate Bill 5027 was sponosored by Washington State Senators: Senator Mike Padden (R), Senator Jesse Salomon (D), Senator Sam Hunt (D) Senator Liz Lovelett, Senator Derek Stanford (D), Senator Claire Wilson (D), and was written as an amendment to the existing Washington State Law Against Discrimination RCW 49.60 .
Sent to committee for review, it was amended twice: to allow a place of public accommodation to deactivate closed captioning at the request of a person who has a visual impairment for as long as the requester is present, and to require text to be white color with a black background and in a style and size that is readable to people with low vision.

The law was passed by Washington State Legislature in April 2021 and signed by the Governor the following month.

It is noteworthy that this law passed not only with bipartisan support through the House and the Senate, it passed unanimously in both houses and quite quickly from its introduction at the end of December 2020 to its arrival on the Governor's desk for signing barely four months later in May 2021.

Are there any exemptions?
The following exemptions are included in the law: businesses that sell televisions only need to have one television set activated with closed captions. Businesses with multiple televisions on (such as a sports bar) can have half of their screens on closed captions and half without closed captions. However, the screens with no closed captions must be clearly set to mute.
Who oversees this law?
The Washington State Human Rights Commision (HRC) will oversee the law's implementation and enforcement. The Commission is also charged with making sure businesses are aware of this new change and what it means for them and will provide businesses with requested education. HRC will respond to complaints of violations and open investigations. Businesses who are found to be in violation will be given a written notice along with a fine of $75 for first time offenses. A business will have an opportunity to have the fine removed if they can demonstrate compliance within thirty days. All subsequent offenses will be fined $150 for each violation.
Deaf and hard of hearing consumers in Washington State can learn about how to file a complaint with the Human Rights Commission here.
How is this different than what is already covered by American Disabilities Act (ADA)?
This goes a critical step further than ADA; before a business only had to turn on captions after a consumer made a request for reasonable accomodations (to turn on the closed captions). Now it has to have them already turned on, always.
What's next?
Washington State may be the first to pass this groundbreaking closed captioning law, but it doesn't have to be the last. Your state could be next!

This law was successful in part because of consumer advocacy groups and consumer advocates: Jim House, Karen Philo-House, Karen Atwood with representative Tina Orwall, Dean Olson, Cynthia Stewart, Conrad Reynoldson, James Christianson, Eric Scheir, Deborah O'Willow, Cheri Perazzoli and the many others who helped write, call and testify in favor of this law.

Public testimony made a big difference! These are some of the key messages legislature heard from consumers like you that helped convince them:
Deaf and hard of hearing people deserve to be treated fairly.

All kinds of people benefit from closed captions.

Closed captions ensure both weather and emergency information is accessible to everyone.

Most people struggle to understand television in loud places. Closed captions help solve this!

Not everyone's first language is English. Closed captions help those who are learning English.

There is no cost to businesses to turn on closed captions.
Lobbying works! Consumer advocacy works! Help your state become deaf-friendly!

Take legislative training offered in your state on how to lobby your government representatives for changes and start mobilizing!

.
.
Tags
Comment Policy
We're aware that issues facing the Deaf, Deaf-Blind, and Hard of Hearing Community can become quite passionate and divided. What can we say, we're a group of passionate people! While we fully support a community full of passion, we also require that comments are respectful. We think negative attitudes and disrespect are a waste of everyone's time and energy. This doesn't mean you can't disagree with people, you just need to do it respectfully. We reserve the right to delete or edit any comments we feel are judgmental, rude, or of attacking nature.