Deaf-Friendly Certified Business - Endorsed by Deaf Consumers
Posted by: Staff Writer on April 12, 2017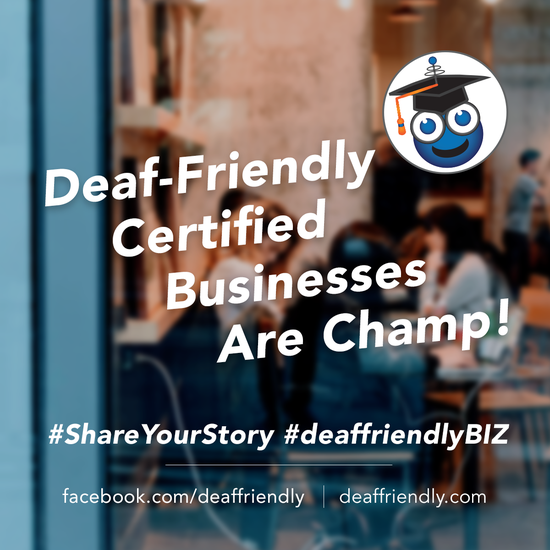 Spring is here, and with it marks the beginning of a new exciting chapter for us at deaffriendly as we announce our new certification program, Deaf-Friendly Certified Business. This program spotlights businesses around the nation who consistently go above and beyond to provide top notch deaf-friendly customer service to Deaf customers.
Up until now, the Deaf experience has been told primarily by people with little or no personal background as a Deaf or hard of hearing consumer. Being the only Deaf-owned and operated consumer review website in the United States, the foundation of our Deaf-Friendly Certified Business program focuses exclusively on real reviews written by neutral, third party, Deaf consumers from all over the country. That's why every business that receives our Deaf-Friendly Certified Business status is endorsed by Deaf consumers.
Creating a certification program of this kind is not something that happened overnight. deaffriendly has spent two years developing this program based on what Deaf consumers were telling us through their reviews. The Deaf-Friendly Certified Business criteria included research and interviews from 15 of our most active Deaf reviewers across the nation. The final criteria was based on their standards of what a deaf-friendly business means for our community.
Deaf consumers can be confident that each business selected go through the certification process will meet a rigorous criteria by people that understand them to ensure each business is ethical and truly deserving of certification.
Why are we doing this?
We believe you deserve the very best and that being a Deaf-Friendly Certified Business should have meaning- that any Deaf person who goes to that business can rest assured they will receive top notch service time and time again. In addition, providing deaf-friendly customer service isn't something all businesses know how to do intuitively; sometimes they need guidance and support. To do this, takes time, resources and effort. We believe that businesses that show this level of commitment should be rewarded for their efforts.
You asked. We got you.
The certification process is authentic and transparent.
Certification is not randomly handed out but earned and given without an agenda.
You want to trust that a Deaf-Friendly Certified Business is vouched for, not by one person, but the many real-life neutral, third party Deaf consumer experiences.
You want to see a Deaf Friendly Certified Business pass the true test of certification; they are going to give you top notch deaf-friendly customer service every time.  
What does the criteria look like? 

What are other people doing?
We are seeing a rise in hearing owned businesses "certifying" businesses as deaf-friendly using a limited or narrow criteria. Often businesses are "certifying" other businesses as deaf-friendly for marketing purposes, as a way to position themselves as experts, to promote their services or a way to profit.

But we are different. We set a criteria based on experiences of the real experts, you, Deaf consumers! We never charge businesses a fee to become certified and yes, even our training is offered for FREE to businesses that meet the pre-qualifications.
How will I know if a business is Deaf-Friendly Certified?
Look out for the Deaf-Friendly Certified Business window decal on storefronts when you visit a place of business. When you are browsing deaffriendly.com you'll also see the Deaf-Friendly Certified Business badge on select business profiles.
.


Are any businesses Certified Deaf-Friendly yet? 
Yes! There are currently five businesses who have been awarded certification and have gone through our thorough Deaf-Friendly Certified Business program. We are excited to announce them to the world in May. We invite you to keep a watch out for our announcement as we reveal them and join us in congratulating them. With many more businesses in the pipeline, you can expect a steady flow of Deaf-Friendly Certified Businesses announced monthly. If you know a business that you feel deserves this special recognition, write them a review!
How can I learn more about this? 

Head to our Deaf-Friendly Certified Business page on our website to learn more or you may email us with any questions.

Together, we can create a deaf-friendly world, one review at a time!
Tags
Comment Policy
We're aware that issues facing the Deaf, Deaf-Blind, and Hard of Hearing Community can become quite passionate and divided. What can we say, we're a group of passionate people! While we fully support a community full of passion, we also require that comments are respectful. We think negative attitudes and disrespect are a waste of everyone's time and energy. This doesn't mean you can't disagree with people, you just need to do it respectfully. We reserve the right to delete or edit any comments we feel are judgmental, rude, or of attacking nature.