DAW: Behind the Scene with #deaffriendly Models, Photographer
Posted by: Staff Writer on Oct. 8, 2013

One by one, twelve models arrived at Meryl Schenker's SODO studio in Seattle for deafREVIEW's Deaf Awareness Week campaign. They began to address her by a name sign created by deafREVIEW founder Melissa "echo" Greenlee: A closed 5 handshape sweeping outward from the forehead, characterizing Schenker's wispy tresses.
This was one of the many nuances the award-winning photojournalist learned about Deaf Culture: Only a deaf person can give a hearing person a name sign.  
Thus began the cultural adventure for Schenker, whom we commissioned to photograph twelve #deaffriendly tee-shirt models for our viral 7-day Deaf Awareness Week campaign: "It was an honor, and I loved learning how to say my name (and a few other words) in ASL."
With 115K viral views, over 2,000 shares, and over 80 #deaffriendly shirts and 200 stickers sold, it's safe to say that the world got a little more #deaffriendly. 
Deaf Culture Photojournalism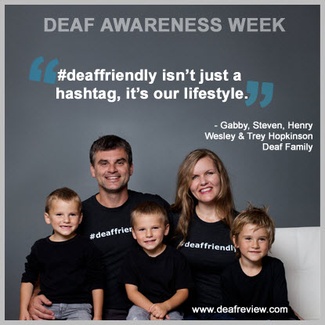 A Seattle Post-Intelligencer staffer for twelve years until the publication shuttered in 2009, she is the owner of Meryl Schenker Photography. Deaf Culture is the latest addition to a career portfolio that includes a month in the Antarctica aboard the USCGC Polar Star, the first 100 days in office with Washington State Governor Christine Gregoire, a trip to Korea to profile adult twin orphans, and last year's viral image of two gentlemen applying for a marriage license in Washington state.
Communicating with deaf/hh models via ASL interpreters Lindsey Kasowski and Kaden Mack was "an unusual and insightful experience," Schenker said.
To prepare, Schenker did her homework: She brushed up on deafREVIEW's "Making It Count: 10 Tips to Communicate with Deaf and Hard-of-Hearing Individuals" (available in PDF here).
Regarding Tip #8 (Know How to Properly Utilize a Sign Language Interpreter): "I learned not to preface my comments with 'tell her' but to just talk directly to the person and let the interpreter communicate my thoughts. That was easier said than done! I had to correct myself many times. We had a good laugh about that."
(Role) Models: Repp-ing the #deaffriendly tee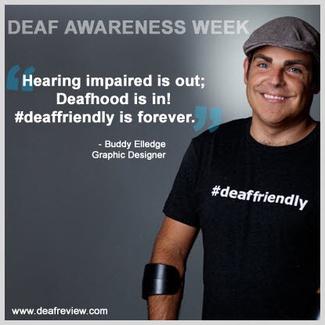 In two separate photo shoots, Schenker worked with deafREVIEW founder and CEO Melissa "echo" Greenlee, Deaf IronMan triathlete Vlad Schmidt, ADWAS founder Marilyn Jean Smith, allied same-sex couple John Chinworth and Johnnie Peterson, Communication Works! founder Vicki Moseley, an all-Deaf Hopkinson's family, and Buddy Elledge, deafREVIEW's graphic designer and program assistant.
"It was a bit intimating and a little awkward in the beginning, but at the end of the day, the awkwardness wasn't there anymore," said Elledge, who transformed Schenker's edited photos into viral adverts for Facebook.
"I love the fact that the photos were taken by a deaf-friendly photographer, who is hearing. I bet she learned a lot about us...and I'm sure she knows what to do with deafies next time she works with them." This essentially is what deafREVIEW is all about - to educate hearing individuals how to serve deaf and hard of hearing customers better.
His #deaffriendly advert garnered over 7,500 views on Facebook and 104 people shared it.  
To strengthen deaf awareness year-round, Elledge also writes numerous reviews about local businesses: "It takes me a minute or two to write deaf-friendly reviews. Super easy! I also write reviews for not-so-deaf-friendly places ... and feel good because I want to educate and help them improve their deaf-friendliness."
#deaffriendly: Also an Off-Line Campaign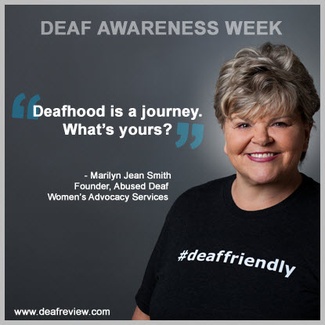 Off the Internet, the models unintentionally became walking billboards:
"I wore it all day that day of the shoot and would forget it was on until a salesperson would smile at me and make a point of looking directly at me without looking down," said Moseley, who modeled a heather grey tee that can be purchased on Shopify for $22.
Likewise, Elledge felt "like a king" during a recent trip to Jimmy John's: "One day I wore it and then in the middle of the day, I forgot that it's a #deaffriendly tee. The cashier immediately looked at my face and used his hands to ask me if I want chips and drink with my sandwich and made gestures about the cost."
Extra deaf-friendly points: The cashier brought Elledge's sandwich to him instead of calling out his order number.
"I had no idea that the simple tee would be so powerful."
.
Educating others, one Facebook share at a time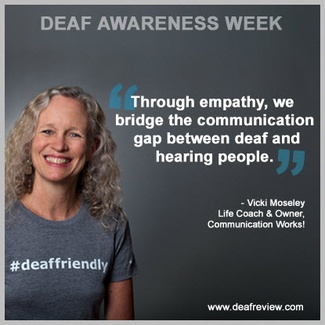 "I felt honored to be chosen as the first role models for the viral campaign," said Moseley. "I am so proud to be with such a diverse group of dynamic Deaf people of Seattle."
"I never felt "disabled or handicapped" with Meryl, and she was very open and truly interested in learning more about us as individuals and about deafness in general" said Moseley.
The animated nature of sign language did create an inadvertent challenge at the photo shoot: "I felt awkward at the beginning as I was not used to standing still and not moving my body or arms around."
Her final awareness advert had over 7,500 views on Facebook, was shared by 107 people, and helped convey her commitment to community causes: She was involved in the Leadership Tomorrow of Seattle program in 2007, and completed the Creative Grief Coaching training program this past spring.
The #deaffriendly image helped solidify Moseley's Deaf Culture identity amongst non-signing Facebook friends, as well as family: "They rarely see that side of me, as most of them live in Texas, Oregon, Minnesota and Colorado."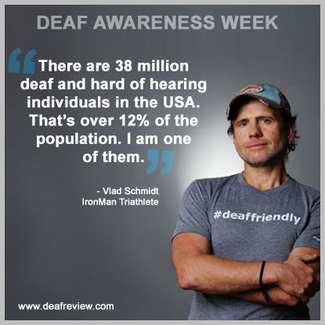 "I have photographed many people with disabilities, paraplegics, quadriplegics, but that didn't affect my ability to connect," said Schenker. "Would all deaf people consider themselves as having a disability? I could see (deafREVIEW founder) echo arguing against that." 
One tie that binds them? "The group of people I worked with are some of the most fun and diverse I've had the pleasure to work with in a very long time. Oh, and straightforward.  Just like me."
Wait … it's not over!
Every day remains deaf awareness day. Visit our deafREVIEW Shopify account to stock up on #deaffriendly stickers and tees for Christmas, and – for FREE – you can continue to educate the world, one review at a time by writing your deafREVIEW's at www.deafreview.com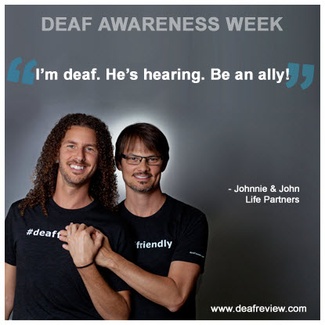 Comment Policy
We're aware that issues facing the Deaf, Deaf-Blind, and Hard of Hearing Community can become quite passionate and divided. What can we say, we're a group of passionate people! While we fully support a community full of passion, we also require that comments are respectful. We think negative attitudes and disrespect are a waste of everyone's time and energy. This doesn't mean you can't disagree with people, you just need to do it respectfully. We reserve the right to delete or edit any comments we feel are judgmental, rude, or of attacking nature.