Your #deaffriendly Valentine's Day Gift Giving Guide
Posted by: Staff Writer on Feb. 3, 2015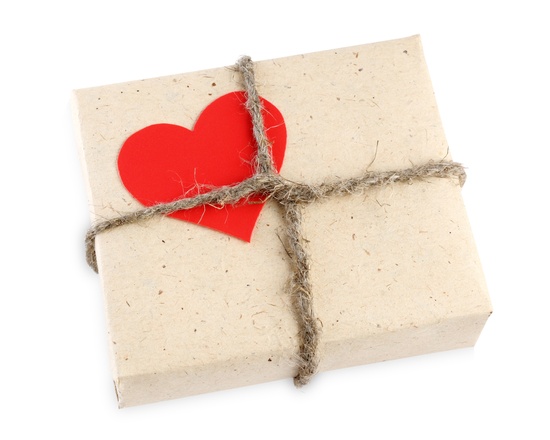 Love is a powerful thing isn't it? It changes lives at first glance. And tokens of our affection can lead to deepening relationships or serious misfires. We've all been there; we thought that tie would be a big hit. It wasn't. We thought that piece of jewelry would make them swoon. It didn't.
We've done the work and found perfect gifts for all the folks in your life you want to make swoon on Valentine's Day.  Even better? Each of the companies featured here are Deaf-owned so not only are you saying "I Love You"- you're giving a great big Valentine to your community by supporting Deaf entrepreneurs. Now that's hot.

So whether you need something fun, sentimental, sweet, romantic, sexy, practical, or humorous- we've got your ultimate  #deaffriendly Valentine's Day Gift Guide right here.
For The Fur Babies

Your pet isn't just an animal you feed, walk, and pick up poop after every day, it's a member of your family. And on Valentine's Day you want to give them some extra love too.  4Legz All Natural Dog Treats are way better for your dogs than chocolate (not to mention will save you an emergency trip to the vet) and they will adore you 4Ever.  Feel good about getting healthy, non GMO, made in the USA dog treats for your favorite four legged child from Deaf-owned, 4Legz
4Legs - http://www.4legz.com/index.php?start=4
For the Munchkins

One kid's a reader and the other is a fashionista. No problem. Zoey Goes to the Dog Park is a great down-loadable (apple only) children's book. Narrated in both ASL and written English, it is sure to delight and captivate their imagination.
Zoey Goes - https://itunes.apple.com/us/book/zoey-goes-to-the-dog-park/id590329905?mt=11
.

HeadBands by Michelle has all the frilly, brightly hued hair adornments a kid could ask for. Two different gifts for two different kids equals one rockstar parent! You're welcome.
HeadBands by Michelle - https://www.facebook.com/HeadbandsByMichele  
For the Busy Entrepreneur

They're frazzled, overwhelmed, and swamped. They're a one-person show, running everything themselves, juggling more balls than they have hands, and sleep? What's that? Your Desk's Assistance was created for business folks who need to delegate. You can give these do-it-all wunderkinds a break through the gift of precious, valuable time and sanity. Purchase a gift certificate for Your Desk's Assistance services and just maybe, date nights can mean 'No Work' nights. 

Your Desk Assistant - http://www.ydassistant.com
For the Go Getter

She has a big heart and even bigger dreams. She's ready to take her ideas from vision to reality. Give her the gift of momentum and motivation to unveil her unique vision to the world, whether it be a business venture, going back to school, or writing her book. Sofia of Global Deaf Women has helped many passionate Go Getters turn their dreams into a reality through her coaching business. A gift certificate for coaching services or a purchase of The Power of Me Retreat given to the woman in your life who is ready to go to the next level is a gift that is priceless. What says I Love You better than "I believe in you?"  
Global Deaf Women - http://globaldeafwomen.com
For the BFF's

She listed to you moan about your co-worker from hell. She came over with a pint of ice cream after your last break up. She helped you pick out that perfect outfit for your cousin's wedding. You two speak a language only the two of you understand. You love her. She loves you. You're best friends forever.  And for Valentine's Day you want to get her something you know you will love borrowing just as much as she will love receiving. Nathalina's got you both covered from head to toe- from scarves, to jewelry, to leg warmers. 
Nathalina's - http://nathalina.com/product/hourglass
For the Creative Types

At home they have what looks like an art gallery on their walls. They go to the local interpreted Museum walks each month. They probably have a black smudge on their cheek from last night's ink-a-thon. They can rattle of the names of a dozen or more Deaf artists without taking a breath. For them, the gift of artwork by a Deaf artist is akin to a love letter – one that will last for the ages, adorning their walls and joining their growing collection. Nancy Rouke, one of the most celebrated Deaf artists of our time has a bevy of items for sale and is a must-have for any art lover. 

Nancy Rourke - http://www.nancyrourke.com/paintingitemsforsale.htm
For the Hipster

They liked retro before it was In. They're the embodiment of cool and clever. Midcentury décor, coffee houses, and Portlandia are clichés for a reason and they're living up to the stereotype just grand. For the quirky, self deprecating, discerning folks in your life where mainstream gifts just won't do, you'll want to shop from Happy Shock on their etsy store where vintage, industrial, modern, unusual, and snark abounds.
Happy Shock Shop - http://www.etsy.com/shop/HappyShockShop
For The Lovers

So you want to give something with a little more spice and a heaping dose of humor? Smart Alex has just the card for you special types: funny, snarky, sassy, and a lot sexy. Keep the heat on in your relationship by giving them a card from you to let them know you want to turn things up a notch. Add in a hand written IOU (for what exactly, we'll leave that one to your imagination) and you have the makings of an unforgettable Valentine's Day. Just be sure to leave the lights on, because communication is oh so sexy too.

Smart Alex - http://www.smartalexinc.com/pages/_romance/112.php
Tags
Comment Policy
We're aware that issues facing the Deaf, Deaf-Blind, and Hard of Hearing Community can become quite passionate and divided. What can we say, we're a group of passionate people! While we fully support a community full of passion, we also require that comments are respectful. We think negative attitudes and disrespect are a waste of everyone's time and energy. This doesn't mean you can't disagree with people, you just need to do it respectfully. We reserve the right to delete or edit any comments we feel are judgmental, rude, or of attacking nature.