Reviewer Spotlight: Loren Ashton - Tuscon, AZ
Posted by: Staff Writer on Aug. 11, 2015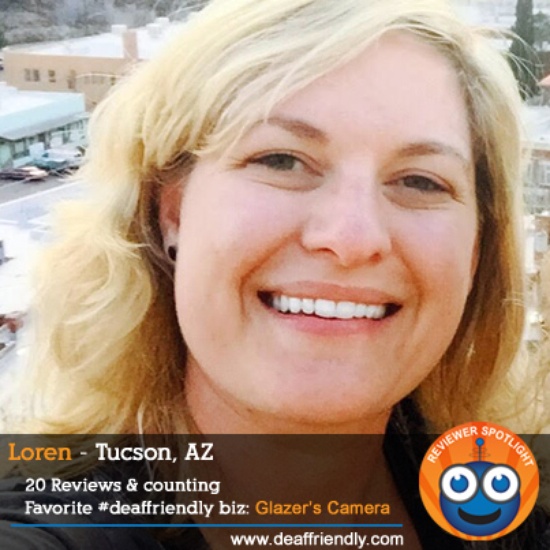 Do you know the people who are plugging in reviews on deaffriendly.com? Every quarter, we pick the brains of our most active reviewers. They are the words behind our deaf-friendly mission, the stars of our 1-5 star ratings, and the soul of this website.
Meet Loren Ashton, a Tuscon, AZ native with penchant for other #deaffriendly cities, an appetite for good food, and a love for all things photography and the outdoors. During the school year you'll find her walking the halls at the Arizona School for the Deaf and Blind as a school counselor, and during her free time and summers off you'll find her shooting photos professionally.
On being a food writer
The only thing Loren loves more than food is writing about it. A self-proclaimed "foodie", she has enjoyed writing since she was 12 and when yelp.com was created in 2008, she began writing restaurant reviews in earnest. While living in Washington DC she was exposed to a wide variety of restaurants and cuisines which greatly broadened her tastes in food and food writing. Then while living in Seattle, www.deaffriendly.com was launched and she quickly joined the growing base of reviewers, writing many reviews about restaurants with her signature upbeat review style.
On being a crack shot photographer
Loren has been fascinated with photography since she was 16, capturing people in candid moments. "It's all about light. It's like playing with light. It's light art. I get to play with lights and colors. Seattle was one of the best places to do photography because of the cloudy skies. That's where the photos came out the best." She especially enjoys photographing the special bond between friends or family through candid shots like laughter or their specific mannerisms that makes them so unique.
On being a deaf-friendly city lover
Loren is no stranger to living in #deaffriendly cities. She grew up in Tuscon, AZ and spent half a year in Aix-en-Provence, France while in college, eating croissants and drinking wine. She lived in Washington D.C. while attending Gallaudet for her masters degree. Then spent a few years in Seattle before finally returning to her hometown, Tucson. Comparing all these places, she rates Tucson and Seattle as the most #deaffriendly cities she has lived in, noting that she can order a White Velvet coffee from Vivace's Espresso in Seattle using ASL.
On being an outdoor enthusiast
Loren is always on the go and often outdoors, a true nature-lover. In Seattle, Loren discovered kayaking last summer, "What an amazing experience to just be out on a tiny little boat and pedaling across the Lake Union." In Tucson you will find her mountain biking, her most recent outdoor passion. "There are lots of mountain biking trails around in Tucson so it's fun steering the bike around saguaro cactuses and big rocks! I forget that I am actually exercising-- that is how fun it is for me."
On pondering deaf-friendliness
"When I step into any business and encounter a staff or employee, I look for eye contact and then look for their willingness to use gestures, or grab a pen and paper. It's a super bonus when I notice that person whipping out their ASL skills, even if it is beginner or intermediate ASL skills, I'm in for a treat! A total access to information like everyone else there-- that is what it means to be a deaffriendly experience for me."
On handling deaf-challenged moments
Not every experience is deaf-friendly. When Loren encounters those tough #deafchallenged moments, she will ask for the manager. "Luckily, I had deaffriendly.com to turn to. I would come home and just rant it all out online, so that way the business would receive a postcard explaining to them to look online and learn about how to appropriately communicate with Deaf/HH customers. It is nice knowing that deaffriendly.com is there to take either positive or challenging reviews. Hopefully these businesses would take the opportunity to review my challenged reviews and make changes for the better."
On why you should write reviews, too
Loren believes it is important to educate businesses to improve their awareness on how to communicate with the Deaf/Hard-of-Hearing population, and to encourage other Deaf folks to go and check out that business. "I like to look for the best in businesses so whenever I get such a satisfying customer experience, I like to write it all out, applauding that place for truly making the effort to help make me feel like I am just like anyone as in gaining equal access at communication and getting what I need."
Tags
Comment Policy
We're aware that issues facing the Deaf, Deaf-Blind, and Hard of Hearing Community can become quite passionate and divided. What can we say, we're a group of passionate people! While we fully support a community full of passion, we also require that comments are respectful. We think negative attitudes and disrespect are a waste of everyone's time and energy. This doesn't mean you can't disagree with people, you just need to do it respectfully. We reserve the right to delete or edit any comments we feel are judgmental, rude, or of attacking nature.
Reviews by Advocates & Champions