Reviewer Spotlight: Kate Spencer
Posted by: Staff Writer on Feb. 3, 2016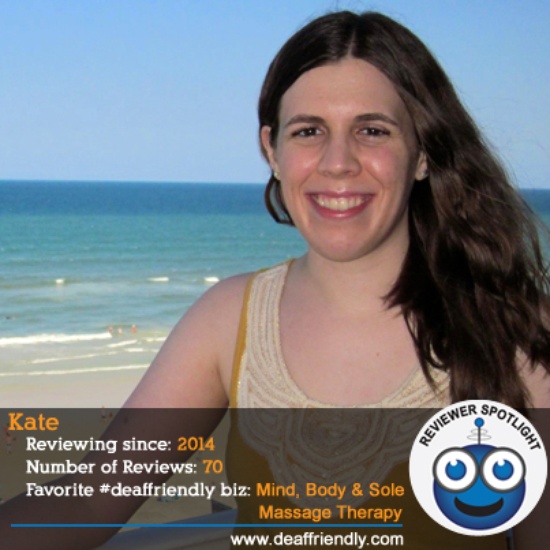 On any given day you may find deaffriendly.com Advocate Kate Spencer curled up reading a book, watching crime-related shows like Law & Order: Special Victims Unit, or coloring in an adult coloring book. Like a true Northwest native she has cultivated a special connection with the Puget Sound waters; combing the shores, collecting seashells, seaglass, and rocks while taking in the ocean view. When she's out and about shopping at local businesses, hitting up farmer's markets, and browsing for treasures at thrift stores and garage sales she's always looking for new places to write reviews about.
On growing up in the Pacific Northwest and educating others
Growing up an hour north of Seattle in a small town has shaped her experiences as a Deaf person. Surrounded by hearing people who were often curious but generally unknowledgable, she grew accustomed to explaining to hearing people: what being Deaf meant, how to meet her communication needs. As a result, Kate developed an impressive set of well honed tools to help her navigate a deaf-challenged world and help create a more deaf-friendly one.. "I strongly believe that if people ask questions to Deaf and Hard of Hearing people who are comfortable with answering them, it'll help educate hearing people to interact more appropriately with Deaf and Hard of Hearing people in the future."
On writing reviews for deaffriendly.com
Kate began writing reviews in 2014 after hearing about the deaffriendly website from others including the founder, Melissa (echo) Greenlee, who encouraged her to write reviews. Kate is driven to write reviews so other Deaf people can find #deaffriendly businesses near them. "It is important for us to advocate for ourselves to help open the door for others to receive a deaf-friendly service and accommodations that are needed in the future." To date she has written 70 reviews, making her among our most prolific female reviewers to date.
On being an art, chocolate, and cat aficionado
Art, handmade things, and colorful items are all things that catch Kate's eye. She was just at the Seattle Art Museum to check out the Intimate Impressionism Exhibit taking in the paintings of famous artists. "It was a bit mind-boggling to realize that I was looking at paintings (in person) by well-known artists like Auguste Renoir and Vincent van Gogh."
The greater Seattle area is known for its local chocolate producers and boutiques and Kate is a fan. Her four star review of Hot Cakes Molten Chocolate Factory can be found here. "I LOVE dark chocolate and I have some almost every morning as I begin my day. I was in chocolate heaven when I attended the Chocolate Festival in Seattle with hundreds of table booths and an endless of chocolate samples to eat or drink. Oh my!"
Kate's other passion is being an animal lover, with a soft spot for the felines. "My cat is like my own kid." As a cat-owner and cat-lover, making sure her experiences are #deaffriendly matters when it comes to deaf-friendly cat care:
"I've used my current veterinary place for many years since I was a little girl. Most of the staff knows how to communicate with me via relay service and in person. The two female veterinarians that I've interacted with have been nothing but wonderful, patient and willing to communicate entirely via paper/pen even if that means taking 3-4x times longer than communicating verbally with a hearing person. This is why I keep on returning back to the same veterinary place for all of those years."
On deaf-challenged experiences as a Deaf consumer
Not all experiences are deaf-friendly. Now and then she comes across some #deafchallenged situations as a Deaf consumer. You can read that review here. One recent example: "My friends and I wanted to get together for good food and drinks to celebrate the New Year. A phone call was made via relay service. The person hung up at least 2 times before my Deaf friend informed her to stop hanging up and that he'll like to speak with the supervisor. It turned out to be the supervisor herself who possibly hung up on him(!). No apology was offered." The situation didn't improve in person even though eventually a reservation was secured over the phone. When they showed up, no table was reserved. Ultimately, Kate wrote a negative review on deaffriendly to get the word out about her terrible dining experience. So even while the server was wonderful, the overall #deafchallenged experience with the supervisor meant the business received a lower star rating. "Sometimes even if the proper actions are taken, the outcome is not always what we expect to happen. My hope is that someone such as the restaurant owner will see the review and contact us about it in the future."
On why you should write reviews
Kate is a strong Advocate for deaffriendly.com, not only does she write reviews, she pushes others to do the same: "I strongly encourage people to write reviews for deaffriendly because it empowers you as a Deaf or Hard of Hearing individual and it gives you the opportunity to be heard. It helps shine the spotlight on businesses—from small to large, that have provided a positive deaf-friendly experience so others can use their business too. It will also help encourage those businesses to continue providing a good deaf-friendly experience with future Deaf and Hard of Hearing consumers after seeing your feedback. It is a great way of educating those businesses that might have not provided a very deaf-friendly experience another chance to improve and hopefully provide a better experience for that same consumer and new consumers in the future. So if you haven't started yet, check it out and leave some reviews!"
Comment Policy
We're aware that issues facing the Deaf, Deaf-Blind, and Hard of Hearing Community can become quite passionate and divided. What can we say, we're a group of passionate people! While we fully support a community full of passion, we also require that comments are respectful. We think negative attitudes and disrespect are a waste of everyone's time and energy. This doesn't mean you can't disagree with people, you just need to do it respectfully. We reserve the right to delete or edit any comments we feel are judgmental, rude, or of attacking nature.