Microsoft ASL Answer Desk Offers Visual and Virtual Troubleshooting
Posted by: Staff Writer on July 7, 2015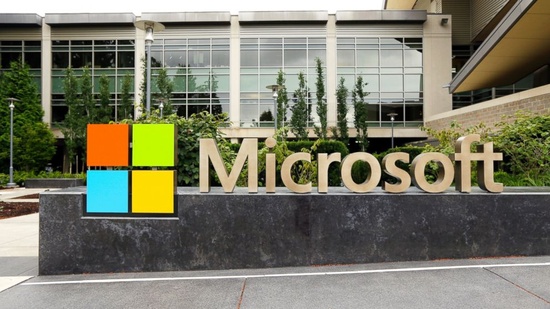 PC problems ailing you (again)? Microsoft feels your pain: All of us have grappled with cat videos that take forever to buffer, pop-up ads that won't quit, and Wi-Fi connections that keep quitting. We've put tech support on speed dial, for a good reason: Technology has brought #deaffriendly apps and telecommunication solutions bridging us to the hearing world.
But even so, tech support options for those with hearing loss have been limited: Hard-of-hearing callers struggle using telephones to describe complex PC symptoms to call center representatives (some who have heavy accents). Deaf technology users may find themselves in convoluted instant-messaging sessions with tech support representatives who unironically ask if the PC is making a "death rattle sound" (hard drive) or a "strange beeping sound" (BIOS).
Last month, Microsoft changed the game by changing the way Deaf people troubleshoot: The Redmond-based tech giant's Disability Answer Desk launched the ASL Answer Desk, a new service for its ASL-fluent Deaf and hard-of-hearing consumer base.
"Based on feedback from customers, the ASL Answer Desk was a natural extension of the Disability Answer Desk service," Microsoft spokesperson told deaffriendly last week. "Our goal at Microsoft is to make sure that all customers have access to great technical support that empowers them with technology including Deaf customers whose first language is ASL."
Offering sign language support options is relatively new terrain, even in today's app-deluged world. Microsoft joins the ranks of the FCC, which launched the ASL Consumer Support Line last June, the Small Business Association which also launched their ASL Customer Support line and Verizon, one of the pioneers in offering ASL-based tech support since 2009.
Trying the ASL Answer Desk: deaffriendly troubleshoots, and scores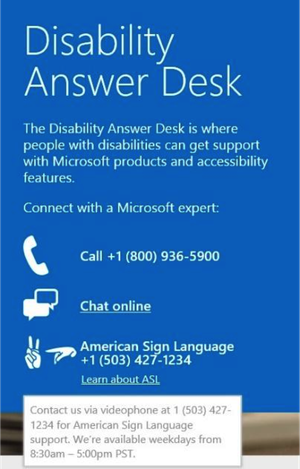 125 million video-assisted minutes. That's how much time deaf and hard of hearing people spent on videophone calls last year alone, wrote FCC Chairman Tom Wheeler. The buck doesn't stop there: "It is now time to expand direct video calling beyond the FCC and make it available to all levels of government and companies who answer consumer inquiries," Wheeler added.
The market demand is clear, and Microsoft has heeded Wheeler's call for videophone-based alternatives in an audio-centric, IP-based world.
Our deaffriendly staffer, a lifelong PC devotee, recently put the ASL Answer Desk to test: Troubleshooting a Bluetooth pen that wouldn't connect to her Surface tablet.   
"For the best customer experience, Sorenson currently provides one of the most hi-definition solutions with their videophones for the deaf and hard of hearing community and associated relay service if needed," said a Microsoft spokesperson.
The company also recommends other providers such as Purple Communications.
After some back-and-forth in sign language to clarify the nature of the Bluetooth problem, we gave the ASL Agent a closer look at our PC, using LogMeIn software used for remote connection. When URLs became too long and cumbersome to fingerspell, the ASL Agent typed it out via Notepad. Easy, peasy!
ASL Agents' specialty areas include Windows, Office from Windows Vista to Windows 7 and Office 2007 - 2013, and web browsing on the Windows platform. If someone calls with an issue that goes beyond the Agent's scope, the Agent "will work with Microsoft's Disability Answer Desk Escalation Engineer and deliver the information back to the customer via a video callback or email when appropriate" said a spokesperson from Microsoft.
Empowering a tech-savvy Deaf Community, through support and partnerships
Ariele Belo, the Director of Deaf Services at Hearing, Speech, and Deafness Center (HSDC), is featured in Microsoft's ASL Answer Desk Showcase video, as a result of Microsoft's partnership with HSDC for the past several years.
"Microsoft partners closely with many local non-profits and is grateful for all of (HSDC's) help and support as we've built the ASL service and the other components of the Disability Answer Desk," said Microsoft.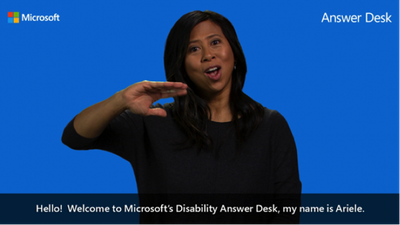 Launched in early 2013, the Disability Answer Desk (which also offers an online chat and phone modality) is available on a 24/7 basis in 11 countries. The expansion of an ASL Answer Desk is the latest among a string of the company's notable accessibility moves: According to the Microsoft Accessibility's Guide for Individuals with Hearing Impairments, an estimated 1 in 5 computer users has some form of hearing loss.    
Championing change, one ASL session at a time
Jenny Lay-Flurrie, the senior director for Microsoft's Accessibility Customer Experience, hatched the idea of adding ASL tech support to the Disability Answer Desk. The rest, as they say, is execution and history:   
"I couldn't be more thrilled to launch the ASL service, it's an area that's very close to my heart and core to our goals at Microsoft to provide great technical support to all our customers," said Lay-Flurrie, who is deaf and utilizes interpreters in her personal and career life. "We've learned a huge amount in the last several months and look forward to additional feedback and ideas as we look to create future support offerings for our customers with disabilities."
Last year, Flurrie received the White House's "Champions of Change" honor along with nine other individuals honored for creating employment opportunities for people with disabilities.
Indeed, the ability to harness the power of a computer (and troubleshoot past its pain points) can reap dividends in upward mobility. Whether we use our PCs to write cover letters, or conduct videophone interviews, or learn how to write code, the advent of ASL-based tech support is nothing less than a giant leap forward for the Deaf Community.
Ready to find out how the ASL Answer Desk can be a helpful part of your modern life? Simply dial +1 (503) 427-1234 using your preferred videophone provider, between 8:30 a.m. to 5:00 p.m. PT Monday through Friday. NOTE: Though international expansion is under evaluation, the ASL Answer Desk support is currently offered in the US only.
Tags
Comment Policy
We're aware that issues facing the Deaf, Deaf-Blind, and Hard of Hearing Community can become quite passionate and divided. What can we say, we're a group of passionate people! While we fully support a community full of passion, we also require that comments are respectful. We think negative attitudes and disrespect are a waste of everyone's time and energy. This doesn't mean you can't disagree with people, you just need to do it respectfully. We reserve the right to delete or edit any comments we feel are judgmental, rude, or of attacking nature.