From curbside pickup to clear masks, pandemic redefines the deaf consumer experience
Posted by: Staff Writer on July 13, 2020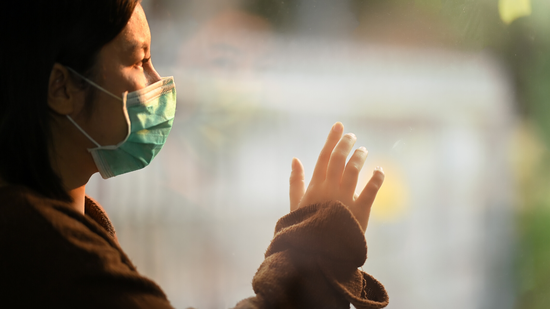 Over four months later, fighting the coronavirus is still a Catch-22 for the 40+ million in the U.S. who live with hearing loss. With face masks and social distancing now the norm, deaf and hard of hearing individuals continue to be bewildered by new communication barriers. More than ever, businesses are in a unique position to improve the deaf customer experience.

Dentist offices, salons, and stores are finally reopening in most states - but speechreading through PPE is near impossible. Simple day-to-day errands cause great anxiety. A deaffriendly's founder shared with KUOW recently, the pandemic makes it very difficult, as a deaf person, to "use the tools that you've relied on for 20, 30, 40 years."
Even in the comfort of one's home, digital accessibility still has a ways to go.
In May, a third of Americans were working from home. Media consumption has spiked across different categories. Yet an astonishing amount of online content is un-captioned (and un-interpreted, for native sign language users).
Cat videos are one thing. But many say the White House's high-stakes COVID-19 briefings have not fully met the deaf community's needs: Captioning is only provided occasionally, often with errors - and are not always available live. With no real-time interpreters present, the government is "leaving our community out of emergency announcements," one of several deaffriendly reviewers described. "It's challenging to keep up with what we can do in solidarity."
New York Gov. Cuomo now provides an ASL interpreter during televised briefings, due to a lawsuit. Quality of interpreters is also important: a Dallas, TX-based general language agency reportedly provided unqualified, uncertified ASL interpreters for local COVID-19 briefings, "which left us Deaf signing Texans without full access to the information we need," according to a reviewer.
Even Zoom, a pandemic household name, delivers mixed accessibility results. Pros: functionality to pin an ASL interpreter to their video platform and offer live captions through Communication Access in Real-Time (CART). But as one deaf individual discovered, when Zoom hosts its own webinar or learning event, tough luck requesting interpreters or live captions: "I've been denied this accommodation request several times and rarely do they even get back to me. If they are not demonstrating and using their own built-in accessibility features, how will that encourage other Zoom hosts to use it?"
Zoom's market share rose to 28% in the first quarter of 2020, up from 13% last year. As cases surge, "zooming" will remain a big part of deaf and disabled peoples' lives - which makes a big case for the company to prioritize diversity, equity, and inclusion through universal design and deaf-friendly customer service.
The pandemic has also changed how we eat - and that means sourdough starters on our doorsteps. Some businesses have adapted, making contactless service a deaf-friendly one. Weekly Fred Meyer grocery deliveries are easier than expected for one deaf Seattleite, with text messages during the shopping process and when groceries arrive at home: "We don't need to communicate under masks or by speechreading, which can result in a lot of confusion."
Many businesses still default to phone calls, much to our dismay. "I felt bait and switched," a deaf accessibility expert describes curbside pickup in 2020. But some businesses, like Target, have nailed the entire workflow of inclusive, contactless service: An email or app notification, vehicle style/color, a designated parking spot, and an option to select "I'm here."
Across all business types, innovation is key to retaining deaf consumers' large market share. The bad news is, no one knows how long it will take to develop a vaccine. The good news is, tools like clear masks and captions are relatively simple, already-invented ways to create greater access.
For instance, ClearMask is the brainchild of a deaf co-founder who had the dehumanizing experience of being wheeled into surgery without an interpreter. It's becoming a favorite for those who want to support the Deaf Ecosystem, normalize speechreading, and flatten the curve.
Businesses can also play a part in reducing coronavirus isolation. Due to an invisible viral enemy, it is harder to experience the community within a Deaf Community. Major cities have long been a magnet for deaf individuals and families seeking resources, jobs, deaf-friendly businesses, and connections to others who share their language and deaf culture. As cities reopen, businesses can boost solidarity, morale, and consumer loyalty by making their products and services inclusive.
Sometimes the simplest solutions are powerful. We crave genuine human connection. Sometimes it's through an app. Other times, it's the power of one's heart: An eight-year-old British girl learned sign language to engage with the deaf Hermes delivery man who stops by weekly. Thoughtful touches like a paper bag with her name in it for after-hours pickup, or a wave from the shop door, resulted in feeling a "heightened sense of connection with the shop," a deaf person described.

Writing reviews is a powerful way to help deaf and hard of hearing consumers decide where to contribute their vast purchasing power (and on the voter's ballot, too). Has a business or government entity gone above and beyond to communicate? Or has a pandemic consumer experience left you more frustrated than usual? Deaf and hard of hearing consumers, Write a review today. Deaffriendly Consulting's training content is gearing up to include digital training and customized approaches to creating deaf-friendly experiences in a pandemic - even with masks and plexiglass.
Tags
Comment Policy
We're aware that issues facing the Deaf, Deaf-Blind, and Hard of Hearing Community can become quite passionate and divided. What can we say, we're a group of passionate people! While we fully support a community full of passion, we also require that comments are respectful. We think negative attitudes and disrespect are a waste of everyone's time and energy. This doesn't mean you can't disagree with people, you just need to do it respectfully. We reserve the right to delete or edit any comments we feel are judgmental, rude, or of attacking nature.